Le faux témoin Elie Wiesel de plus en plus contesté
Sur le site de l'Américain Bradley Smith, fondateur du CODOH (Comité pour un débat public sur l'Holocauste), un article de l'un de ses précieux contributeurs: Carolyn Yeager. Cette Américaine est, entre autres, auteur d'un petit livre intéressant, hélas non traduit en français, intitulé « Auschwitz: The Underground Guided Tour/ What the Tour Guides Don't Tell youat Auschwitz-Birkenau » (Auschwitz: La Visite guidée alternative/ Ce que les guides ne vous disent pas…).
Voici ce qu'écrivait Carolyn Yeager le 11 octobre (traduction rapide):
Tout ami d'Israël est ami d'Elie Wiesel
Elie Wiesel se joint aux colons israéliens et aux chefs du Renseignement pour célébrer le vol commis contre les Palestiniens.
Parmi les principaux accapareurs de terres à Jérusalem-Est se trouve une organisation non gouvernementale de colons répondant au nom de Elad. Le but de Elad est de débarrasser Jérusalem de ses Arabes. L'une de ses tactiques consiste à faire déclarer sites archéologiques des maisons palestiniennes, ce qui permet de s'emparer de ces maisons et d'en expulser leurs propriétaires/habitants. Elle y arrivera, de gré ou de force, affirme un site juif gauchiste Tikun Olam.
Etait venu pour participer à leur service de commémoration en faveur de cette entreprise: Elie Wiesel, prix Nobel de la Paix. Et pas seulement ça : il est le président du Comité consultatif de Elad. Assistaient également à cette commémoration en tant qu'amis de Elad deux anciens chefs du Renseignement israélien, Shabtai Shavit et Amos Yadlin, ainsi qu'un certain nombre de hauts responsables.
Pour Wiesel, toute personne amie de l'Israël est son ami. Il y avait un autre ami, John Hagee. En 2009, après avoir censément perdu une grosse somme d'argent qu'il avait investie chez Madoff, Wiesel s'était fait un bon demi-million pour une seule allocution prononcée en faveur de l'organisation de Hagee, le Christians United for Israel (CUFI).
Lors de la célébration de la Fête des Tabernacles à la méga-église San Antonio TX de Hagee, Wiesel avait été intervenant principal à la « Nuit pour honorer l'Israël ». CUFI a donné cette nuit-là 9 millions de dollars à des organismes israéliens de bienfaisance, dont 500.000 dollars sont allés à la Fondation pour l'Humanité de Wiesel. Wiesel s'est aussi associé à Alan Dershowitz pour sponsoriser un groupe juif anti-Iran. Dans une interview donnée à John Hagee, Wiesel a déclaré à propos du dirigeant iranien Mahmoud Ahmadinejad : « … Cet homme est une honte pour l'humanité. [...] Cet homme est le négationniste n° 1 du monde. Cet homme a déclaré publiquement, à plusieurs reprises, qu'il a besoin, qu'il veut des armes nucléaires pour rayer de la Terre un Etat: l'Etat juif. Cet homme devrait être arrêté, traîné devant le tribunal international de La Haye et accusé d'incitation à des crimes contre l'humanité. Il ne mérite pas d'être le président de quelque pays que ce soit. On ne devrait nulle part l'accepter en tant qu'invité, ni à New York ni à Paris, ni nulle part. Il faut qu'il soit persona non grata partout dans
le monde. »
Visiblement, Wiesel estime qu'on ne devrait pas permettre aux nations de choisir leurs propres dirigeants. Il leur faut l'approbation de l'Israël. S'ils ne sont pas les amis de l'Israël, ils doivent être accusés d'incitation à crimes contre l'humanité et rejetés de partout. Il a qualifié le Rapport Goldstone [sur l'offensive israélienne contre la bande de Gaza] de « crime contre le peuple juif ». La gauche libérale critique de plus en plus Elie Wiesel; ils ont tendance à voir les choses comme suit: « Je regrette de dire que Wiesel est tombé du piédestal où l'avaient mis les juifs. Il avait été couronné pour sa rectitude morale; il ne l'est plus. »
Ce qu'ils ne comprennent pas, c'est qu'il n'a jamais été intègre comme ne sont pas non plus obligatoirement intègres les juifs qui se disent survivants. Des survivants de quoi? Ils ont survécu à une période turbulente de l'histoire tout comme des millions d'autres ont survécu – par chance, par opportunisme, et parfois par des moyens retors. C'est Wiesel lui-même qui a donné aux déportations juives le nom de « L'Holocauste », en tout cas c'est ce qu'il dit. Ce qui veut dire qu'ils ont donné à leur propre événement un nom qui les arrangeait. Tous les juifs qui vivaient dans une région occupée par les Allemands entre 1933 et 1945, ou qui, pour quelque raison, se sont sentis obligés de quitter leur région pour une région non occupée par les Allemands sont considérés comme des « survivants de l'Holocauste ».
Le lauréat du prix Nobel Elie Wiesel a menti sur son passé au moment de l'Holocauste
Voir le nouveau blog sur les mensonges d'Elie Wiesel:
ELIE WIESEL CONS THE WORLD
http://www.eliewieseltattoo.com
VIDEO -
New "Elie Wiesel Cons The World"
2012-06-09
Click here to download video
LATEST NEWS:
False report that Elie Wiesel showed reporter "his tattoo?"
AP reporter doesn't reply to questions about seeing tattoo on Elie Wiesel's arm
Still no reply from AP or their reporter; did Elie show his tattoo to Tom Hanks?
AP stonewalling legitimate questions about reporter seeing Elie Wiesel's tattoo
Elie Wiesel and Survivor Guilt
Elie Wiesel adds a new twist to his Buchenwald liberation tale
Elie Wiesel Knows Soviet "Liberators" Destroyed the Birkenau Crematoriums
Kentucky man offers $1000 reward in "Elie Wiesel Tattoo Challenge" at Wiesel's Xavier University May 6 Speech
Computer program judges "Elie Wiesel in Buchenwald" to be 30-36 years of age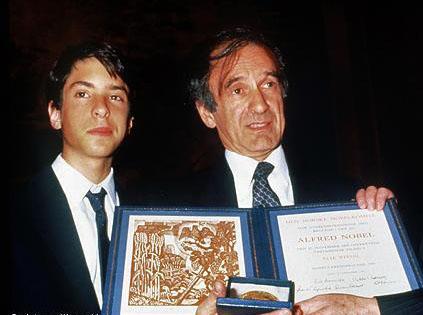 Carolyn Yeager discusses her blogs at Elie Wiesel Cons The World that call for an email and phone campaign to the New York office of the Associated Press. According to Carolyn, reporter Verena Dobnik's offhand mention that Elie Wiesel showed her his tattoo has to be a lie and therefore puts the AP in a difficult position of condoning journalistic fraud. Other topics covered:
Elie Wiesel on Barack Obama, Bibi Netanyahu, Mahmoud Ahmadinejad, Bernie Madoff, the Internet and the first Jewish President in America;

Elie's son, Elisha, now 41, is a partner at Goldman, Sachs & Co! Pictured right: Elisha, 14, as his father is awarded the Nobel Peace Prize in 1986. Could that be a smirk on Elisha's face?
Jewish financial swindler Nicholas Levene cheated investors out of millions, jailed for 13 years;
B'nai B'rith International terminated it's pension plan in order to "pay its bills" and "stay in business;" all pension payments taken over by U.S. government agency;
B'nai B'rith president, former treasurer, indicted on federal tax fraud charges;
European Jews lobby to get special security funding from the European Union, in addition to individual national governments;
Pedophile Jimmy Savile big friend of Israel; described as a philosemite;
Anti-Jewish sentiment rises again in Venezuela; Wiesenthal Center compares it to "Hitler's Kristallnacht;"

Where does it end? When we succeed in making people aware that Jewish abuse of our tolerance cannot continue.
The Heretics' Hour: Wiesel Web site and German thought-police
August 2, 2010
Part One: Carolyn discusses her new CODOH-sponsored Web site, ElieWieselTattoo.com and the opportunity presented by the Boston University Project. Stephen Bock joins in to tell of his experiences with activism.

Part Two: Günter Deckert is once again hauled into German court by the thought-police. A lively discussion follows on several topics.

13 MB / 32 kbps mono / 0 hour 57 min.
S'est-il parjuré en déclarant sous serment qu'il porte un tatouage en guise de preuve de sa présence à Auschwitz (aucun autre camp nazi n'a tatoué ses prisonniers)?
INCONVENIENT HISTORY: AN INDEPENDENT REVISIONIST BLOG
Auschwitz
,
Documentary Evidence
,
Eye-witnesses
,
Holocaust
|
À LIRE:
Stolen Identity: The Search for Lazar Wiesel A-7713

, by Nikolaus Grüner
... to expose "Elie Wiesel" who took my friend Lazar Wiesel's tattooed Number from Auschwitz A-7713, without being registered in Auschwitz. This spineless profiteer turned the graves od Auschwitz Birkenau - into an industry and himself into an "impostor" of the worst kind.
VARIA:
Plus d'infos:
Si on oblige un étudiant à lire Elie Wiesel, doit-on exiger qu'il lise aussi Mein Kampf?
Thomas Mann's War-time Radio Speeches and the Genesis of the Mass Gassing Allegations
Sur ce blog:
Pop Goes The Wiesel
Wiesel sauvera-t-il l'oligarque Khodorkovski?