Dernière mise à jour 9 février 2013 :
Il faut être à moitié endormi pour ne pas constater le fait déplorable que certains soi-disant "nationalistes" ne ratent pas une occasion de s'acharner sur le vétéran de la Première guerre qui réussit, plus tard, contre toute attente, à redresser économiquement, politiquement, culturellement l'une des plus grandes nations du monde et à la libérer du joug juif en créant un mouvement nationaliste rassembleur,
rempart pour la

civilisation européenne
contre les hordes communistes

,
Adolf Hitler.
Alain Bonnet est aussi loin que possible de pouvoir revendiquer la moindre de ces réalisations
(ça vaut aussi pour ses maîtres à penser et héros)

, pourtant cela ne l'empêche pas de condamner Hitler comme un vulgaire mégalomane pris de délire. On peut comprendre que le petit homme jalouse le grand, mais est-ce bien par jalousie qu'il s'en prend à lui? En outre, il paraît être atteint de cette haine rabique qu'entretiennent des générations de juifs (tels le rabbin Rav Ron Chaya), de même que les communistes et les cercles élitistes anglo-américains, contre Adolf Hitler. (Et ce malgré qu'il ait souvent tenu des propos laissant croire à une ouverture de sa part du côté du nationalisme socialiste... "il n'est de social que le national"...)
Sora

I

se fait demander: "Hitler fait-il partie du système, de l'Empire?"
"Ben c'est une question très dangereuse. Il y a des livres qui parlent de cela très sérieusement

.

Je vous en conseille trois. Euh le bouquin d'Eustace Mullins (...) qui s'appelle "Le secret de la Réserve Fédérale américaine" qui parle du financement du début du mouvement national-socialiste par les banques américaines. Il est évident que Hitler, au début, ils étaient quatre dans un bistro, compte tenu du projet qui était énoncé dans "Mein Kampf" o

n

pouvait l'éliminer physiquement assez facilement, hein. Donc il a été accompagné assez longtemps sur le chemin du pouvoir comme méchant de service parce qu'il faut toujours un méchant pour qu'il y ait la guerre. Et si on veut comprendre un peu à quoi a pu servir Hitler finalement dans une histoire vue de haut et globalement, on peut faire la parallèle avec Saddam Hussein et Milosevic. Hein, euh voilà, euh. Donc effectivement il a fait partie au moins pendant un certain temps du projet impérial, il a été beaucoup aidé. Donc les deux autres bouquins qui parlent de ça c'est "La controverse de Sion" de Douglas Reed (...) qui est un livre assez rigoureux écrit par un ancien journaliste du Times sur toutes les années 30 et toutes ces ambiguïtés sur un nazisme contre lequel on luttait officiellement mais qu'on aidé de A à Z à prospérer. Et le troisième auteur c'est l'Américain (...) Sutton qui parle pas mal de ça également..."
Pour lui, donc, les juifs avaient besoin d'Hitler pour aller en guerre. N'importe quoi. SoraI devrait alors dire, pour être cohérent avec lui-même, que les juifs ont besoin d'Ahmadinejad pour menacer l'Iran, qu'ils avaient besoin du Hamas et du Hezbollah pour attaquer Gaza et le Liban, qu'ils avaient besoin de Kadhafi pour réduire en ruine la Libye, qu'ils ont besoin d'Assad en Syrie... Soi-disant "Parce qu'il faut toujours un méchant pour qu'il y ait la guerre".
SoraI s'est sûrement déjà rendu compte que son public n'adhère plus tellement à la théorie du complot "nazi pro-Israël" et que cette théorie ne tient pas la route. Mais il continue de blâmer Hitler: selon lui ça serait à cause d'Hitler si l'anti-judaïsme est devenu impossible après 1945! Ses supposées "références" ici ne sont rien de convainquant: des citations, une de Bernanos et une autre du Rav Ron Chaya! L'argument d'autorité.
Au lieu d'expliquer pourquoi il faudrait blâmer Hitler pour avoir supposément rendu impossible l'antisémitisme, il nous réfère à un rabbin (anti-Goy, qui croit à mort à la Shoah et à l'innocence des juifs) comme si un rabbin pouvait être une source fiable et impartiale sur Adolf Hitler!
Voilà qui devrait à tout le moins nous mettre sur nos gardes.

Comment cela pourrait-il être la faute d'Hitler si l'on ne peut plus être anti-juif de nos jours? Parce que l'Allemagne a eu le malheur de ne pas avoir été un aussi bon boucher que les Alliés? Sa logique est qu'il n'y avait pas de philosémitisme avant 1945, donc c'est la faute d'Hitler! (
Post hoc ergo propter hoc: "c

e qu'il y a avant est forcément la cause de ce qui vient après
.") SoraI tombe dans le piège mental que nous a tendu la juiverie avec sa Shoah de papier, lui qui pourtant professe l'insoumission vis-à-vis ce mensonge historique.
SoraI blâme Hitler pour la destruction de l'Allemagne. Si l'on allait au bout de cette logique, il faudrait blâmer Kadhafi pour la destruction de la Libye, blâmer Al-Assad pour la menace de guerre à venir en Syrie pour Israël, blâmer Saddam pour la destruction de l'Irak pour Israël, blâmer Ahmadinejad pour les bobards de guerre préventive pour Israël... Cela ferait peut-être sortir ses fans du coma.
C'est amusant de voir la contradiction de SoraI qui d'un côté fait profession de foi marxiste et qui de l'autre côté dénonce les illuminés de Bavière (en propageant un ouvrage qui les identifie comme responsables de la Révolution française)... ces mêmes illuminés de Bavière dont le manifeste inspira clairement le socialisme marxo-engelien! Encore un cas d'inversion où l'agresseur jette le blâme sur la victime (l'Allemagne... qui restera une cible prioritaire de l'Empire jusqu'à nos jours et pour longtemps encore).
Concernant le fameux roman "1984", SoraI nous dit qu'Orwell dans son ouvrage dénonçait le nazisme. Mais quiconque s'est informé le moindrement sur les intentions de l'auteur découvre que c'est plutôt la Société Fabienne (sociaux-démocrates anglais) qui était visée. SoraI explique que Goldstein, le faux ennemi fabriqué par Big Brother lui-même, serait basé sur nul autre que Adolf HITLER, de même que l'Islam radical de nos jours est fabriqué par l'empire pour servir de méchant de service. Or la réalité claire et évidente est que le Goldstein de "1984" est basé sur nul autre Leon TROTSKI! Et ce n'est pas la Gestapo qui doit être comparée à la police secrète/police de la pensée de Big Brother, mais bien la police secrète soviétique (Tchéka, NKVD, etc.)! Le livre "La ferme des animaux" est encore plus explicite dans ses références au socialisme.
Dans l'imaginaire étrange et inversif ("subversif") de SoraI, les méchants NS d'Adolf Hitler étaient à la solde de la juiverie. Voilà qui est loin d'être évident.
6e partie de l'entretien de novembre 2012, on peut entendre SoraI blâmer Hitler pour la 2e guerre et ses horribles conséquences pour le peuple Allemand:
"Lettre 27 aout 1945, Général Patton "constatant les horreurs commises sur la population civile allemande", SoraI commente: hein oubliez pas que les Allemands c'est 7 millions de mecs au tapis, en plus c'est 7 vrais millions, c'est pas 6, 7 c'est plus que 6 et ça c'est des vrais millions, hein, voilà

LA CATASTROPHE HITLÉRIENNE

-- on va l'appeler ça comme ça parce que c'est une catastrophe, c'est une SHOAH, c'est vrai, c'est une catastrophe

--

a tué au bas mot 7 millions d'Allemands. Après les Russes c'est le second peuple victime de la 2e guerre mondiale.

He

in. Voilà."
Considérez qu'un habile orateur rejette le blâme sur les Khazars, c'est-à-dire des "non-sémites" caucasiens, et en particulier les juifs Polonais (ce que fait Koestler qui voulait ouvertement, avec sa théorie khazare, anéantir l'antisémitisme), qu'il réfère à un auteur tel Antony Sutton qui blâme le "culte de la mort germanique" (c.f. An Introduction To The Order) et base sur une supercherie avérée (les documents attribués à "Sidney Warburg") son livre sur le financement d'Hitler, présente l'antisémitisme comme un problème grave, s'avoue philosémite (car "Sémites = Arabes"), qu'il fonde sa "virtuosité dialectique" sur son panthéon de penseurs juifs, ne nie pas avoir des origines juives possibles, se réclame d'une famille de Résistants (la "Résistance" telle qu'on la conçoit étant un vaste bobard), qu'il parle du "méchant Hitler" comme d'un pion qui a servi en bout de ligne la cause des juifs (alors qu'en réalité son règne a non seulement fait décliner drastiquement le pouvoir juif en Allemagne, mais en plus il est le seul à avoir pu empêcher la bolchévisation intégrale de l'Europe éradication assurée de la religion chrétienne et de la culture européenne!)... tout ça revient encore, mais juste plus insidieusement, à rejeter le blâme vers les antisémites et plus particulièrement les Allemands nazis et des blancs (caucasiens). Il ne peut pas aimer la croix gammée et les symboles indo-européens, il est trop en adoration devant les sémites, ses "penseurs" juifs de son petit panthéon personnel. Comme un bon segment des conspirationnistes (anti-"Khazars") il ne pointe du doigt que les juifs non-sémites. En l'écoutant (ou en lisant Reed) on comprend que les sémites sont toujours victimes, que l'agresseur n'est pas sémite, il est non-sémite, caucasien, européen, blanc. Bref c'est toujours la faute des blancs et l'antisémitisme est inventé par les juifs pour nuire aux sémites.
"More on the Khazar Theory": Koestler Admitted He Wrote His Book to Further Jewish Interests
Koestler admet avoir pondu son livre sur les Khazars pour servir les intérêts juifs. En "démontrant" que les Khazars n'ont pas le droit de retourner en Israël parce qu'ils viennent en fait du Caucase et n'ont aucun lien avec la population indigène palestinienne et juive (sémite), il soutient indirectement le "droit" des juifs sémites de retourner en Israël! MDR! Quelle arnaque! Ça prenait un juif sioniste pour inventer ça. (Vous ignorez pas que Koestler était non seulement juif mais sioniste?) Il apparaît clair désormais que la propagation tous azimuts de la théorie des khazars est non seulement une distraction mais une opération concertée visant à anéantir pour toujours l'antisémitisme en détournant le blâme vers d'anciens « Khazars anti-sémites » diaboliques cachés pleutrement derrière le judaïsme innocent.
Rethinking the Khazar Theory by Dr. David Duke
En multipliant les calomnies contre Hitler et les nazis, SoraI semble chercher des raisons de détester les nazis, des excuses pour justifier sa haine des nazis. Il a parfaitement le droit de les détester, le problème c'est que ça l'empêche de voir la réalité telle qu'elle est, c'est pourquoi il ne peut être pris comme autorité sur Hitler et les nazis. Personne ne lui demande d'aimer Hitler, mais il devrait changer de sujet en reconnaissant qu'il est pas une autorité là-dessus. Son excuse préférée pour honnir ces vilains nazis, c'est de dire que le nazisme est une doctrine racialiste. SoraI a en effet enfermé le nazisme dans la catégorie du "racialisme". Or il démontre par là qu'il ne comprend rien à la distinction entre un mouvement volkisch (volk = peuple) et un mouvement raciste (KKK).
(Le nazisme officiel du gouvernement nazi n'était pas raciste.) Pour SoraI, ou bien t'es anti-nazi ou bien un vilain racialiste du genre KKK. SoraI a tort de représenter les nazis comme des émules allemands du KKK et du "nationalisme blanc" d' "extrême-droite" qu'il qualifie de "racialiste". Si vous cherchez la vraie égalité et la vraie réconciliation, vous la trouverez plus facilement du côté d'Hitler et Degrelle que du côté de SoraI. Degrelle et Hitler ont combattu comme de simples soldats, aux côtés du petit peuple, pour eux être Belge et être Allemand signifiait que tous les Belges et tous les Allemands sont égaux au sein de leur peuple (volk), et l'État de droit doit être fort et autoritaire pour imposer cette égalité de tous les Allemands devant la loi (contre les passe-droits et le tribalisme étranger). Quant à la réconciliation authentique, elle se trouve dans la réconciliation des classes au sein du peuple, que prônaient Hitler et Degrelle. SoraI, à côté de Degrelle et Hitler, c'est pas Égalité et Réconciliation, c'est Marxisme (lutte des classes) et Exclusion (des supposés "nazis sionistes"). Et son socialisme nationaliste est celui des kibboutz! C'est seulement en assimilant le nazisme à l'extrême-droite que SoraI peut faire passer son imposture E/R pour "une 3e voie au-delà de la polarité gauche-droite". En réalité c'est le fascisme et le nazisme qui étaient une 3e voie entre l'est communiste et l'ouest capitaliste!
D'un côté SoraI qualifie la mafia de Netanyahou comme étant "néo-nazi juif" et "fasciste", de l'autre il rappelle, à juste titre, que ceux qui ont réussi à casser la mafia en Italie c'était les fascistes de Mussolini. (Essaie-t-il de dire que les fascistes étaient contre la mafia juive pendant que les nazis étaient en collusion avec la mafia juive? C'est l'état de confusion mentale de SoraI qui transparaît ici.)
C'est qu'il le dit lui-même: iI veut empêcher l'émergence d'un nouvel Hitler, car il a peur que "les juifs nous ressortent Hitler". C'est là que mène sa logique lorsqu'il répète que les temps présents ressemblent à la période de l'avant-2e guerre mondiale (crise, antisémitisme, etc.), pendant que lui, résistant, prétend

essayer

d'empêcher que c

e

la se produise

à nouveau

.
Voici la Résistance que SoraI défend contre le méchant nazisme:
Jean-Marc Berlière, docteur en histoire de 47 ans, qui a eu accès à des archives jusque-là inexploitées, écorne sérieusement la version officielle des événements. "Il n'y a pas eu de bataille à Glières", assène-t-il. "Ce qui est appelé la bataille des Glières le 26 mars 1944, ce sont 2 maquisards tués et un autre blessé lors d'une reconnaissance offensive d'un détachement allemand de 30 à 50 hommes", ajoute-t-il. (...)
Et Jean-Marc Berlière, professeur émérite à l'université de Bourgogne, prédit au contraire "un extraordinaire tournant historiographique" sur la période. "Pendant 60 ans, on a vécu sur des équations fausses. Grâce à l'ouverture des archives et à une nouvelle génération d'historiens qui ne s'autocensurent plus, on va fortement nuancer et corriger ce qui a été écrit" sur l'Occupation", promet-il. "Petit à petit, un certain nombre d'évènements vont apparaître pour ce qu'ils sont : des mythes, des légendes", assure-t-il. http://www.propagandes.info/product_info.php/glieres-oradour-auschwitz-demain-jerusalem-p-1536
SoraI oublie-t-il qu'il était tout à fait normal que les Résistants soient traités en criminels car ils enfreignaient les lois internationales qui exigent qu'un combattant soit identifié, soit par un uniforme soit par un brassard ou autre sur le bras, car l'armée ne doit pas combattre des civils, des civils combattants non identifiés comme soldats, comme le furent les Résistants, s'exposaient, selon les lois internationales, à la peine capitale. Degrelle avait raison de le rappeler. Mais les nazis étaient bons: ils les ont seulement déportés dans les camps, avec les autres criminels et simples prisonniers de droit commun (les prisons ayant été vidées pour l'effort de guerre) qui constituaient 85% de la population des camps de concentration
.
SoraI a son Rav Ron Chaya, Netanyahou a son Lubavitcher Rebbe (1990). Différentes autorités, différents rabbins, mais toujours le même juif errant.
SoraI est allé trop loin dans sa propagande anti-Hitler pour pouvoir revenir en arrière, reconnaître qu'il s'est mis le doigt dans l'oeil et retirer ses odieuses calomnies. Il a tellement répété que les "excellents travaux d'Antony Sutton, Douglas Reed et Eustace Mullins sont des références sur le financement d'Hitler par l'empire" qu'il ne peut plus les désavouer.
SoraI s'est compromis et ne peut plus guère examiner en toute objectivité ce que ces livres disent vraiment, reconnaître la quantité de contre-vérités qu'ils contiennent et les désavouer.
Reed, journaliste anglophile, antifasciste, anti-nazi primaire, s'acharna contre la "mégalomanie d'Hitler". Mais dans La controverse de Sion, il ne fit que répéter sans discernement des rumeurs concernant le prétendu financement d'Adolf par la finance cosmopolite. La fausseté de ces allégations a été démontrée dans Who Financed Hitler, de James et Suzanne Pool. Si un membre du NSDAP a reçu du financement cosmopolite, ce fut Georg Strasser le principal adversaire et compétiteur de Hitler dans la course à la direction du parti, qui reçut des fonds de la part de Paul Silverberg.


Pas plus qu'Ahmadinejad, Hitler n'a pas eu à être financé par les cosmopolites pour être calomnié par eux par la bouche des grands médias et des politiciens
Sutton a conçu son livre sur Wall Street et la montée d'Hitler en se basant sur une fumisterie reconnue: Hitler's Secret Backers, du faux auteur "Sidney Warburg". Sutton se plait à déformer abondamment la réalité historique, voire à la remplacer par de pures fabrications telles que "le prince Bernhard des Pays-Bas était un nazi convaincu" qui portait son uniforme de SS... La réalité étant à l'opposé de ces allégations mensongères.

À cause des bobards qu'ils contiennent, ses ouvrages

ne valent guère plus que la quantité de papier qu'ils contiennent, pour le recyclage.


Le regretté Eustace Mullins a écrit sur le prétendu financement d'Hitler par la finance cosmopolite, mais il faut se rappeler qu'il avait la fâcheuse tendance à dire ce que les gens veulent entendre (voir sa critique dithyrambique de Vatican Assassins). Il était connu pour rapporter toutes sortes de rumeurs infondées sur les nazis, notamment le mythe voulant que "Nazi" signifiait en réalité "national sioniste". Mullins a malheureusement sacrifié il y a longtemps toute prétention à être un chercheur sérieux. Ce qui ne l'empêche pas d'avoir vu juste sur d'autres sujets.


Quant au Rav Ron Chaya, son propos se base sur la croyance en la Shoah et la diabolisation de l'antisémite, en particulier Hitler. Ron Chaya est un juif séparatiste qui considère que la Shoah fut pour les juifs une bonne chose, voire une punition divine, en ce qu'elle entretient la peur de l'antisémitisme, contribuant ainsi à resserrer les rangs à l'intérieur du judaïsme. SoraI parle comme quelqu'un qui croit à la Shoah.

Hitler reste le bouc émissaire, pareil comme dans les médias juifs. Et ils répètent ensemble qu'Hitler fut le gros méchant parfait pour raviver la solidarité juive. Hitler s'est effectivement présenté comme opposant des juifs, mais d'en conclure que les juifs l'ont fabriqué "parce qu'ils ont toujours besoin d'un ennemi",

cela

témoigne d'un grave manque de rigueur et disqualifie en tant que penseur sérieux. Le fait est qu'avant la prétendue Shoah, les juifs intégristes s'inquiétaient de la dissolution du judaïsme; le monde entier les poussait soit à l'exil soit à l'assimilation. Le mensonge shoatique est cet épouvantail que fabriquèrent les juifs pour diaboliser une fois pour toute l'antisémitisme de même que l'ensemble de la culture et des peuples chrétiens d'origine européenne. Avant la Shoah, les juifs n'avaient rien à reprocher aux antisémites du XXe siècle (nul pogrome), après la Shoah ils peuvent, en réécrivant et en judiciarisant l'histoire officielle, diaboliser leurs opposants et tenir bien en laisse les peuples non-juifs. Hitler n'a rien à voir là-dedans. Hitler n'a pas fondé Israël, c'est la Déclaration Balfour de l'Angleterre qui a créé Israël! C'était l'Angleterre coloniale qui avait les moyens de promettre la Palestine aux juifs puisqu'elle contrôlait le territoire de Palestine et fut la première à collaborer avec les sionistes pour organiser les premières vagues d'immigration juive pour l'établissement d'un foyer de peuplement juif en Palestine.

Les juifs de toute l'Europe ont commencé à émigrer en Palestine au moins dix avant l'arrivée d'Hitler au pouvoir et cette émigration n'a jamais cessé. Ce sont les britanniques qui ont trahi les Palestiniens en 1917 qui ont pris le contrôle de la Palestine et commencé à mettre en place cette immigration juive. Les Palestiniens, ont été pro-Hitler depuis le début, dès l'élection de 1933 à la suite de quoi ils ont tenu à lui prodiguer leur soutien et faire alliance. Les Palestiniens seraient-ils sionistes? Il semble plutôt que SoraI tienne vraiment à assimiler les nazis aux sionistes par tous les moyens possibles, car il a besoin de justifier sa haine des nazis par de pseudo arguments. Les sionistes sont ses ennemis, de même que les vilains nazis, donc nazis et sionistes doivent être de connivence! Comment discréditer ses opposants? En les taxant de sionistes! Comme beaucoup de juifs, SoraI qualifie Israël d'État nazi. Il croit à tort que le sort tragique des autochtones Palestiniens se compare au traitement qu'on subi les juifs au ghetto de Varsovie. Tout le monde croit que les juifs ont été martyrisés au ghetto de Varsovie et par le régime nazi, donc, si l'on suit la logique soraIienne, si les Palestiniens sont opprimés et massacrés par Israël, c'est forcément la même chose qui se produit, les Palestiniens subissent à Gaza ce que les juifs ont subi à Varsovie. Or la réalité est que les autochtones c'étaient les Alllemands, pas les juifs, et ce sont les juifs eux-mêmes qui ont choisi de s'enfermer dans des ghettos; ce n'est pas le choix des Palestiniens de vivre parqués dans des réserves militarisées. La délocalisation des juifs s'est faite dans des conditions horribles non pas par la volonté des Allemands mais à cause de la guerre menée par les forces Alliées, dont les bombardements empêchaient l'acheminement de provisions, de médicaments, réduisant à néant toute la qualité de vie dans les camps, aidant la propagation des maladies infectieuses. La situation des Palestiniens sous occupation sioniste est même tout le contraire de celle des juifs sous le Troisième Reich. Le contraste entre les deux ne saurait être plus frappant, c'est à se demander comment peut-on passer à côté tellement la différence est énorme.
SoraI dit du nazisme, à propos du "Geste de la queunenelle" (on sait comment ça s'écrit mais on veut pas le faire, geste d'insoumission):
"Si aujourd'hui on veut bien comprendre ce que ça veut dire que le nazisme, un peu comme le fascisme: c'est devenu des termes abstraits (un peu comme "enculé" en voiture, ça désigne pas une pratique sexuelle ça désigne un type qui vous a refusé la priorité). Aujourd'hui effectivement le nazisme, cette espèce d'abstraction serait incarnée par l'oligarchie atlanto-bancaire sioniste et effectivement la quenelle est un salut nazi inversé, c'est-à-dire que c'est un salut anti-nazi, c'est un salut d'insoumission à ce pouvoir oligarchique. Tout le monde l'a compris comme ça. (...)
Où est le fascisme? (--"SoraI l'antisémite, SoraI le fasciste!") Il suffit de regarder E/R et de voir de quoi il est fait : SoraI, Dieudo, Seba, Ali, etc.).
Est-ce que c'est ça le fascisme ou est-ce que le fascisme c'est: Hazziza et ses soutiens c'est-à-dire le Crif, l'extrême droite israélienne, le pouvoir bancaire, l'Oligarchie politique la plus corrompue... La question est posée: "Où est le fascisme aujourd'hui?" Si les mots veulent encore dire quelque chose... Et c'est très dangereux parce que les gens vont finir par comprendre effectivement que quand les autres défendent la République ou la Démocratie, en fait ils défendent l'Oligarchie mondialiste atlanto-sionisto-bancaire qui est

pour moi

le fascisme contemporain, ou ceux qui méritent d'être traités métaphoriquement de néo-nazis, c'est-à-dire de gens qui règnent sur les autres par la brutalité, le mensonge, le mépris, qui produisent de la violence sociale, de la souffrance, de la misère, etc." (vidéo d'octobre 2013)
Bref, si vous voulez connaître Hitler, c'est pas SoraI qu'il faut écouter! Écoutez plutôt des gens qui l'ont connu objectivement, comme Léon Degrelle.
Non, chers Rav SoraI et Rav Ron Chaya:
"la meilleure chose qui ait pu arriver aux juifs"

ce n'est pas Hitler mais le mensonge juif de la Shoah et la diabolisation d'Hitler.
Non, chers Sutton, Reed et Mullins: Hitler ne fut pas cet "instrument de la finance cosmopolite" que vous vous êtes acharnés à dépeindre.
On ne peut que regretter que ces auteurs - Sutton Reed et Mullins - soient tous morts et qu'ils ne puissent plus être confrontés. SoraI peut encore faire preuve de rigueur intellectuelle en requestionnant
ses "références", en examinant les sources fournies par elles, pour constater qu'elles sont sans fondement et enfin admettre humblement son erreur. Il pourrait aussi tout simplement arrêter d'en parler, éviter le sujet, se concentrer sur ce qu'il connaît. Mais s'il continue de désinformer, il doit être confronté. L'avenir nous dira s'il fait partie de ceux qui refusent de voir la réalité. Avec eux, rien ne sert de discuter, on ne peut que tenter de contrer
leur mauvaise influence dans la mesure du possible

.
Mise à jour 6 février 2013:
Dans son entretien de janvier (2013), Alain Bonnet écarte du revers de la main la critique en la présentant comme de vilains racialistes nazis. Il ne fait aucune réplique en règle, il recourt tout simplement à un homme de paille en caricaturant ses détracteurs, en les mettant tous dans le même sac comme si c'était un seul petit groupuscule qui en était la source, tout ça pour nous distraire du fait qu'il ne veut pas répondre à ses critiques et encore moins être confronté à la piètre qualité de ses "recherches".

Meilleur exemple du fait que Alain Benêt est prêt à dire n'importe quoi pour éviter de répondre à la critique: contrairement à ce qu'il dit (comme quoi "ses critiques sont des racialistes nazis lui reprochant de ne pas être racialiste nazi"), cet article n'est pas racialiste et ne reproche pas à Alain Benêt de ne pas être nazi ou de ne pas être racialiste. Cet article lui reproche de colporter des mensonges sur le compte d'Hitler et les nazis. Etre ou ne pas être pro-nazi est une chose, colporter des mensonges sur le compte d'Hitler et les nazis en est une autre. C'est tout à fait différent. Il n'est exigé de personne d'aimer ou ne pas aimer quelqu'un. Il est exigé cependant de reconnaître la réalité des faits et de s'abstenir de propager le mensonge.
"Les financiers jui

f

s ont secrètement financé l'anti-Juif
Hitler"

:
bel exemple de gros mensonge!
(On est plus facilement berné par un gros mensonge que par un petit, donc plus c'est gros mieux ça passe.)
On partit à cet égard de ce principe très juste que, du plus grand des mensonges, l'on croit toujours une certaine partie : la grande masse du peuple laisse en effet plus facilement corrompre les fibres les plus profondes de son cœur qu'elle ne se lancera, volontairement et consciemment, dans le mal : aussi, dans la simplicité primitive de ses sentiments, sera-t-elle plus facilement victime d'un grand mensonge que d'un petit. Elle ne commet elle-même, en général, que de petits mensonges, tandis qu'elle aurait trop de honte à en commettre de grands.
Elle ne pourra pas concevoir une telle fausseté et elle ne pourra pas croire, même chez d

'

autres, à la possibilité de ces fausses interprétations, d'une impudence inouïe : même si on l'éclaire, elle doutera, hésitera longtemps et, tout au moins, elle admettra encore pour vraie une explication quelconque qui lui aura été proposée. Qu'il reste toujours quelque chose des plus impudents mensonges, c'est un fait que les plus grands artistes en tromperie et que les associations de trompeurs ne connaissent que trop bien et qu'ils emploient dès lors bassement. (Adolf Hitler, Mon combat)
La méchanceté d'Hitler selon SoraI:
- Le Méchant Hitler a été « aidé à prospérer de A à Z » par l'empire, la Banque, les Rothschild (« comme l'est l'Islam radical à notre époque »)
- Le Méchant Hitler a servi de méchant de service pour aller en guerre (« comme l'Islam radical à notre époque »)
- Le Méchant Hitler est à l'extrême droite raciste débile, l'avant-garde de la droite néo-libérale capitaliste (et le judaïsme est la matrice du racisme).
- Le Méchant Hitler a permis Israël (créé par la Banque sur le dos du pauvre petit peuple israélien ; le pauvre petit peuple israélien est victime de la Banque)
- Le Méchant Hitler a été appuyé par les sionistes et allié avec eux (Accord de Transfert)
- Le Méchant Hitler a offert aux juifs le cadeau inestimable de la victimisation ultime: la Shoah
- Le Méchant Hitler fossoyeur du peuple allemand (« shoah hitlérienne = 7 millions d'Allemands ») est ce qui pouvait arriver de pire à l'Allemagne
- Le Méchant Hitler a rendu l'anti-judaïsme impossible, lui qui, avec son antisémitisme aryen volkisch nauséabond, n'a pas basé sa vision du monde sur des abstractions stériles de penseurs juifs telles qu'égalité et réconciliation mais sur la réalité du sang et de l'âme des peuples
- Les Méchants nazis auraient probablement envoyé plusieurs membres de ma famille dans les camps pour cause d'ascendance sémite
- Les Méchants nazis contre qui se sont battus mes ancêtres de la Résistance (une pure invention de l'imaginaire juif)
- Les Méchants nazis dont il faut empêcher un retour en force mais dont on sent déjà l'odeur au cours de la période présente, puisque nous sommes en période d'avant-guerre « exactement comme dans les années 30 » (référence aux méchants nazis)
- Les Méchants nazis qui ne faisaient pas que gloser d'anti-judaïsme de salon comme moi mais qui ont été très méchants parce qu'ils ont banni les juifs des centres de pouvoir et ont envoyé par auto-défense les plus récalcitrants dans des camps de travail, eux de même que les communistes et autres agitateurs.
- Les Méchants nazis que l'on retrouve aujourd'hui sous la forme de judéo-nazis dans la politique israélienne, dénoncés par le juif Leibowitz, prônant la suprématie mondiale du peuple élu d'Israël sur les Goyim, comme les méchants nazis visaient la suprématie mondiale des surhommes de la race aryenne de Germania sur les untermensch.
- Les Méchants judéo-nazis qui gèrent le camp de la mort des autochtones de Gaza exactement pareil comme les Allemands du Troisième Reich géraient le ghetto juif de Varsovie
- Les Méchants nazis à qui l'on emprunte leur propagande anti-juive pour la retourner cette fois contre les musulmans (conflit des civilisations, dépeints en barbares, menace pour la civilisation, aussi immonde que la menace nazie)
- Les Méchants nazis dont le casque militaire a même inspiré le casque des « forces de l'empire » du côté obscur dans une certaine série américaine de sci-fi nommée La guerre des étoiles à laquelle Alex Jones et moi nous référons sans trop de retenue (notre public-cible le remarque à peine tellement il a bouffé de La guerre des étoiles étant jeune).
Comprendre L'Encule

a écrit:




En tout cas, pour répondre aux calomnies de Monsieur Mystère, je propose simplement de lui rappeler ses propres moments de lucidité:
"Every calumny and falsehood published by the Jews are tokens of honour which can be worn by our comrades. He whom they decry most is nearest to our hearts and he whom they mortally hate is our best friend. If a comrade of ours opens a Jewish newspaper in the morning and does not find himself vilified there, then he has spent yesterday to no account. For if he had achieved something he would be persecuted, slandered, derided and abused. Those who effectively combat this mortal enemy of our people, who is at the same time the enemy of all Aryan peoples and all culture, can only expect to arouse opposition on the part of this race and become the object of its slanderous attacks." Adolf Hitler – page 276 of his book Mein Kampf
Toute calomnie, toute calomnie d'origine juive marque nos combattants d'une cicatrice glorieuse. Celui qu'ils dénigrent le plus, est davantage des nôtres ; celui à qui ils vouent la haine la plus mortelle est notre meilleur ami. Celui qui, le matin, lit un journal juif où il n'est pas calomnié, doit penser que la veille, il a perdu sa journée ; s'il l'avait bien employée, le Juif l'aurait poursuivi, dénigré, calomnié, injurié et sali." (Adolf Hitler, Mein Kampf

, p.351)






« Une partie de sa race se reconnaît ouvertement pour un peuple étranger, non sans d'ailleurs commettre un nouveau mensonge. (…) Ils ( les sionistes ) n'ont pas du tout l'intention d'édifier en Palestine un État juif pour aller s'y fixer ; ils ont simplement en vue d'y établir l'organisation centrale de leur entreprise charlatanesque d'internationalisme universel ; elle serait ainsi douée de droits de souveraineté et soustraite à l'intervention des autres États ; elle serait un lieu d'asile pour tous les gredins démasqués et une école supérieure pour les futurs bateleurs. » (Adolf Hitler, Mein Kampf)

VIDEO - Rééducation sur Hitler et SoraI
VIDEO - SoraI protecteur des juifs contre les méchants collabos,
SoraI

dit que la fois où il a été piégé par France2, il

allait discuter avec les journalistes d'un "problème très grave": "l'Antisémitisme en France"! À la question: On dit que vous avez des origines juives, avez-vous des origines juives? SoraI répond: "c'est possible oui oui oui, c'est possible oui, et alors?" Et alors? Et alors ça expliquerait pas mal de choses! Notamment ta haine du nazi et ta peur d'un retour d'Hitler. Quand on remarque un pattern aussi évident, il y a de quoi se demander s'il y a pas un peu de solidarité tribale derrière cette peur d'un retour d'Hitler.
25/12/2012 - 2332 vues
Le shémal électrique ultra-secret de domination mondial des juifs révélé en exclusivité pour Noël



Nous avons réussi à nous procurer ce parchemin original de la plus haute importance, daté du 4éme siècle après Jésus-Christ.

On y voit le plan diabolique du juif, faire tourner un moteur à Pognon à l'aide de l'énergie du vide d'ou il réussit à extraire 15000 volts en permanence.

Mais les deux interrupteurs K1 et K2 doivent être en position haute. Si le premier, est baissé, K1, le second, K2, intervient en secours, ça fonctionne encore mais c'est dangereux. Si les deux sont baissés, c'est le moteur à Pogrom qui démarre.
Alex Jones tient le même discours que SoraI: "Israel a été créé par la banque et le pauvre peuple israélien est une victime de la banque." "Nous (l'Amérique) avons financé les fascistes, nous avons financé les nazis, comme nous finançons les islamistes radicaux; il ne faut pas
choisir son camp entre ces deux fausses propositions du conflit des civilisations

." "Les Rothschild ont financé les nazis au début."
FAITS: les Israéliens approuvent dans une majorité écrasante le massacre et l'oppression des Palestiniens. Les fascistes et nazis n'ont pas été financés par l'élite cosmopolite.
Les Rothschild n'ont jamais financé les nazis (est-on censé croire qu'un gouvernement contrôlé par les Rothschild créerait des films les dénonçant, tels
Jud Süß, Der Ewige Jude, Die Rothschilds Aktien auf Waterloo?). Le soi-disant conflit de civilisation est conçu par et pour les juifs pour faire durer la guerre entre le monde chrétien et musulman.
Just when you think the Mask of Zion Report can't get any better ladies and gentleman, it does, it does, it does! The one and only Jonathan Azaziah starts off with a bang by unleashing hell on disinfo agent Alex Jones, exposing him as a Zionist mouthpiece and putting him in a coffin once and for all, and closes the program with some critical info on the recent Israeli-American coup attempt in Sudan and the ongoing struggle of the Palestinian hunger strikers. Another must-listen!
THANK YOU FOR ASSISTING WITH THE COSTS ASSOCIATED WITH PRODUCING THIS PROGRAM

THE PIPER REPORT
Archived Shows in November of 2012
SUNDAY, NOVEMBER 25, 2012
MP3 Files: Hour 1, Hour 2
Mike Piper talks about Alex Jones and the big lie that Ahmadinejad wants to wipe Israel off the map
SUNDAY, DECEMBER 2, 2012
MP3 Files: Hour 1, Hour 2
Mike sets his sight on Alex Jones and media subterfuge while talking calls.
Nos recherches révèlent que le double mensonge historique d' "Hitler meilleur ami des juifs et/ou instrument de la finance cosmopolite" est le fruit d'une campagne de désinformation (semblable au mensonge shoatique mais pour les "petits malins") au service d'intérêts

anglo-américains, communistes et juifs:
Du mythe des "nazis pro-Israël" et de ceux qui voient des complots partout...
Les nazis ont fait la vie dure aux Rothschild, confisqué leurs avoirs
Wikileaks révèle que Bilderberg perçoit le nationalisme comme étant « dangereux »… mais Infowars continue de prétendre que Bilderberg a été fondé par les nazis!
Du mythe des nazis « pantins de la ploutocratie internationale »
Le jeu des comparaisons: l'islamisme radical est-il plus proche du nazisme ou des "inglourious basterds"?
Comment Hitler s'est servi de Schacht
Réfutation de la thèse d'Anthony Sutton selon laquelle « Wall Street a financé les Nazis »
Bilderberg: organisation anti-nationaliste (donc anti-nazie) des Rothschild
L'empire mondial anglo-américain: une marionnette des Rothschild?
Gordon Duff décline l'invitation de Carolyn Yeager sous prétexte qu'elle ignore que la "connexion Bush-nazis"
Duff a tort sur l'Holocauste et les prétendus liens Bush-Hitler
L' "antisioniste" juif Gordon Duff admet écrire 40% de faussetés et poster 30% de faussetés sur son site Veteran Today
Une contre-vérité tenace: "Prescott Bush, un nazi!"
Jabotinsky avait planifié l'assassinat d'Hitler et de hauts dirigeants du IIIe Reich
La conjuration contre l'Esprit - Les arrières-plans occultes du "nouvel ordre mondial"
L'Histoire contemporaine: une "fable convenue"
Le plus beau dans nos chères démocraties, c'est qu'on n'a pas à s'inquiéter pour sa liberté d'opinion et d'expression.... N'EST-CE PAS?
Une historienne à découvrir
http://elafkarelwataniya.blogspot.com/2012/12/nationalistes-europeens-la-haine-anti.html
dimanche 2 décembre 2012
Nationalistes européens: la haine anti-Hitler
Lors de recherches sur internet, je découvre un blog anti-sioniste assez particulier qui se nomme " Le Gentil/L'observateur du péril innommable" , au départ, tout porte a croire qu'il s'agit d'un blog anti sioniste lambda, mais en cherchant bien, nous y trouvons des articles d'analyses très pertinentes et fortement courageuses.
En effet, il évoque un sujet dont nus parlons presque jamais, un sujet presque tabou, c'est cet acharnement "anti-Hitler" de la part de certains nationalistes et autres anti-sionistes.
Tout comme l'animateur de ce blog, je n'ai moi-même jamais compris l'attitude qui pousse un Alain Sora

I

ou autres personnalités, pourtant qui ne manquent pas de qualités, a critiquer Adolf Hitler, un des hommes les plus diabolisés de l'histoire moderne, pour avoir osé se battre pour relever son pays et extirper la mafia des financiers vampires qui affaiblissaient l'Allemagne, et l'Europe.
C'est faire preuve d'aveuglement, ou pire encore, d'une extrême couardise, de vouloir se dédouaner en critiquant Adolf Hitler, disant e lui qu'il est un médiocre, un fanatique, un sanguinaire, etc..etc...
Nous pouvons ne pas partager les idéaux d'Hitler quand on est antisioniste, personne n'y est obligé, mais de là a insulter sa mémoire pour justifier son anti-sionisme, c'est malhonnête, très malhonnête.
Je vous laisse découvrir ce blog, beaucoup de vérités y sont dites.
http://pascasher.the-savoisien.com/
Apostat du Rock
écrit:
ADOLF HITLER,
Le plus grand homme politique du 20eme siècle et de ce début de 21eme siècle. Le seul homme politique à avoir réalisé ses promesses. Le seul homme politique qui voulait le bien-être de son peuple. Le seul homme politique à avoir fait la guerre en tant que simple soldat avec courage et témérité. Le seul homme politique à avoir banni la dégénérescence culturelle et financière de son pays. Avec ce grand homme , un immense espoir parcouru l'Europe et le reste de la planète. En Asie, en Afrique, au moyen orient et en Amérique latine il était et est toujours perçu comme l'immense homme qu'il fut, ce qui n'est tristement plus le cas dans les pays de race blanche aryenne (supérieur ?).
Il a envoyé plein de signaux de bonne volonté (Dunkerque entre autres) à ses frères aryens sous emprise protocolaire, mais malheureusement les trois quarts de la race blanche (supérieur ?) a refusé le seul homme qui exaltait sa fierté, sa culture et son histoire. Et grâce à l'intelligence et à l'acuité des peuples représentés par leurs élites talmudisés à Nuremberg, tous les peuples d'occident se vautrent dans un mikvé shoahtisé débordant de vulgarité et autres moeurs suicidaires, et en plus ils veulent faire partager leur dépravations sur les peuples inférieurs à coup de bombes à agent orange et autres munitions à uranium appauvri issus d'un cerveau sûrement supérieur.
Si par bonheur pour l'humanité réapparaît un homme de cette trempe, il aura un travail énorme de rééducation, surtout dans nos pays ou la consommaSion et les loisirs on pris le pas sur le bien commun et n'oublions que la technologie est insidieusement aux mains des ennemis.
Satan the Father of All Lies
-THE WAY I SEE IT-
By Willis Carto
Despite all the historical truth that is available from AMERICAN FREE PRESS and our history journal, THE BARNES REVIEW, there is still a surprising number of seemingly good patriots who believe certain fabrications—much of it old war-time propaganda—that circulate in the mass media today. It is as if these folks don't believe much of anything the media tells them except when it comes to the subject of World War II, and Adolf Hitler, in particular.
There are more than a few hustlers who are guilty of this but one who recently came to my attention is Donald Mc Ilvaney, who sells precious metals from what he calls an "explicitly Christian, conservative" perspective. A recent McIlvaney newsletter, relating to Hitler, was so full of nonsense I was moved to write the author and tell him so.
McIlvaney referred to Hitler's "seizure of control" in Germany. I reminded him Hitler had the backing of over 90 percent of the German people. Cautioning him that his criticisms of Hitler were hardly a position for a professed "anti-communist" to take, I pointed out it was Hitler who turned back communist leader Josef Stalin's plan to invade and occupy Europe. Without Hitler's leadership, all of Europe would have fallen to Stalin. The fact is that the West therefore owes Hitler a great debt.
Mc Ilvaney suggested that Hitler started World War II. In fact—as I explained to this self-styled "intelligence advisor"—the record clearly shows Hitler did literally everything to avoid war with England and the United States. It was England that declared war on Germany, not the other way around. And even after war erupted, Hitler still hoped for peace and sought to avoid further bloodshed, even permitting nearly 200,000 English soldiers to evacuate Dunkirk—men the Germans could easily have killed or captured.
Unfortunately, Hitler was forced to deal with the drunken Winston Churchill and the mentally sick Franklin D. Roosevelt, who lusted after war, knowing it would bring him a third and fourth term.
Prior to FDR, all presidents—following the example of George Washington—restricted their tenure to two terms.
Here's how I assessed the matter for McIlvaney: "FDR and Churchill wanted war and they got it. Everyone who died in that unnecessary and destructive struggle was killed needlessly—at least 27,226,000 innocent Europeans. The piling up of debt to pay for it is something you should be interested in. American taxpayers are still paying for that and will be so long as the dollar lasts. You, with your enchantment with numbers, should know that."
I told Mc Ilvaney he needs to study authentic, Revisionist history, not Establishment, Jewish propaganda. As a Bible-believing Christian, Mc Ilvaney surely realizes no one may serve two masters—that Satan is the father of lies.
If Mc Ilvaney—and a lot of other "patriot" writers and broadcasters I won't mention by name just now—intend to talk about history, they need to get their facts straight and stop passing on hallucinations and flat out lies.
Wednesday, March 6, 2013
Is Germany the Ultimate 'Rogue Nation'?
New book decisively counters the myth of "German villainy"
By Michael Collins Piper
Benton L. Bradberry's The Myth of German Villainy is a book about which this reviewer can absolutely say, "I wish I'd written it myself." The other thing that can be said with certainty about The Myth of German Villainy is this: Every American patriot needs to read this book, particularly those who have—quite unsurprisingly—bought into a lot of the nonsense about 20th century history pawned off by the controlled media and bought-and-paidfor historians shilling for the New World Order elite. Much of their nonsense has managed to find its way even into the "alternative" media (particularly on the Internet) today.
A U.S. naval officer and aviator for 22 years with a degree in political science and international relations from the Naval Post Graduate School in Monterey, Bradberry has given readers a fast-moving, fascinating and well-written 440- page masterwork that accomplishes what few books can do.
It deconstructs a complex and wide-ranging array of historical data (covering a broad expanse of time) and makes it accessible and interesting.
More importantly, it explodes the lies and propaganda about the subject matter that has predominated in the mass media for what has now been several generations.
Scholarly—but nonetheless straightforward and easy to read—this is a comfortable book about many uncomfortable topics, precisely because it constitutes a comprehensive, head-on correction of the multiple historical distortions and outright lies that have accompanied standard "mainstream" and now even "alternative" writings on this subject. And beforemore sensitive readers get too excited and sidetracked, let it be said right up front that The Myth of German Villainy is not a book about "the Holocaust" and whether it did—or didn't—happen as New World Order-sponsored history books claim. Instead, this book focuses on the often-forgotten bigger picture: the perennial mischaracterization of Germany as the 20th century's most audacious warmonger, an aggressive, armed colossus bent on conquest of Europe, if not the world itself.
While everyone today "knows"—having been told so repeatedly—that Germany under Adolf Hitler was the big, bad bully who started World War II, few remember (if they ever knewit in the first place) that the same people who decided Germany was guilty of causing the Second World War had also declared that Germany was responsible for provoking the First World War.
However, in The Myth of German Villainy, the author skillfully dissects a remarkable and complex conglomeration of diplomatic intrigue and global power politics at its highest and lowest order. He demonstrates, beyond any question, that Germany was the real victim of both World War I and World War II. Rather than being the instigator of war, Germany was instead the target of British aggression, precisely because the "new Germany" that arose under Hitler stood in direct challenge to the aims of imperial Britain, which had for all intents and purposes emerged as the global armof thewould-beworld empire of the Rothschild banking family based in the City of London. It's all about money.
And if you follow the money, it will take you right back to the international intrigues of the Rothschilds and their propagandists in the controlled media who have done so much to stilt the truths about history that Bradberry bends back into reality. Among other things, the author accurately summarizes life in Germany under Hitler—the truth about which is far from the average depiction of a Gestapo-run tyranny, a popular (and quite mythical) image unfortunately perpetuated in a lot of "patriot" publications today. Bradberry also delves into the ugly history of communism and how that failed system—at its pinnacle—was responsible for somuchwar and bloodshed that set the stage for Germany's frontline challenge to this rampaging force that posed a direct challenge to the very survival of Western Christian Civilization.
There is much more that could be said about this wonderful book, but let this final point be noted: As an honest, objective primer on the long-hidden realities of 20th-century history as it relates to the events of both world wars—and their aftermath—you will search far and wide to find anything that does such a fine job in bringing history into accord with the facts.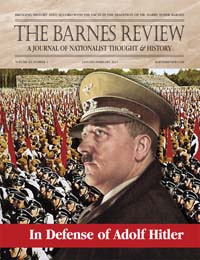 By Michael Collins Piper
The January/February issue of THE BARNES REVIEW is a very special issue of THE BARNES REVIEW. Why? There aren't many magazines anywhere—maybe we should say "there aren't any magazines anywhere"—that would take the position that Adolf Hitler, rather than being a monstrous mass murderer, was in fact a hero to his people.
Well, TBR takes that position, without hesitation and with no apology. And the reason for that is that no apology is necessary.
The truth is on TBR's side and—as the wide-ranging material in this issue clearly demonstrates—the truth about Hitler and Third Reich Germany (both from a domestic standpoint and within the context of Germany's role in global affairs prior to and during World War II) is far different fromwhat has been painted by the mass media and academia.
There's much more to the story than just "the Holocaust"—that recurring mantra to which we are subjected on a relentless basis (and which TBR quite regularly addresses froma Revisionist standpoint,much to the dismay of those who worship at the altar of the Holocaust Industry)—and this issue of TBR tries to fill in some of the many missing pieces of the puzzle in the bigger picture.
That's why we are so enthusiastic about this particular "theme" issue: It underscores the critical need for honest reporting about the people and events in history that have brought us to where we are today.
So we are especially interested in hearing from potential readers about what we have presented in the pages of this issue—the first issue of volume 20. It is entirely unlike anything they'll have ever read in any mainstream magazine, newspaper or textbook. And that's precisely what TBR's underlying message is all about: Bringing history into accord with the facts and tearing down the wall of lies about history.
'Best Ever'—'Most Controversial' Issue of TBR Yet?
By Michael Collins Piper
The January/February issue of THE BARNES REVIEW is a very special issue. Why? There aren't many magazines anywhere—maybe we should say "there aren't any magazines anywhere"—that would take the position that Adolf Hitler, rather than being a monstrous mass murderer, was in fact a hero to his people.
Well, TBR takes that position, without hesitation and with no apology. And the reason for that is that no apology is necessary.
The truth is on TBR's side and—as the wide-ranging material in this issue clearly demonstrates—the truth about Hitler and Third Reich Germany (both from a domestic standpoint and within the context of Germany's role in global affairs prior to and during World War II) is far different from what has been painted by the mass media and academia.
There's much more to the story than just "the Holocaust"—that recurring mantra to which we are subjected on a relentless basis (and which TBR quite regularly addresses froma Revisionist standpoint,much to the dismay of those who worship at the altar of the Holocaust Industry)—and this issue of TBR tries to fill in some of the many missing pieces of the puzzle in the bigger picture.
That's why we are so enthusiastic about this particular "theme" issue: It underscores the critical need for honest reporting about the people and events in history that have brought us to where we are today.
So we are especially interested in hearing from potential readers about what we have presented in the pages of this issue—the first issue of volume 20. It is entirely unlike anything they'll have ever read in any mainstream magazine, newspaper or textbook. And that's precisely what TBR's mission is all about: Bringing history into accord with the facts and tearing down the wall of lies about history.
To get a copy of this issue for $10, send payment to TBR, P.O. Box 15877, Washington, D.C. 20003 or call 1-877-773-9077 toll free to charge. If you decide to subscribe to TBR after reviewing the issue, we will take $10 off the subscription price of $46 (U.S.) and send you all newissues as they are published (five more issues) for 2014! Mention the ad in AFP issue 7 when responding.
More Than Meets the Eye?
• Why Bilderberg isn't Nazi and Ron Paul isn't going third party
Michael Collins Piper
American Free Press
Three current news stories—taken together—illustrate that things are not always as they seem. Take, for example, a new revelation about the Bilderberg group released by Internet voice Alex Jones in the wake of last week's Bilderberg meeting in Virginia, where Jones joined a crowd jeering the assembled would-be world rulers.
Although Jones has insisted Bilderberg is some sort of remnant of the Nazi regime of Adolf Hitler devoted to a modern-day Nazi agenda, a report on Jones's own website effectively admits Bilderberg's program is distinctly anti-Nazi.
Citing the papers of former Sen. Fred Harris (D-Okla.), who attended Bilderberg's 1966 meeting in Wiesbaden, Germany, Jones points out that Harris recorded the remarks of top Bilderberg figure, labor leader Walter Reuther, who outlined Bilderberg's underlying agenda: "Nationalism is dangerous."
WWII-era German National Socialism—Nazism —of course, was very much nationalist in every sense, and the fact nationalism was denounced at Bilderberg gives a clear picture of the real Bilderberg point of view, rumors notwithstanding.
Jones mentions Bilderberg's founder, Prince Bernhard of the Netherlands, had been a Nazi Party member. But what Jones does not mention is that Bernhard left the party in 1934, a year after Hitler came to power, and by 1940 was a top leader of the anti-Nazi resistance in Europe. So by the time Bernhard became Bilderberg chief, he had undergone a serious political transformation.
What's more, as careful historians know, Hitler held Bernhard in contempt. In his recorded Table Talk* and in the memoirs of his valet, Hitler is recalled scoffing satirically at Bernhard, and questioning his intelligence, integrity and loyalty.
The forces leading Bilderberg are anti-Nazi, particularly the Rothschild dynasty, whose assets were seized by the Nazis, belying a popular myth that "the Nazis never touched the Rothschilds."(...)
---
——
*Hitler's Table Talk is available fromTBR BOOK CLUB for $35 plus $5 Shipping and Handling. Softcover, 8.5 x by 11, 320 pages, #621. Call 1-877-773-9077 toll free to charge or send payment to TBR, P.O. Box 15877, Washington, D.C. 20003. Outside U.S. please email sales@barnesreview.org for foreign Shipping and Handling.
——
Michael Collins Piper is an author, journalist, lecturer and radio show host. He has spoken in Russia, Malaysia, Iran, Abu Dhabi, Japan, Canada and the U.S. He is the author of Final Judgment, The New Jerusalem, The High Priests of War, Dirty Secrets, The New Babylon, Share the Wealth, The Judas Goats, Target: Traficant and The Golem. You can order any of these books by calling 1-888-699-6397.
Burnie, Tasmania, Aus.
Thursday 15 September 1938
LAUNCESTON, – Wednesday. -
"I am perfectly satisfied in my own mind that no one in Germany today wants war,"
said Mr. Arthur Cook, General Secretary of the New Zealand Workers' Union, in an interview at Launceston today.
Mr. Cook, who represented the workers of New Zealand at the recent International Labor Conference at Geneva, spent some time in Germany, where, he thinks,
conditions of the workers are better than anywhere else in the world, and far ahead of Australia or England.
Hours of work in Germany were longer than in Australia, he said. The largest factories observed a nine-hour day and a 54-hour week, but
conditions were immeasurably superior
. Germany was a highly militarised country, and that had had a big effect in destroying home life.
* see my comment below
Mr. Cook said he was much impressed by the fact that
no physically fit man or woman was without work
. There were
no signs of poverty, and everyone was working enthusiastically to build up a self-contained country and a physically fit nation.
"I made a point of discussing the question of war- whenever and wherever I could" continued Mr. Cook, "and
I can honestly say that nowhere did I gain the impression that war was wanted. Everyone expressed the hope that Germany would never have to go to war again, particularly with England.
The older people with knowledge of the last war, and the young men alike made it perfectly clear that they had no wish to go to war, although the military policy of the country was such that if war broke out they would be forced to take part. "
One thing I did notice was the extensive hatred of Russia among the German people. Frequently I heard it said that
if another war came Russia would be the cause of it."
SOURCE:
http://trove.nla.gov.au/ndp/del/article/91446294
* Comments:
There is NO evidence for that remark! Germans were happy and prospering, and they enjoyed the highest standard of living of any industrialized nation at that time, with unprecedented social benefits which were the envy of all other nations. He may have been talking about earlier times under the Kaiser. Just guessing.
Keith, a friend from the UK says:
"My Grand Parents Visited Germany in Summer 1939. They were astounded how well off the Ordinary Germans were, and how happy and content they were. Britain's Working people were still poverty stricken. Children went barefoot in my home town of Gateshead till 1945, and people still had outside toilets till the 1980s."
Indeed, my German parents who grew up under Hitler knew fellow Germans who had gone on paid cruises to England. Upon return, they reported that the Brits were a sorry lot, and that the people there could not believe that these German tourists were merely average German workers going on a paid vacation cruise. The Brits had thought they must be the "well to do" types until they had engaged them in conversation.
J4G
The Advocate,
Posted in

Germany, Hitler, NSDAP, World War II
Tagged

Germans, Germany, history, Hitler, National Socialism, NSDAP, truth, war, working conditions, WWII
10 Comments
Par Savoisien le lundi, janvier 20 2014, 13:10 -
Histoire
- 125 lectures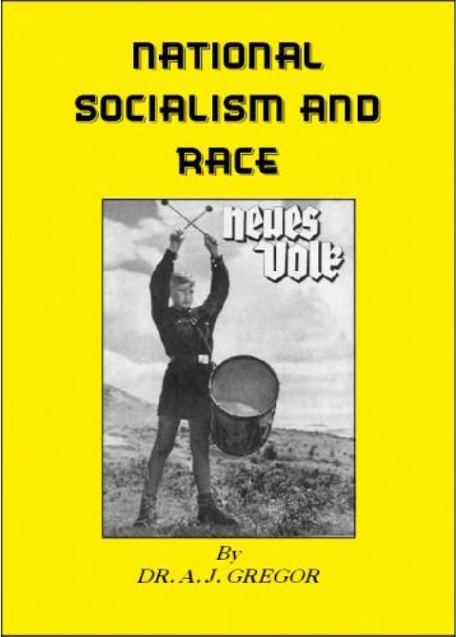 Anthony James Gregor - National Socialism and race
This serious look at the racial policies of the 3rd Reich explains how the vague ideas of Adolf Hitler in the early years of his political struggle developed in the 1930s into an exaggerated obsession with Nordicism. This occured quite separately and with the disapproval of many of the National Socialist leaders. By the late1930s a far more rational view became official policy. The entire history of these developments are explained by Dr Gregor. What is important about this work is that it refutes the silly media and propaganda allegations by the court historians and demolishes all the lurid tales of "Blond beasts" and "Master races". Over 100 footnotes are provided giving references and sources.
For more info