Et Hitler ne descendait pas de quelque famille Rothschild ou Frankenberger. S'il avait du sang juif, cela n'a jamais été retracé de manière concluante.
Comme disait le Sgt. Joe Friday: "Juste les faits".
——
ARTICLE ORIGINAL:
By Michael Collins Piper. Jan 18, 2013
Conspiracy Series Draws Angry Responses
By Michael Collins Piper
An almost audible sensation of palpable panic swept through the ranks of truth seekers as word spread about my recent series confronting, dissecting and laying to rest some myths, phony documents and fraudulent "quotations" that are iconic to many patriots. Some folks got angry because the truth contradicted popular long-cherished rumors and widely circulated downright lies people have come to accept as fact.
One reader threatened to cancel her subscription when she read that, in its next issue, AFP would demolish the widely believed (though false) stories that the Rockefellers, Rothschilds and Bushes joined together to bring Hitler to power.
This lady didn't even wait to read the article. So devoted to the myths, she couldn't bear the thought of them being disproven.
Another reader sent an angry email in response to that article asking, "How could you defend the Bushes?" when the article in AFP—long a foremost critic of the Bush dynasty—did not defend those gangsters but simply pointed out that so-called "evidence" purporting to "prove" they financed Hitler was just not true.
The reaction to my series demonstrates—too clearly—that the Internet has become a potentially dangerous "echo chamber" in which patriots talk to each other, often relying on unknown sources of information to supply what is often unreliable, even deliberately forged data to debate and disseminate.
What often happens is that agents of the power elite—those forces who control the media, the Federal Reserve monopoly and the international New World Order system—pose as "patriots," say many of the "right things" and then proceed to spread their nonsense among patriots.
But because the enemy agents seem trustworthy—and since their "scoops" aren't coming (at least not openly) from the garbage men of the rightly hated establishment media—real patriots tend to put their faith in the disinformation and unwittingly pass it on to others.
The consequence of this type of interaction, in what amounts to a virtual closed society, is that insidious elements take advantage of this circling-of-the-wagons by truth seekers and infiltrate Judas Goats and agents provocateurs into the midst of the good people to advance their own evil (although sometimes murky) agendas. Thus, patriots are misdirected, mis-used and set up for a fall.
One author has written of how one infamous cult shapes the worldview of its own members:
The totalist paradigm begins with shutting off the individual's access to the outside world, so that his perceptions of reality can be manipulated without interference. The goal at this stage is to provoke expectable patterns of behavior that will appear to arise spontaneously. . . . Those who are beingmanipulatedmay come to endorse the goals andmeans of the group . . . or simply abandon the will to resist. In either case, the individual is robbed of the chance for independent action or self-expression.
Bottom line: Patriots need to keep their eyes and minds open and not be drawn into a whirlpool of propaganda and disinformation—a descent into a maelstromof frenzied rumors and hysterical and reckless behavior leading to public repudiation, even disaster.
Sunday, January 13, 2013
Michael discuses various topics such as, Sandy Hook massacre conspiracy theories, the sinking of the Titanic, the relationship between Jews and Hitler, and more.
Mike Piper Report.com
AFP
RBN
32k CF
Download
Le Mythe du complot fasciste chez les intellectuels communistes (1945-1950)
Mise au point sur la désinfo qui circule sur Hitler, les nazis, le nouvel ordre mondial, Bilderberg, etc.
Du mythe des "nazis pro-Israël" et de ceux qui voient des complots partout...
Les nazis ont fait la vie dure aux Rothschild, confisqué leurs avoirs
Le mythe des origines juives d'Hitler
Wikileaks révèle que Bilderberg perçoit le nationalisme comme étant « dangereux »… mais Infowars continue de prétendre que Bilderberg a été fondé par les nazis!
Du mythe des nazis « pantins de la ploutocratie internationale »
Le jeu des comparaisons: l'islamisme radical est-il plus proche du nazisme ou des "inglourious basterds"?
Comment le Lend-Lease de FDR a sauvé l'Union Soviétique
Comment Hitler s'est servi de Schacht
Réfutation de la thèse d'Anthony Sutton selon laquelle « Wall Street a financé les Nazis »
Bilderberg: organisation anti-nationaliste (donc anti-nazie) des Rothschild
L'empire mondial anglo-américain: une marionnette des Rothschild?
Gordon Duff décline l'invitation de Carolyn Yeager sous prétexte qu'elle ignore que la "connexion Bush-nazis"
Duff a tort sur l'Holocauste et les prétendus liens Bush-Hitler
L' "antisioniste" juif Gordon Duff admet écrire 40% de faussetés et poster 30% de faussetés sur son site Veteran Today
Une contre-vérité tenace: "Prescott Bush, un nazi!"
Jabotinsky avait planifié l'assassinat d'Hitler et de hauts dirigeants du IIIe Reich
La conjuration contre l'Esprit - Les arrières-plans occultes du "nouvel ordre mondial"
L'Histoire contemporaine: une "fable convenue"
Le plus beau dans nos chères démocraties, c'est qu'on n'a pas à s'inquiéter pour sa liberté d'opinion et d'expression.... N'EST-CE PAS?
Adolf le Grand diffamé par des "nationalistes" -- Y a-t-il un autre homme dans l'histoire, à part peut-être Jésus, qui ait été à ce point calomnié?
REPÉRÉ: Un saboteur à la tête du "mouvement" pour la vérité
http://elafkarelwataniya.blogspot.ca/2012/12/nationalistes-europeens-la-haine-anti.html
dimanche 2 décembre 2012
Is Germany the Ultimate 'Rogue Nation'?
New book decisively counters the myth of "German villainy"
By Michael Collins Piper
Benton L. Bradberry's The Myth of German Villainy is a book about which this reviewer can absolutely say, "I wish I'd written it myself." The other thing that can be said with certainty about The Myth of German Villainy is this: Every American patriot needs to read this book, particularly those who have—quite unsurprisingly—bought into a lot of the nonsense about 20th century history pawned off by the controlled media and bought-and-paidfor historians shilling for the New World Order elite. Much of their nonsense has managed to find its way even into the "alternative" media (particularly on the Internet) today.
A U.S. naval officer and aviator for 22 years with a degree in political science and international relations from the Naval Post Graduate School in Monterey, Bradberry has given readers a fast-moving, fascinating and well-written 440- page masterwork that accomplishes what few books can do.
It deconstructs a complex and wide-ranging array of historical data (covering a broad expanse of time) and makes it accessible and interesting.
More importantly, it explodes the lies and propaganda about the subject matter that has predominated in the mass media for what has now been several generations.
Scholarly—but nonetheless straightforward and easy to read—this is a comfortable book about many uncomfortable topics, precisely because it constitutes a comprehensive, head-on correction of the multiple historical distortions and outright lies that have accompanied standard "mainstream" and now even "alternative" writings on this subject. And beforemore sensitive readers get too excited and sidetracked, let it be said right up front that The Myth of German Villainy is not a book about "the Holocaust" and whether it did—or didn't—happen as New World Order-sponsored history books claim. Instead, this book focuses on the often-forgotten bigger picture: the perennial mischaracterization of Germany as the 20th century's most audacious warmonger, an aggressive, armed colossus bent on conquest of Europe, if not the world itself.
While everyone today "knows"—having been told so repeatedly—that Germany under Adolf Hitler was the big, bad bully who started World War II, few remember (if they ever knewit in the first place) that the same people who decided Germany was guilty of causing the Second World War had also declared that Germany was responsible for provoking the First World War.
However, in The Myth of German Villainy, the author skillfully dissects a remarkable and complex conglomeration of diplomatic intrigue and global power politics at its highest and lowest order. He demonstrates, beyond any question, that Germany was the real victim of both World War I and World War II. Rather than being the instigator of war, Germany was instead the target of British aggression, precisely because the "new Germany" that arose under Hitler stood in direct challenge to the aims of imperial Britain, which had for all intents and purposes emerged as the global armof thewould-beworld empire of the Rothschild banking family based in the City of London. It's all about money.
And if you follow the money, it will take you right back to the international intrigues of the Rothschilds and their propagandists in the controlled media who have done so much to stilt the truths about history that Bradberry bends back into reality. Among other things, the author accurately summarizes life in Germany under Hitler—the truth about which is far from the average depiction of a Gestapo-run tyranny, a popular (and quite mythical) image unfortunately perpetuated in a lot of "patriot" publications today. Bradberry also delves into the ugly history of communism and how that failed system—at its pinnacle—was responsible for somuchwar and bloodshed that set the stage for Germany's frontline challenge to this rampaging force that posed a direct challenge to the very survival of Western Christian Civilization.
There is much more that could be said about this wonderful book, but let this final point be noted: As an honest, objective primer on the long-hidden realities of 20th-century history as it relates to the events of both world wars—and their aftermath—you will search far and wide to find anything that does such a fine job in bringing history into accord with the facts.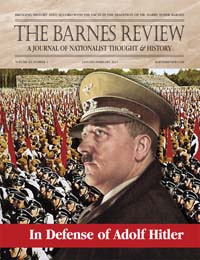 Get Your Copy of the January/February 2014 Issue of TBR
By Michael Collins Piper
The January/February issue of THE BARNES REVIEW is a very special issue of THE BARNES REVIEW. Why? There aren't many magazines anywhere—maybe we should say "there aren't any magazines anywhere"—that would take the position that Adolf Hitler, rather than being a monstrous mass murderer, was in fact a hero to his people.
Well, TBR takes that position, without hesitation and with no apology. And the reason for that is that no apology is necessary.
The truth is on TBR's side and—as the wide-ranging material in this issue clearly demonstrates—the truth about Hitler and Third Reich Germany (both from a domestic standpoint and within the context of Germany's role in global affairs prior to and during World War II) is far different fromwhat has been painted by the mass media and academia.
There's much more to the story than just "the Holocaust"—that recurring mantra to which we are subjected on a relentless basis (and which TBR quite regularly addresses froma Revisionist standpoint,much to the dismay of those who worship at the altar of the Holocaust Industry)—and this issue of TBR tries to fill in some of the many missing pieces of the puzzle in the bigger picture.
That's why we are so enthusiastic about this particular "theme" issue: It underscores the critical need for honest reporting about the people and events in history that have brought us to where we are today.
So we are especially interested in hearing from potential readers about what we have presented in the pages of this issue—the first issue of volume 20. It is entirely unlike anything they'll have ever read in any mainstream magazine, newspaper or textbook. And that's precisely what TBR's underlying message is all about: Bringing history into accord with the facts and tearing down the wall of lies about history.
By Michael Collins Piper
Satan the Father of All Lies
-THE WAY I SEE IT-
By
Willis Carto
[
du nom de famille français Carteau
], Founder of
American Free Press
VIDEO - Red Ice Radio: VKC vs Nazi Conspiracy Theories - Hour 2
VIDEO -
W.K. WW2 Historian on Joshua Blakeney's NAM
VIDEO -
W.K. WW2 Historian - Ethnicity, Nationalism And Pseudo False Flags
VIDEO -
W.K. WW2 Historian - The Union Jack
VIDEO -
W.K. WW2 Historian - World Menace
VIDEO -
W.K. WW2 Historian - Debunking Eustace Mullins Part 1
-
Part 2
-
Part 3
VIDEO -
W.K. WW2 Historian - Reichstag Fire And Kristallnacht
VIDEO -
W.K. WW2 Historian - The Gleiwitz Incident: Nazi False Flag or Media Hoax? - Hour 1
VIDEO -
W.K. WW2 Historian - Mengele Myths and More
VIDEO -
W.K. WW2 Historian - Hitler HImmler Uncensored
VIDEO -
W.K. WW2 Histroian - Hitler in Argentina?
VIDEO -
W.K. WW2 Historian - Hess, Hitler And Swiss Bankers
VIDEO -
W.K. WW2 Historian And Heink - Evil Nazis, Yanki Polls and Jewzi Emigration
VIDEO -
W.K. WW2 Historian - Anti German Myths And Communist Subversion
Du mythe voulant qu'Hitler ait été sioniste
Discours du Führer devant le Reichstag, 28 avril 1939:
À lire:
VIDEO - Deanna Spingola reads from the book: The Transfer Agreement Boycott Fever of 1933 by Professor Udo Walendy
. This 40 page booklet goes into all of the pertinent background information regarding the declaration of war against Germany by self-described "World Jewry" or "Judea" , and their global boycott of German goods and services, based upon anti-German propaganda. Their stated objective was to bring Germany to destroy Germany. They began to implement this plan as soon as the National Socialists came to power in order to undermine Hitler, and thereby, subvert the will of the German people who had elected his party and it's economic rescue plan.
You can read the illustrated and sourced booklet for yourself
here
.
Voir aussi:
Jewish Emigration From the Third Reich
, par Ingrid Weckert
German Big Business and the Rise of Hitler Reviewed by John M. Ries
Demystification of the Birth and Funding of the NSDAP
Chamberlain 1939 : "C'est l'Amérique et le monde israélite international qui nous ont précipités dans la guerre."
Michael Collins Piper
Three current news stories—taken together—illustrate that things are not always as they seem. Take, for example, a new revelation about the Bilderberg group released by Internet voice Alex Jones in the wake of last week's Bilderberg meeting in Virginia, where Jones joined a crowd jeering the assembled would-be world rulers.
Although Jones has insisted Bilderberg is some sort of remnant of the Nazi regime of Adolf Hitler devoted to a modern-day Nazi agenda, a report on Jones's own website effectively admits Bilderberg's program is distinctly anti-Nazi.
Citing the papers of former Sen. Fred Harris (D-Okla.), who attended Bilderberg's 1966 meeting in Wiesbaden, Germany, Jones points out that Harris recorded the remarks of top Bilderberg figure, labor leader Walter Reuther, who outlined Bilderberg's underlying agenda: "Nationalism is dangerous."
WWII-era German National Socialism—Nazism —of course, was very much nationalist in every sense, and the fact nationalism was denounced at Bilderberg gives a clear picture of the real Bilderberg point of view, rumors notwithstanding.
Jones mentions Bilderberg's founder, Prince Bernhard of the Netherlands, had been a Nazi Party member. But what Jones does not mention is that Bernhard left the party in 1934, a year after Hitler came to power, and by 1940 was a top leader of the anti-Nazi resistance in Europe. So by the time Bernhard became Bilderberg chief, he had undergone a serious political transformation.
What's more, as careful historians know, Hitler held Bernhard in contempt. In his recorded Table Talk* and in the memoirs of his valet, Hitler is recalled scoffing satirically at Bernhard, and questioning his intelligence, integrity and loyalty.
The forces leading Bilderberg are anti-Nazi, particularly the Rothschild dynasty, whose assets were seized by the Nazis, belying a popular myth that "the Nazis never touched the Rothschilds."
---
*Hitler's Table Talk
——
Michael Collins Piper is an author, journalist, lecturer and radio show host. He has spoken in Russia, Malaysia, Iran, Abu Dhabi, Japan, Canada and the U.S. He is the author of Final Judgment, The New Jerusalem, The High Priests of War, Dirty Secrets, The New Babylon, Share the Wealth, The Judas Goats, Target: Traficant and The Golem.
The Jewish War of Survival - PDF
by Arnold Leese
(founder of the Imperial Fascist League)
Chapter VIII
THE THEORY THAT HIGH FINANCE CAUSED THE WAR
This system of economic and financial bondage was doomed by the expansion of the barter system developed by National Socialist Germany
. (For a more detailed explanation see the chapter, The Peace We Lost in A PEOPLE'S RUNNYMEDE, by Robert Scrutton, Andrew Dakers, publisher.)
Chapter IX
The Object is to Destroy Fascism and Hitlerism
At last we approach facts.
Certainly we went to war with the object of destroying Fascism and Hitlerism. But the people were not allowed to know this till it was too late to withdraw, or they would not have sanctioned it, had they had an opportunity to do so. It was not Hitler or a Fascist form of Government that was objected to but that both opposed the Jewish influence in their domestic affairs.
President Roosevelt, in a letter to the International Labour Office Conference in 1944, said:
"The welfare of the world's population and their liberty are the first and ultimate concern of those dedicated to root out from this earth every trace of Nazi ideas and Nazi methods."
"We have gone to war with the single-minded determination to rid Europe of a particular menace whose presence is incompatible with the continuance of civilized life, and it is the simplicity of this claim that resolves what the Duce feels to be inconsistency in our discrimination between Hitler and his Russian accomplice. We believe that the Russian action, lawless and treacherous as we must declare it to be, is a secondary and subordinate consequence of the original crime. The Soviet has not been a party to Hitler's previous outrages and has not shown itself to be in essence an aggressive power."
The Duce was not the only man to see inconsistency in the discrimination in favour of the Soviets, despite this dead-lame explanation.
On plenty of other occasions, politicians have assured us that we are fighting to destroy Fascism. But they do not tell us why they deem it so necessary. There was a time when it did not appear to be a necessity to Winston Churchill. In his Great Contemporaries he wrote:
"Those who have met Herr Hitler face to face in public business or on social terms have found a highly competent, cool, well-informed functionary with an agreeable manner, a disarming smile."
Again in STEP BY STEP, Churchill wrote of Herr Hitler:
"If our country were defeated, I hope we should find a champion as indomitable to restore our courage and lead us back to our place among the nations."
But of Russia, Churchill said in 1920:
"The Soviet system is barbarism worse than the Stone Age."
In a broadcast on 20th January 1940 he said:
"Everyone can see how Communism rots the soul of a nation . . ."
And later in the year on 1st April, he said:
"Communism is a deadly mental and moral disease."
From this it is not understandable why Churchill should be leading the British Empire in a war to destroy National Socialism with the aid of Bolshevik Russia.
Of Italian Fascism, Churchill said in a speech on 11th November 1938:
"Italy has shown that there is a way of fighting the subversive forces and rallying the masses of the people, properly led, to value and wish to defend the honour and stability of civilized society. Hereafter no great nation will be unprovided with an ultimate means of protection against the cancerous growth of Bolshevism."
As far back as 1926 the Financial News reported that a Committee of British Residents in Florence announced:
"We wish to state most clearly and emphatically that there exists here today nothing that can be justly termed either tyranny or suppression of personal freedom as guaranteed by constitutional law in any civilized land. We believe that Mussolini enjoys the enthusiastic support and admiration of the Italian people who are contented, orderly and prosperous to a degree hitherto unknown in Italy, and probably without parallel at the present time among other great European nations still suffering from the war."
Sympathetic readers will smile when they are reminded that in 1933 the Financial Times brought out a special eight-page Supplement under the caption:
The solution of the mystery is that in those days Fascism had not yet grappled with Jewish influences dominating the nation's affairs. Giuseppe Toeplitz, Polish born Jew, had just retired from the management of the Banca Commerciale Italiana, which a New York Times dispatch from Milan on January 29, 1938 (the date of Signor Toeplitz's death) estimated controlled one-seventh of all Italian industries.
We Fascists have noticed with amusement how our own Government is forced by the pressure of necessity to adopt many of the policies of Fascism. We may instance the recognition of Agriculture as basic among the industries; the necessity of ensuring that the Land is not misused by those farming it and the corporative organization of certain industries and professions.
The International Labour Office issued a report in April 1944 in which the activities of the German Labour Front established by Hitler were recommended to be "adapted for future use" after our victory. Facilities for workmen's travel, recreation and other sparetime activities, for vocational training and research on labour protection; the "Beauty of Work" service — "Kraft durch Freude" (Strength through Joy) in the National Socialist Labor Program — and the Labour Bank, "one of the chief credit institutions . . . of the whole of Europe"; "it should also be the responsibility of the Labour Commissioners," the Report of I.L.O. further outlines, "to continue all administrative services required for the administration of labor and social legislation — employment services, social insurance and the labour inspectorate." The I. L. O. Philadelphia Labor Charter actually purloins direct from Fascism its notions of industrial organizations! "It insists," says the London Times of 13th May 1944, "on the employers' right to combine freely, and declares also that if workers and employers combine to run industry collectively, there must be a third element — the Government — to cooperate and see that the rest of the community is not exploited." Similar proposals are found in the 1944 Report on Reconstruction issued by the Grand Council of the Trade Union Congress.
It was on these principles that the Fascist Corporative Organization of Industry was based! Then why should we be so keen to destroy all this? There can be but one plausible answer. National Socialism and Fascism opposed the Jewish influence in the domestic affairs of their respective countries. That we have ample proof that National Socialism and Fascism were good governments for the Germans and the Italians of their respective countries, apparently, is of no consideration. Is it that only Jewish interests matter the world over?
We may venture to doubt whether better Government for "liberated" Italy than the Fascist one can be achieved with the material at hand. Just consider this London Times report of the 25th April 1944:
"As most members of the new Cabinet are Republicans, a form of procedure was devised whereby Ministers, before taking oath, signed a declaration stating that they had accepted office with the purpose of serving the best interests of the country, but without attaching any permanent significance to the ceremony."
It was from such "accommodating scoundrels" as this that Fascism saved Italy for twenty years. At the time of this writing, every so-called "liberated" country begins a campaign of violence and outrage against its most active anti-communist elements. The same conditions are at once reproduced from which their Fascist or semi-Fascist Governments of the past had saved them.
John Loftus est un de ces auteurs, tels que Mae Brussell et Dave Emory, qui propagent le bobard du complot nazi à l'origine de la subversion de l'Amérique par le nouvel ordre mondial. Or même John Loftus admet que les transfuges nazis qui ont travaillé autour du nazi Gehlen pour l'OSS avaient des liens étroits avec des agents israéliens (Gehlen travaillait pratiquement pour les services du Mossad!). John Loftus est un ancien des services secrets impliqué dans la traque aux criminels nazis et qui a également présidé le musée de l'Holocauste de Floride. Est-il besoin de préciser qu'il est pro-Israël? Il prétend débusquer le complot ultime trouvant sa source dans le transfert des nazis réaffectés à divers projets du gouvernement américain.
Wikipedia John Loftus:
"John Joseph Loftus (February 12, 1950) is an American author, former U.S. government prosecutor and former Army intelligence officer. He is a president of The Intelligence Summit and, although he is not Jewish, a president of the Florida Holocaust Museum. Loftus also serves on the Board of Advisers to Public Information Research.(...)

He began working for the U.S. Department of Justice in 1977 and in 1979 joined their Office of Special Investigations, which was charged with prosecuting and deporting Nazi war criminals in the US. Loftus' now-expired Web site claimed, "As a young U.S. Army officer, John Loftus helped train Israelis on a covert operation that turned the tide of battle in the 1973 Yom Kippur War."(...)

He also writes regularly for Ami, an Orthodox Jewish weekly news magazine.

On August 7, 2005, he provided the United States address of an alleged terrorist named Iyad K. Hilal on Fox News. Only afterwards was it revealed that Hilal had left the address three years previously and the home was now owned by a family, which was then subjected to threats and vandalism and required police protection as a result of Loftus' words. Fox terminated Loftus's contract to commentate after the event. Loftus said "I thought it might help police in that area now that we have positively identified a terrorist," but he did not say why he did not contact police in a more direct manner. Loftus apologized for the mistake and expressed frustration about "one federal [agency's]" inaction on an earlier tip he had given them years ago due to the same address." [Wikipedia.org]
Piper rapporte au sujet de Loftus dans son livre Final Judgment, sur l'assassinat de JFK:
À propos de certaines sources douteuses telles que le juif et ancien agent du renseignement britannique John Coleman...
YE SHALL KNOW THE TRUTH 101 Books Nationalists Need to Read and Understand Before 'They' Burn Them, by Michael Collins Piper (2013)
p.33-36