Notez que le Canadian Jewish Tribune est informellement associé à B'nai Brith Canada, organisation de droite extrême, comme le Canadian Jewish News l'est au Congrès juif canadien, plutôt libéral.
Sur son site, Pamela Geller blâme le gouvernement de s'être soumis à la volonté des groupes musulmans en faisant annuler sa conférence sous pression policière.
New venue found for anti-Islamist blogger Geller
May 7, 2013 | Joanne Hill - Correspondent JEWISH TRIBUNE
Attempts to shut down Pamela Geller's coming talk – about free speech, no less – illustrate what's at stake and what must be done when Western freedoms are threatened, she said.
Geller's blog, Atlas Shrugs, receives about 60,000 page views per day and is ranked the 28th most popular political blog in the world by Wikio. She is president of the American Freedom Defence Initiative and Stop Islamization of America, the author of three books and a columnist.
The dynamic New Yorker's first public-speaking engagement in Canada was scheduled to take place on May 13 at the Chabad Flamingo Synagogue in Thornhill. However, according to media reports, the shul's spiritual leader Rabbi Mendel Kaplan was impelled to cancel by York Regional Police, which he serves as a volunteer chaplain.
"It may be understandable that the rabbi did not want to lose his chaplaincy because of Pamela Geller, but this is a much larger issue than my speaking engagement," said Geller. "…All free people in Canada should realize that what is at stake is the very principle of free expression. Do they really want state control of what is acceptable speech and what isn't? That is the road to tyranny. If they don't stop it now, the outcome will be inexorable, and disastrous."
People need to stop being afraid to speak up about these issues, she said.
The venue for Geller's talk has been changed to the Zionist Centre. Her talk is on Freedom or Submission: The Dangers of Islamic Extremism and Western Complacency.
"Primarily, I will be talking about the war on free speech," said Geller. "There are so many tentacles to this particular war, but that is the most critical on all of the various fronts, because without freedom of speech, free men are forced at some point to resort to violence and that's what we wish very much to avoid. I believe that, unquestionably, Western values are superior to oppression, subjugation, misogyny – and our ideas will win – but they have to be heard."
She added, "Truth is the new hate speech. Just telling the truth is a radical act…There is a war in the information battle-space and it is raging."
This is not the first time a synagogue has been pressured to cancel an appearance by Geller. When a Long Island rabbi cancelled an event last month, the shul that stepped in at the last minute had to set up about 600 extra chairs outside to accommodate her audience.
"I will never abandon this fight because it is incumbent upon me to fight for freedom: it's just not negotiable. People say, 'You get all these death threats; aren't you afraid?' I think it's scarier doing nothing."
Geller's appearance is being sponsored by the Jewish Defence League of Canada. For more information or to purchase tickets call (416) 736-7000.
Jewish Tribune Police accused of pressuring rabbi to cancel talk
May 7, 2013 |
Suri Epstein - Correspondent JEWISH TRIBUNE
That was until Rabbi Mendel Kaplan, the synagogue's rabbi, got a visit from police.
Kaplan is the lone Jewish chaplain on York Region Police's team of eight chaplains.
"He was told that if the event went through he would no longer be a chaplain," alleges Meir Weinstein, director of JDL Canada, who was sponsoring the lecture. Kaplan subsequently cancelled the event.
According to Weinstein, Inspector Ricky Veerappan, head of the York Region Police's (YRP) Diversity, Equity and Inclusion Bureau, told Kaplan that individuals in the Muslim community had registered a complaint.
When news of Veerappan's visit spread, a firestorm erupted in the media. YRP responded with a press release stating, "Reports that Rabbi Kaplan was 'threatened' by York Regional Police are a flagrant misrepresentation of the facts."
When asked what would happen if Kaplan had refused to cancel Geller's appearance, Inspector Veerappan said "we would certainly revisit his relationship with York Region Police."
Veerappan maintained that the police hold the right of free speech in the highest regard.
"She has every right to speak and to express her views," Veerappan said. "We just have to ensure that it's not in any way, shape or form perceived that York Regional Police was endorsing her views through the fact that one of our chaplains was going to be hosting her and that's all that it is.
"There were no threats. Our primary concern was that we had a member of YRP that was connected to an event in contravention to the values of YRP. Some of the content of [Geller's] comments were in conflict with those values."
"[Opposition to] gender apartheid, creed apartheid, Islamic Jew-hatred, honour killing – runs contrary to their values?" Geller writes. "So what exactly are their values?"
Veerappan did not contact Geller directly but cited two American websites to back up his decision, including the Southern Poverty Law Centre. The SPLC is an American organization that maintains a selective list of right-wing extremist groups.
Salim Mansur, professor of political science at Western and a practising Muslim, wrote to YRP Chief Eric Jolliffe: "I am appalled that in this day and age we continue to hear regularly how the liberal democratic tradition of Canada and the West is being systematically shredded by institutions sworn to protect it."
JDL has moved the May 13 venue to the Toronto Zionist Centre on Marlee Avenue. JDL and Canadians United against Terror are also organizing an 'anti-bullying rally' against YRP at their Richmond Hill Headquarters on May 9. Rabbi Kaplan's office said that he was unavailable for comment. Chief Eric Jolliffe of the York Region Police did not respond to requests for an interview, nor did Mayor Frank Scarpitti of Markham who is Chair of the Regional Municipality of York Police Services Board.
Gino Rosati, Deputy Mayor and Regional Councillor from Vaughan, was also unaware of the incident but said that the Police Service does not report to Council. "They are mandated by the Police Act and they report to Police Service Board," he said. "The civilian board is there to set policies in accordance with the Police Service Act. They cannot give direction or mandate on police operation, that's up to the chief of police."
Toronto Board of Rabbis Denounce Pamela Geller
One small issue I have is with describing Geller's activities as "criticism." Criticism is not the right word but understandably the more accurate "batsh** crazy rants" to describe Geller's activities wouldn't fit the professional language required of an official press release.
Pam Gellar-Linked Group Puts Out New Anti-Muslim Ad In DC Metro
Geller takes on Toronto Board of Rabbis
Pamela Geller holding a print-out of an ad from a
campaign she created in response to CAIR's "My
Jihad" ad campaign.
(...)Geller was unaware of the TBR statement until the Jewish Tribune brought it to her attention. The TBR said it is "a strong supporter of freedom of speech for all, including Ms. Geller. Ms. Geller's voice and message are already well known here in Canada and beyond. There was no sense in inviting her here to speak before a Jewish audience."
(...)"To the Toronto Board of Rabbis, I say it is the mission of the yehudim to speak the truth. Shame on you; shame on you. They're guilty of lashon hara, the evil gossip that is a lie."
Geller spoke about a range of topics, including Islamic jihad (holy war against non-Muslims); all with the central theme of defending individual rights and freedoms which, she said, are under attack by people on the radical left as well as adherents of extremist Islam.(...)
Propagandiste du "Choc des Civilisations"
(une idée du juif britannique Bernard Lewis)
Pamela Geller dirige l'organisation SION:
STOP ISLAMIZATION OF NATION
AFDI, une organisation dirigée par Pamela Geller,
est responsable de ces affiches publicitaires pro-Israël
posées dans des lieux publics aux États-Unis. Elle est aussi
d'avis qu'il faudra nucléariser l'Europe si jamais l'Iran
attaque Israël, pour punir l'Europe d'avoir tué ses juifs.
Une autre publicité financée par l'AFDI
Pam la Star pose habillée avec l'ancien ambassadeur à l'ONU John Bolton, un néocon influent du PNAC et du JINSA.
Toutes nos excuses à l'extrême-droite identitaire sioniste pro-Islam, nous savons qu'elle ne nous pardonnera jamais d'avoir osé soutenir ouvertement le parti hongrois
antijuif Jobbik
(flashback:
liste de juifs de Jobbik
) qui "tend la main aux musulmans":
"... aujourd'hui la civilisation de l'Islam reste le dernier bastion de la culture traditionnelle de l'humanité. Son succès ou son échec est pertinent pour moi ... du point de vue de l'humanité. Si l'Islam échoue, la lumière s'éteint pour de bon et il ne reste plus rien pour contrer l'obscurité de la mondialisation".
As concerns Jobbik's position on Islam, the words of Gábor Vona – quoted from the official weekly of Jobbik, Barikád (edition published on 9 December, 2010) – should provide guidance: "... today the Islam civilisation remains the last bastion of the traditional culture of humanity. It's success or failure is relevant for me ... from the perspective of humanity. If the Islam fails, the light goes out for good and nothing remains to counter the darkness of globalisation". Also, as the latest Hungarian interpretation of the Holy Koran was published in January 2011, Jobbik was the only political party to take part officially in the ceremony organized by the Hanif Foundation.
Consequently, it should be clear to any objective observer that

Jobbik has no common ground with the extreme right-wing parties of Western-Europe, which have a declared anti-Islamic – and as evidenced by the Breivik-case, a strong pro-Zionist – leaning

.


http://jobbik.com/statement_jobbik_against_accusations_re_breivik-case
Ces identitaires qui contribuent stupidement au Choc des civilisations ne comprennent apparemment pas que ce Choc des civilisations qu'ils alimentent est justement ce qui pourrait précipiter la destruction de la "race blanche"!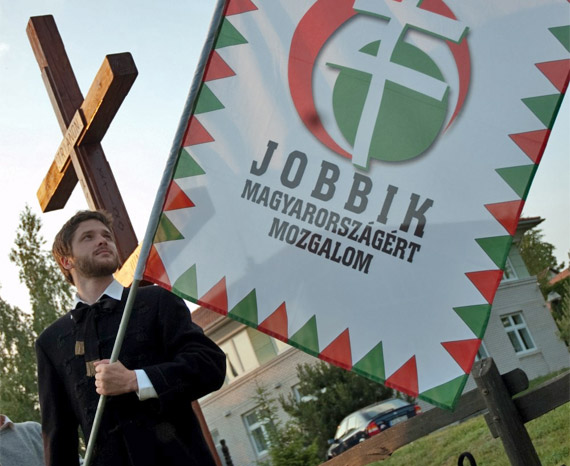 A powerful nationalist political party in Hungary advocating an alliance with Muslims against organized Jewish power–a case of controlled op or the real deal?
Download Here
THANK YOU FOR ASSISTING WITH THE COSTS ASSOCIATED WITH PRODUCING THIS PROGRAM

Michael Collins Piper discusses several stories, books, and other literature relating to global elites and their quest for total domination. He mentions a useful book on 'conspiracy theories', comments on the Mossad connection to the JFK assassination made by Victor Ostrovsky, while he continues to criticize Muslim bashers and Zionist activitists. Also mentions Jobbik and its stance towards Islam.
Sur ce blog:
Alex Jones diffuse la propagande sioniste des juifs Pamela Geller et Robert Spencer concernant l'incident de Boston
Les plus importants pourvoyeurs de haine anti-Islam aux USA appartiennent à quelle communauté, d'après vous?
Les réseaux sionistes et leur campagne de propagande haineuse anti-Islam
Les fauteurs de guerre
-
Le mouvement juif néoconservateur: du trostkisme au sionisme belliciste
'A CLEAN BREAK': un document incontournable du gvt israélien pour comprendre le projet du Grand Israël et les agressions impérialistes au Moyen-Orient
Netanyahou: "Nous vaincrons l'Islam militant"
Selon Frank J. Gaffney (PNAC), les Frères Musulmans ont infiltré et contrôlent l'administration Obama
L'ancien responsable de l'Unité de traque de Ben Laden à la CIA estime que l'Islam radical est une menace imaginaire
La sainte croisade contre les musulmans
La tragédie d'Oslo éclaire les liens entre les nationalistes européens et les sionistes extrémistes anti-Islam---Breivik communiquait régulièrement par courriel avec Pamela Geller
La LDJ canadienne se plaint de harcèlement policier et autres persécutions, orchestrées par des groupes palestiniens et musulmans
Le complot islamo-gauchiste contre l'Occident. Par l'humoriste juif Daniel Pipes
Selon le propagandiste juif sioniste anti-Islam Daniel Pipes, Netanyahou devrait menacer de nucléariser l'Iran
Un sinistre canadien dénonce le complot onusien-médiatique contre Israël
Le Prof Kevin McDonald et Geert Wilders dans le même lit
Un Geert Wilders québécois: Eric Duhaime
Un politicien israélien: "Si on n'avait pas Glenn Beck, il faudrait en inventer un"
Le Tea Party israélien à peine plus anti-Islam que celui de l'Oncle Sam
Au tour des colons fanatiques israéliens de brûler le Coran
Brûlez le Talmud et vous irez en prison, brûlez le Coran et vous irez à la télévision
Un rabbin sioniste conservateur, Daniel Lapin, au rally de Glenn Beck (Tea Party)
Rappel: c'étaient pas des musulmans qui ont été arrêté juste après le 11 septembre, c'étaient une soixantaine d'Israéliens
Les Arabes musulmans ont le dos large par les temps qui courent
N'ayez crainte, la Charia ne sera jamais imposée chez nous tant que nous resterons soumis aux 7 Lois de Noé