We are honored and privelidged to have with us Susan Lindauer, former CIA/DIA Intelligence Asset who joins the program to discuss her personal, 1st hand information concerning the attacks of 9/11 and the fact that elements within the US government going all the way to the top had foreknowledge of the attacks, as well as Israel direct, immediate and irrefutable role in it all. Her book Extreme Prejudice--The Terrifying Story of the Patriot Act and the Cover Ups of 9/11 and Iraq is probably the most important book that Americans who understand the dangers that their country faces can read right now.
Our apologies for the "technical problems". Throughout almost the entirety of the inteview, a loud and extended "beep" would suddenly jump up every 60-90 seconds. I did the best I could editing the 20+ electronic screeches, but could not get them all.
Please check out the brand new book detailing Israel's deliberate attack on the USS LIBERTY here
Listen Now:



Standard Podcasts:
Hide Player
|
Play in Popup
|
Download
|
Embeddable Player
We are honored and priveldged to have with us Susan Lindauer, former CIA/DIA Intelligence Asset who joins the program to discuss her personal, 1st hand information concerning the attacks of 9/11 and the fact that elements within the US government going all the way to the top had foreknowledge of the attacks, as well as Israel direct, immediate and irrefutable role in it all. Her book is Extreme Prejudice–The Terrifying Story of the Patriot Act and the Cover Ups of 9/11 and Iraq.
Listen Now:



Standard Podcasts:
Hide Player
|
Play in Popup
|
Download
|
Embeddable Player
|

The Patriot Act: When Truth Becomes Treason
Susan Lindauer
OpEd News
Sat, 28 May 2011 23:01 CDT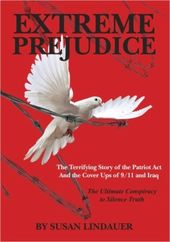 Many Americans believe they understand the dangers of the Patriot Act, which Congress has vowed to extend 4 more years in a vote later this week. Trust me when I say, Americans are not nearly frightened enough.
Ever wonder why the facts about 9/11 never got exposed? Why Americans don't fathom the leadership fraud surrounding the War on Terror? Why Americans don't know the 9/11 investigation failed? Why the "Iraqi Peace Option" draws a blank? Somebody has known the whereabouts of Osama bin Laden--- or his grave--for the past 10 years. But nobody's talking.
In significant part, that's because of the Patriot Act---
a law that equates free speech with sedition
. It's got a big agenda, with 7,000 pages of Machiavellian code designed to interrupt individual questioning of government policy. In this brave new world, free speech under the Bill of Rights effectively has been declared a threat to government controls for maintaining "stability". And the Patriot Act has become the premiere weapon to attack whistleblowers and dissidents who challenge the comfort of political leaders hiding inconvenient truths from the public. It's all the rage on Capitol Hill, as leaders strive to score TV ratings, while demagoguing their "outstanding leadership performance" on everything from national security to environmental policy.
Ex CIA Asset Susan Lindauer blows the whistle on 9/11, Iraq and Israel
Why the Fuss? Bizarre Call to Arms Against UN Rapporteur Richard Falk for Alluding to Gaps in the 9/11 Official Story
UN expert to be sacked for 9/11 remark
UN's Falk denies endorsing 9/11 conspiracy theory: Special Rapporteur on human rights in Palestinian territories responds to claim by UN Watch that he suggested US gov't responsible for attacks.
US fury over UN expert's 9/11 'cover-up' claims
UN human rights official claims 9/11 was US plot
UN expert condemned over 9/11 views
An Explosive New 9/11 Charge
In a new documentary, ex-national security aide
Richard Clarke suggests the CIA tried to recruit 9/11
hijackers—then covered it up.
Did Tenet Hide Key Info on 9/11?
11 septembre 2001 - Le Mossad dirigeait les « pirates de l'air » de l'opération terroriste
Opinion Maker, Wayne Madsen, 27 janvier 2011
En février 2002, le Renseignement britannique signala que le Mossad israélien dirigeait les cellules de pirates de l'air arabes qui furent ensuite accusées par la Commission sur le 11/9 de l'exécution des attentats aériens du World Trade Center et du Pentagone. Nous avons reçu les détails de ce rapport du Renseignement britanniques, qui avait été étouffé par le régime de l'ancien premier ministre britannique Tony Blair.
Dans les mois précédant le 11/9, une unité du Mossad composée de six Juifs natifs d'Égypte et du Yémen a infiltré les cellules d'Al-Qaïda de Hambourg (la cellule Atta-Mamoun Darkanzali), de Floride du Sud, et de Sharjah dans les Émirats arabes unis. Non seulement le Mossad a infiltré les cellules, mais il a commencé à les organiser et à leur donner les ordres spécifiques qui aboutirait finalement le 11/9 à leur présence à bord des quatre vols réguliers en provenance de Boston, Washington Dulles, et Newark dans le New Jersey.
Formée de six Israéliens, l'équipe d'infiltration du Mossad comptait deux cellules de trois agents. Pour leur futur contrôle et manipulation de cellule Al-Qaïda, tous avaient reçu une formation spéciale dans une de leurs bases du désert du Néguev. Une cellule du Mossad s'est rendue à Amsterdam où elle s'est mise sous le contrôle opérationnel du poste du Mossad Europe, opérant à partir du complexe d'El Al à l'aéroport international de Schiphol. Se rendant ensuite à Hambourg, cette unité de trois hommes du Mossad a pris contact avec Mohammed Atta, qui a cru qu'elle était envoyée par Oussama Ben Laden. Elle était envoyée en réalité par le chef du Mossad, Ephraim Halevy,.
La deuxième équipe de trois hommes du Mossad a pris l'avion pour New York et puis pour le sud de la Floride, où elle a commencé à organiser les cellules Al-Qaïda opérant depuis Hollywood, Miami, Vero Beach, Delray Beach, et West Palm Beach. Les « étudiants en art » israéliens, qui faisaient déjà l'objet d'une enquête de la Drug Enforcement Administration pour espionnage (casing) des bureaux et domiciles des agents fédéraux, vivaient parmi elles et exerçaient une surveillance sur leurs activités, notamment sur la formation à l'école de pilotage de la future cellule de « pirates » arabes, en particulier à Hollywood et Vero Beach.
En août 2001, la première équipe du Mossad s'est envolée pour Boston avec Atta et les autres membres d'Al-Qaïda de Hambourg. La sécurité de l'aéroport international de Logan était confiée à Huntleigh USA, une filiale de la compagnie israélienne de sécurité aéroportuaire étroitement liée au Mossad, International Consultants on Targeted Security – ICTS. Les propriétaires d'ICTS étaient liés politiquement au Parti du Likoud, en particulier à la faction de Netanyahu, alors maire de Jérusalem, et du futur premier ministre Ehud Olmert. C'est Olmert qui intercéda personnellement auprès du maire de New York Rudolph Giuliani pour libérer de prison les cinq employés de l'entreprise de déménagement Urban Moving Systems, identifiés par les agents de la CIA et du FBI comme des pions du Mossad. Considérés comme ayant été impliqués dans les attentats du 11/9, ces Israéliens furent les seuls suspects arrêtés dans toute la Zunie.
Par l'intermédiaire de l'ambassade d'Israël à Washington, les deux équipes du Mossad envoyaient régulièrement à Tel-Aviv des rapports codés sur les progrès de l'opération 11/9. Nous avons appris d'une source du Pentagone que les principaux Zuniens impliqués dans l'activité médiatique visant à mettre le 11/9 sur le dos des pirates arabes d'Oussama Ben Laden et des Talibans, étaient présents à l'ambassade d'Israël le 10 septembre 2001. C'est là qu'ils coordonnaient leurs offensive médiatique pour les jours et semaines qui suivraient les attentats. Il est plus que probable que les agents de contre-espionnage du FBI qui s'acquittent de la surveillance de l'ambassade d'Israël ont la preuve de leur présence là-bas le 10 septembre. Certains de ces Zuniens sont bien connus du public des informations du réseau télévisé national.
À la mi-août, l'équipe du Mossad dirigeant la cellule de Hambourg à Boston a informé Tel-Aviv que les plans du 11/09 étaient finalisés. La cellule du Mossad basée en Floride a indiqué que la preuve de la « présence » des membres de la cellule arabe dans les écoles de vol de Floride était établie.
Les deux cellules du Mossad évitaient soigneusement toute mention du World Trade Center ou des cibles à Washington dans leurs messages codés pour Tel-Aviv. Ephraim Halevy a dissimulé ses traces en signalant à la CIA une « menace générale » d'attaque de terroristes arabes contre une centrale nucléaire quelque part sur la côte Est de Zunie. Le directeur de la CIA George Tenet a rejeté comme « pas assez précis » l'avertissement de Halevy. Sous le directeur Louis Freeh, proche du départ, le FBI a enregistré l'alerte « imprécise » concernant l'attaque contre une centrale nucléaire et a expédié cette information dans ses bulletins habituels aux agents de terrain, mais aucun haut niveau d'alerte n'a été décrété.
Aucune trace papier ne montrant qu'Al-Qaïda est le cerveau du 11/9, qui pourrait donc être lié aux instructeurs du Mossad d'Al-Qaïda, a troublé le FBI. Le 19 avril 2002, dans un discours au Club Commonwealth de San Francisco, le directeur du FBI Robert Mueller a déclaré : « Dans notre enquête, nous n'avons pas découvert un seul bout de papier — soit ici en Zunie, soit dans la mine d'information découverte en Afghanistan et ailleurs — mentionnant quelque aspect du complot du 11 septembre. »
Les deux équipes du Mossad, d'infiltration et de contrôle d'Al-Qaïda, ont aussi aidé à établir des lieux sûrs pour l'exfiltration rapide de Zunie des agents du Mossad. En mars dernier, nous avions signalé : « Wayne Madsen Report a appris de deux sources d'El Al qui travaillaient pour cette compagnie aérienne israélienne à l'aéroport JFK de New York, que le 11/9, quelques heures après que la Federal Aviation Administration (FAA) ait fait clouer au sol tous les vols civils nationaux et internationaux entrants et sortants de Zunie, qu'un Boeing 747 d'El Al bondé a décollé de JFK à destination de l'aéroport international Ben Gurion de Tel-Aviv. Nos deux sources d'El Al ne sont pas des ressortissants israéliens, mais les immigrés légaux équatoriens qui travaillaient en Zunie pour la compagnie aérienne. Le vol a décollé de JFK à 16 heures 11 et son départ a été, selon les sources d'El Al, autorisé grâce à l'intervention directe du ministère de la Défense zunien. Sur les lieux, à l'aéroport JFK, avec les autorités aéroportuaires et du contrôle du trafic aérien, des responsables militaires ont été personnellement impliqués dans le déblayage de la voie pour faire décoller le vol. Selon le rapport de la Commission sur le 11/9, le ministre aux Transports Norman Mineta a ordonné à tous les vols civils d'atterrir à 9 heures 45 le 11 septembre. » Nous avons appris de sources du Renseignement britanniques que les six hommes de l'équipe du Mossad ont été enregistrés sur le manifeste de vol à titre d'employés d'El Al.
Nous avions signalé antérieurement que la cellule du Mossad opérant à travers Urban Moving Systems dans la région de Jersey City-Weehawken dans le New Jersey, était soupçonnée par certains au FBI et à la CIA d'être impliquée dans l'installation (moving) d'explosifs au World Trade Center, ainsi que dans la mise en scène de manifestations « sous fausse bannière » en au moins deux endroits du nord de Jersey : au parc d'État Liberty et dans un complexe d'appartements à Jersey City au moment où le premier avion a heurté la tour nord du World Trade Center. Une équipe d'agents du Mossad d'Urban Moving Systems a été arrêtée plus tard le 11 septembre et emprisonnée pendant cinq mois au Centre de détention métropolitain de Brooklyn. Certains de leurs noms figuraient en tant qu'agents du Mossad connus dans une base de donnée commune de la CIA et du FBI, avec le propriétaire d'Urban Moving Systems, Dominik Suter, dont le nom figurait aussi sur une liste confidentielle du FBI concernant des suspects du 11/9, ainsi que le nom des principaux « pirates, » dont Mohammed Atta et Hani Hanjour, ainsi que le soi-disant « 20ème pirate de l'air 20, » Zacarias Moussaoui.
À la suite des attentats du 11/9, Dominik Suter a eu l'autorisation de s'échapper de Zunie après qu'il ait eu un contact initial avec le FBI à l'entrepôt d'Urban Moving Systems à Weehawken dans le New Jersey. Selon une source informée qui nous a contactés, Suter a plus tard été autorisé à revenir en Zunie où il a participé à des activités de fourniture de pièces d'avion dans le sud de la Floride. Suter a ensuite déposé en Floride le bilan d'Urban Moving Systems et d'autres entreprises qu'il exploitait : Suburban Moving & Storage Inc ; Max Movers, Inc ; Invsupport ; Woodflooring Warehouse Corp ; One Stop nettoyage LLC, et City Carpet Upholstery, Inc. Au moment du dépôt de bilan en Floride, Suter a inscrit son adresse : 1867 Fox Cour, Wellington, FL 33414, avec son numéro de téléphone : 561 204-2359.
D'après la liste de créanciers, il peut être établi que Suter opérait en Zunie depuis 1993, année du premier attentat contre le World Trade Center. En 1993, Suter a commencé à accumuler des frais de carte de crédit American Express totalisant 21.913,97 dollars. Suter a aussi entretenu des comptes de carte de crédit dans, entre autres banques, HSBC et Orchard c/o HSBC Card Services de Salinas en Californie. Suter a également été en affaire avec le Centre communautaire juif de Grand Palm Beach en Floride et de Ryder Trucks à Miami. Miami et le sud de la Floride étaient des régions d'exploitation majeures pour les cellules d'agents du Mossad israélien se faisant passer pour des « étudiants en art, » qui vivaient et travaillaient à proximité de quelques-uns des futurs « pirates » arabes identifiés dans les mois précédant le 11/9.
John Miller, le correspondant de 20/20 sur ABC, a fait en sorte que le lien entre israélien et « pirates de l'air arabes » d'Al-Qaïda soit enterré lors d'une enquête sur l'activité des déménageurs le 11/9. La présentatrice Barbara Walters a aidé Miller en étouffant l'affaire des déménageurs et [l'affaire] Suter a été révélée le 21 juin 2002. Miller est ensuite devenu porte-parole des affaires publiques du FBI afin de s'assurer que Mueller et d'autres responsables du FBI retiennent bien le scénario Al-Qaïda tel qu'il avait été établi par le régime Bush et la future Commission sur le 11/9. Mais Vince Cannistraro, ancien patron de l'antiterrorisme à la CIA, a laissé échapper sur ABC un indice important sur les opérations des déménageurs du Mossad. Il a déclaré que des agents du Mossad « se sont installés ou ont opéré dans le but de lancer une opération de renseignement contre des islamistes radicaux dans la région, en particulier aux environs du New Jersey et de New York. » Concrètement, cette « opération de renseignement » s'est avérée être les attentats du 11/9. Et ce n'est pas un hasard si c'est John Miller d'ABC qui a réalisé en mai 1998 l'une des rares interviews d'Oussama Ben Laden dans son camp en Afghanistan. Ben Laden a joué son rôle à la perfection pour la dramaturgie fictive « faite pour la télévision, » connue sous le nom de 11/9.
Nous avons appris de sources du Renseignement italien que la prise en main d'agents d'Al-Qaïda par le Mossad ne se borne pas à la direction des équipes de « pirates » en Zunie et à Hambourg. Infiltrés en Syrie, d'autres coopérants arabes d'Al-Qaïda dirigés par le Mossad ont été arrêtés par les services secrets syriens. La Syrie n'a pas réussi à se les rallier pour les impliquer dans des opérations de renseignement au Liban. Jusqu'aux jours précédant le 11/9, des informations détaillées sur l'équipe de soutien de Ben Laden ont été fournies au régime Bush par Gutbi al-Mahdi, patron de Mukhabarat, le service de renseignement soudanais. Ces renseignements ont été rejetés par la Maison Blanche de Bush. Il a été rapporté plus tard que les membres du réseau de soutien soudanais d'Al-Qaïda n'étaient que des agents doubles du Mossad, qui avait aussi établi des contacts étroits avec le président yéménite Ali Abdullah Saleh et opéraient en Égypte, Arabie saoudite, et Érythrée, aussi bien qu'au Soudan. Le lien du Mossad à Al-Qaïda au Soudan était probablement connu du Mukhabarat soudanais ; une raison du rejet de ses informations sur Al-Qaïda par la Maison Blanche de Bush complètement inféodée au Mossad. Le Yémen a également identifié des membres d'Al-Qaïda qui sont aussi des agents du Mossad. Un ancien chef du Mossad nous a révélé en 2002 que des commandos du Mossad composés de natifs du Yémen « profondément engagés » avaient repéré Ben Laden dans la région de Hadramaout à l'est du Yémen après sa fuite de Tora Bora en Afghanistan, après l'invasion zunienne.
Le Renseignement français a établi que, se présentant comme des membres radicaux des Frères musulmans, d'autres natifs d'Égypte et du Yémen étaient des agents juifs du Mossad infiltrés à Sharjah dans les Émirats arabes unis. Pourtant, ces « Frères musulmans » étaient en réalité des agents impliqués dans la fourniture de financements israéliens secrets pour les activités d'Al-Qaïda. Le 21 février 2006, lors de la révocation du ministre des Finances Paul O'Neill par le président Bush, nous avions signalé la découverte de comptes d'Al-Qaïda douteux dans les Émirats arabes unis : « Des initiés des banques de Dubaï signalent qu'en mars 2002, Paul O'Neill, ministre des Finances zunien, s'est rendue à Dubaï et a demandé des documents sur un transfert de 109.500 dollars de Dubaï sur un compte collectif de la banque Sun Trust de Floride détenu par les pirates de Mohammed Atta et Marwan al Shehhi. O'Neill a aussi demandé aux autorités des Émirats de fermer les comptes utilisés par Al-Qaïda... Les Émirats arabes unis se sont plaints des exigences de O'Neill à l'administration Bush. La pression de O'Neill sur les Émirats et les Saoudiens a contribué à son éviction par Bush du poste de ministre des Finances. » En décembre 2002, il se pourrait que O'Neill ait aussi trébuché sur des agents du Mossad « Frères musulmans » opérant dans les Émirats qui envoyaient des fonds à Al-Qaïda.
Après la débâcle de l'Union soviétique et la montée en puissance des Talibans en Afghanistan, le régent de Sharjah, le Sultan Ben Mohammed al-Qasimi, qui a survécu à une tentative de révolution de palais en 1987, a ouvert son domaine à des hommes d'affaires russes comme Viktor Bout, ainsi qu'à des bailleurs de fonds de groupes musulmans radicaux, incluant les Talibans et Al-Qaïda.
De plus, ce soutien israélien à Al-Qaïda était parfaitement connu du Renseignement saoudien, qui l'approuvait pour éviter de compromettre Riyad. Le soutien commun israélo-saoudien à Al-Qaïda était bien connu à Sharjah et dans le réseau aéronautique basé à Ras el Khaimah de Viktor Bout, désormais emprisonné à New York sur charges de terrorisme. La présence de Viktor Bout à New York, un foyer du Renseignement israélien contrôlant des procureurs fédéraux, des juges, ainsi que des organes de presse, n'est pas un hasard : Bout en sait suffisamment sur les activités à Sharjah de soutien du Mossad aux Talibans et à Al-Qaïda en Afghanistan, où Bout avait également des contrats d'aviation et de logistique, pour éventer le Mossad en tant que véritable cerveau derrière le 11/9. L'empire aéronautique de Bout se prolongeait aussi à Miami et Dallas, deux régions reliant plusieurs points du réseau du Mossad pour les opérations de contrôle des vols d'entraînement des membres d'Al-Qaïda de la cellule arabe dans le mois précédant le 11/9.
Le chemin de Bout a aussi croisé le réseau de soutien d'Al-Qaïda à cette même banque HSBC de Sharjah. Les Frères musulmans bidons, membres du Mossad d'Égypte et du Yémen, contrôlaient le financement d'Al-Qaïda à travers les comptes de HSBC à Sharjah. Dominik Suter du Mossad a également été impliqué avec HSBC en Zunie. Enquêtant sur Al-Qaïda, John O'Neill, patron du contre-terrorisme au FBI, a pris conscience des mécanismes de financement « exceptionnels » de cette organisation. Ce n'est pas par erreur si, la veille des attentats, O'Neill a obtenu le poste de directeur de la sécurité au World Trade Center. O'Neill a péri dans l'écroulement des tours. Le Mossad utilise un certain nombre de Juifs nés en pays arabes pour se faire passer pour des Arabes. Ils sont souvent porteurs de passeports volés dans des pays arabes ou européens avec de grandes populations d'immigrés arabes, Allemagne, France, Grande-Bretagne, Danemark, Suède et Pays-Bas, en particulier.
Le succès de l'opération sous fausse bannière du 11/9 fut pour le Mossad un succès dépassant toute attente. Soutenue par le régime Blair, l'administration Bush a attaqué et occupé l'Irak, destitué Saddam Hussein, et la pression sur Israël a été détournée sur d'autres, notamment sur l'Iran, la Syrie, le Pakistan, le Hamas et le Hezbollah libanais. Les Israéliens ont également vu la Zunie, la Grande-Bretagne, et les Nations Unies commencer à sévir contre les entreprises diamantaires chiites libanaises en République démocratique du Congo et Afrique de l'Ouest, et par voie de conséquence, avec le soutien logistique fourni par les compagnies aéronautiques de Bout, cela a ouvert la voie à l'apparition de Tel-Aviv dans le marché du diamant libanais en Afrique centrale et occidentale.
Ministre israélien des Finances à l'époque, Benjamin Netanyahu a commenté les attentats du 11/9 à la télévision zunienne peu de temps après qu'ils se soient produits. Il s'est exclamé : « C'est très bon ! » Il apparaît maintenant que, dans sa fougue, en tant que cerveau du 11/9, Netanyahu a soulevé le voile du Mossad.
Wayne Madsen est un ancien officier de renseignement de la marine de guerre zunienne spécialisé dans la surveillance électronique et la sécurité. Anciennement assigné à l'Agence de sécurité nationale (NSA) et au ministère des Affaires étrangères. Actuellement, journaliste d'investigation, chroniqueur dans la presse nationale, et auteur. Administrateur de l'Electronic Privacy Information Center (EPIC), (une organisation dédiée à la protection des libertés individuelles) à Washington DC.
Original : www.opinion-maker.org/2011/01/british-intelligence-reports/
Traduction copyleft de Pétrus Lombard
Uncensored Version of 9-11 Report Detailing Spy Ring Now Available
By Michael Collins Piper
A
FP presents — for the first time ever — an unredacted, uncensored reprint of the controversial report leaked from inside the Drug Enforcement Administration (DEA) exposing a wide-ranging Israeli spy ring operating on American soil prior to the 9-11 "terrorist" tragedy.
Previous editions of the report released by AFP and circulated by others on the Internet were redacted — that is, portions were "blacked out." But those redactions aren't in this one. All the facts are there for you to see. Here's the story:
Due to an unexpected computer "miracle," when AFP ran out of copies and sent the report back to the printer, a "techie" at the printing company discovered that the scanning process removed all of the redactions. So AFP said, "do it" and the redactions were excised and now you can read the previously suppressed information.
The wide array of evidence presented in this report confirms the fact — still unknown to the public at large — that Israeli intelligence operatives in the United States (posing as "art students") were engaged in nationwide spying on government facilities and other institutions in the period preceding the 9-11 attacks.
But what makes the report most explosive is that the report demonstrates that these Israelis were surveilling the alleged 9-11 hijackers prior to those attacks.
And while there are some who doubt the alleged identities of the 19 individuals officially named as the hijackers, there is no question that the Israeli operatives were on top of persons whose names have been linked to 9-11 by the U.S. government version of events.
The story of the "art students" has become almost legendary among serious independent investigators of 9-11, despite the fact the U.S. government and the mass media have done their utmost to keep it under wraps. At one point, spokesmen for then-Attorney General John Ashcroft — a fanatic supporter of Israel — even claimed the story was "an urban myth," and that there were no such "art students."
In fact — although this is not mentioned in the report — some of those "art students" visited the headquarters of the newspaper,
The Spotlight
, whose editors launched AFP upon
The Spotlight
's demise in 2001. Arriving without notice, they offered to sell artwork at discount prices that they said had been intended for delivery "at the bank across the street" but the bank had rejected it.
While in
The Spotlight
office they were full of questions and obviously very alert to the activities therein, causing one "conspiracy theorist" on
The Spotlight
staff — this author, in fact — to suspect these students were Israeli agents on a training mission.
It was only later it was learned that these same "art students" and their colleagues were indeed Israeli agents — thanks to the patriot inside the DEA who released the report that AFP is now making available once again.

——

*See AFP's special report Israeli Spies in America and the 9-11 Connection. 12 pages. 1-5 copies are $4 each. 6-39 copies are $1.85 each. 40- 499 copies are 60¢ each. 500 or more are 50¢ each.We also recommend The DEA Report on Israeli Spying. This uncensored, unredacted version of the report (60 pages 8.5 x 11 format) is available for $15. Call 1-888-699-NEWS to charge or send payment to AFP, 645 Pennsylvania Avenue SE, #100, Washington, D.C. 20003. Add 10% of order total for S&H inside U.S. Add 20% for S&H outside U.S.iberty?

--Lire ici
l'article de Piper sur le 11 septembre et le Mossad, publié dans Arab News
et qui a soulevé tout un tollé.
--Lire la
réponse d'un sioniste arabe
à l'article de Piper.
--Lire la
réplique de Piper
adressée au sioniste arabe.