The Daily Mail's WTC7 propaganda debunked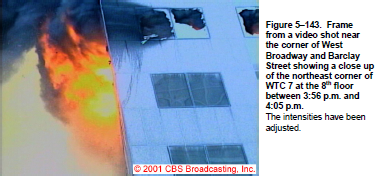 Source:
NIST NCSTAR 1-9, Final Report released November 2008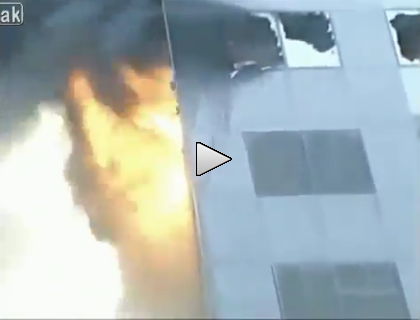 Source:
LiveLeak
And Figure 5-138 corresponds to a frame around 0:15 in the video. The flame height extends a little above the bottom of the window. NIST, in referring to this image, describes the flames as "small flames burning on the window frames".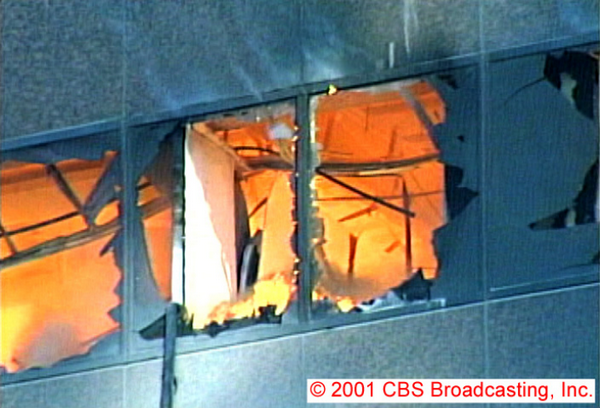 Source:
NIST NCSTAR 1-9, Final Report released November 2008
From 10.4 in their report:

Source:
NIST NCSTAR 1-9, Final Report released November 2008
The video shows fires burning on the 8th floor, and NIST admits that the exterior columns on that floor did not exceed 150 °C. A temperature of 150 °C is not going to induce buckling in steel columns.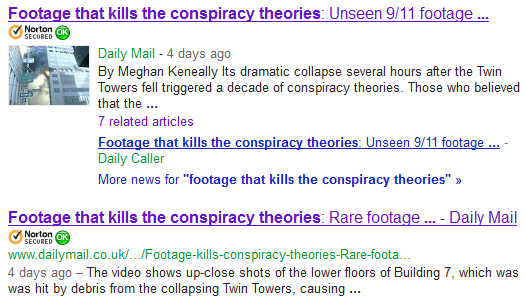 It can also been seen that the unsustainable lie about the video being "unseen" footage was changed to "rare" footage. Yeah, right. Rare enough for multiple frames extracted from it to be all over the NIST report and seen by millions of people over the past three years.
However, years of brainwashing that induces an inverted world-view in which conspiracy facts are perceived as conspiracy theories and vice versa, along with a clear understanding that a failure to support the official line on events like 9/11 would be career suicide, leads to otherwise intelligent journalists posting "rubbish" and "dis-information" that "comes across like it was written by a child for a school essay". And to be fair, journalists have deadlines to meet, and do not have the luxury of being able to spend weeks on an article after having already researched the subject in their spare time over most of the previous decade.
NIST postulating its "thermal expansion" collapse theory is analogous to a corrupt policeman who dismisses bullets and bullet wounds found in a corpse, pretends they are not there, and reports that the death was a result of being hit on the head by a piece of paper.
Apart from Meghan Keneally's apparent blunder in confusing window panes with exterior columns, and attempt to outdo NIST in proposing a collapse theory in seven minutes when it took them seven years to do the same, she has advanced one of the biggest straw man arguments of all time. No one claims that there were never any fires burning in WTC7. There has always been evidence of office fires at WTC1, 2 and 7, and a confirmation of that is not news and will not cause anyone to change their mind.
Source:
YouTube
Here's the comment that the writer originally submitted to the Mail's page:
The form field indicates that postings of up to a 1,000 character limit are accepted, and this is confirmed by comments that have appeared and are very close to this limit. There is also a statement that "the comments below have not been moderated".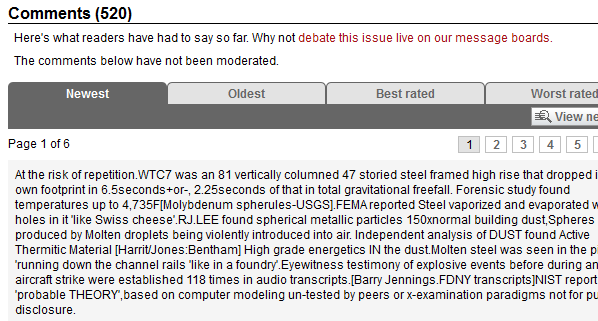 Source:
DailyMail.co.uk
The first attempt at posting the first section was unsuccessful. Hours later, in a second attempt, the suspected sources for the nano-thermite were revised from "the U.S. or Israeli military" to "the U.S. military". Pass! The comment was accepted this time. So apparently the Mail's computer deems "Israeli" to be a dirty word - at least, in any discussion about 9/11.
The second part did not appear. In case they had set their filter to censor discussion of "Israeli agents", the word "agent" was changed to "device" and resubmitted, but to no avail.

Source
Proof of Israel's central role in 9/11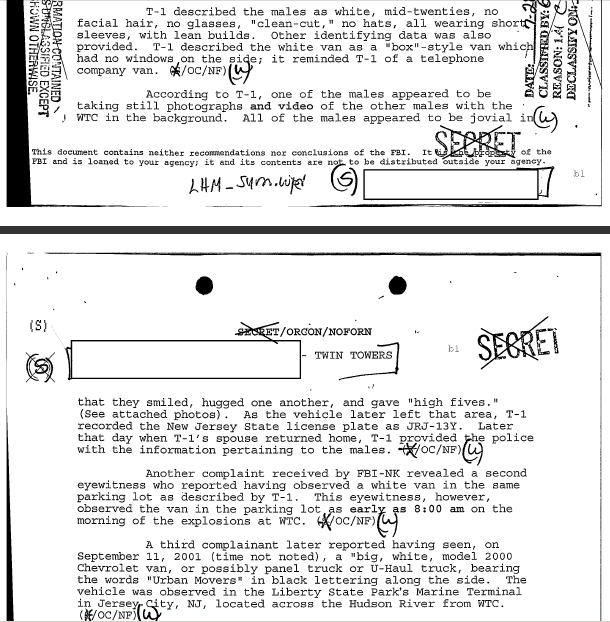 Source:
KURZBERG, SIVAN ET AL (FBI report), Section 5
When arrested, the Israelis - dubbed the "High-Fivers" by the FBI - were found to have airline tickets with immediate travel dates for destinations world-wide, and tie-ins to 9/11.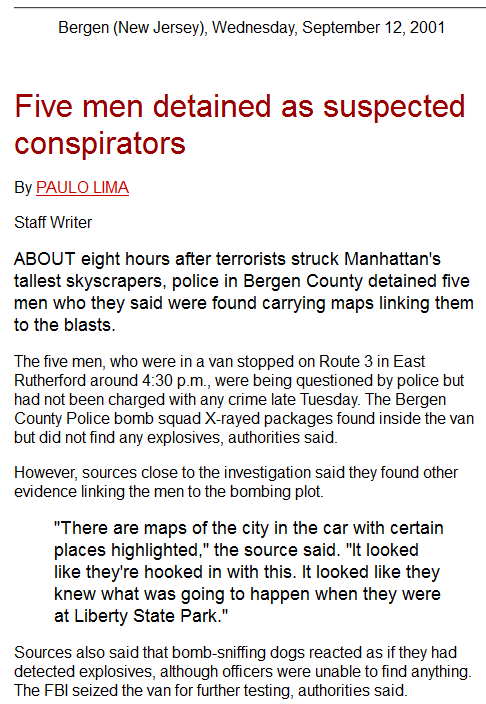 Original source:
The Record (Bergen County)
All three Israelis lied, providing conflicting alibis of how they came to be seen at the Doric parking lot within such a short time of the first plane crash. Their alibis were physically impossible, given the time available for one of them to receive a telephone call from a friend alerting him to the news of a plane crash, then to read about the event on the Israeli news site YNET.co.il and the U.S. site CNN.com on two of their moving company's sixteen computers, then for the three of them to make the bizarre decision that it would be worth leaving their workplace - and risk the wrath of their boss who was "tight with money" and normally did not let his employees take his vans for personal use - to "document" for "history" a simple plane crash that no innocent person could have known would turn out to be the defining event of the turn of the century, to gather up their cameras which they luckily had with them at work that day and run out to their employer's van, to drive through rush hour traffic on what is normally a four to five-minute journey as they thought of a suitable location on the fly, make a left turn into an apartment block and drive around to the rear parking lot, get out and climb onto the roof of the van with their cameras, ending up at a location where one of them (Sivan Kurzberg) had been sighted the previous day posing as a "construction worker", all of this having to occur within a few minutes before the local news radio station had broken the news of the first plane crash. In their first alibis, Shmuel claimed they were on the West Side Highway in New York City at the time of the "incident", Kurzberg said they first climbed onto the Urban Moving Systems roof and were then stuck in heavy traffic before arriving at Doric, and Ellner claimed they stopped at a Gulf gas station on the way to Doric after hearing of the first plane crash. Ellner's new, improved alibi was the variation in which he received a telephone call from a friend alerting him to the first plane crash, and two of the Israelis then spent "a few minutes" reading about the event on CNN.com and YNET.co.il before setting off to Doric.
No evidence for the "nineteen Arabs with box cutters" tinfoil conspiracy theory
Shea continues:
Map 1 in the memorandum covers the Hollywood, Florida area.
Source:
The Gerald Shea memorandum on the DEA Report
Source:
Paul Zarembka The Hidden History of 9-11
Ironically, journalists who attempt to defend the official 9/11 legend are actually benefitting the truth movement when they bring attention to Building 7, or when their shaky assertions serve to highlight the inadequacies of the legend. Of course, Meghan Keneally's article could have been designed to help 9/11 truth whilst duping the Mail's bosses into thinking it was anti-truth.
Why those who say 9/11 was a Zionist job are not "anti-Semitic conspiracy theorists"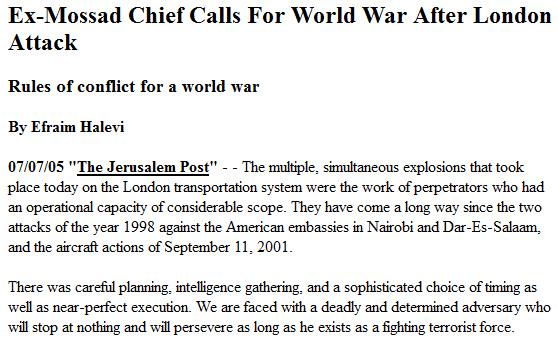 Source
Zionist control of the mainstream media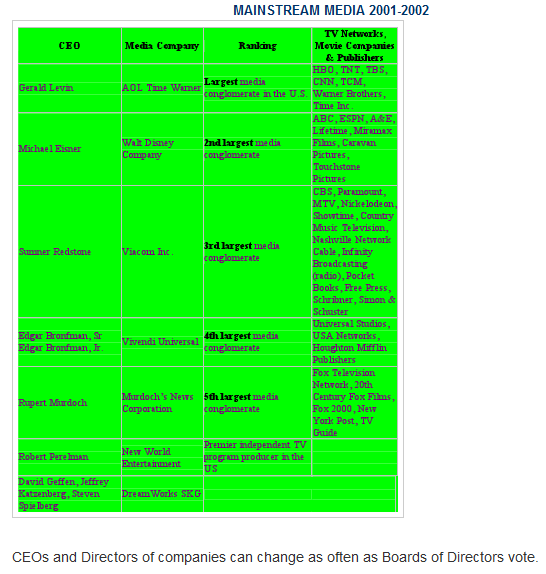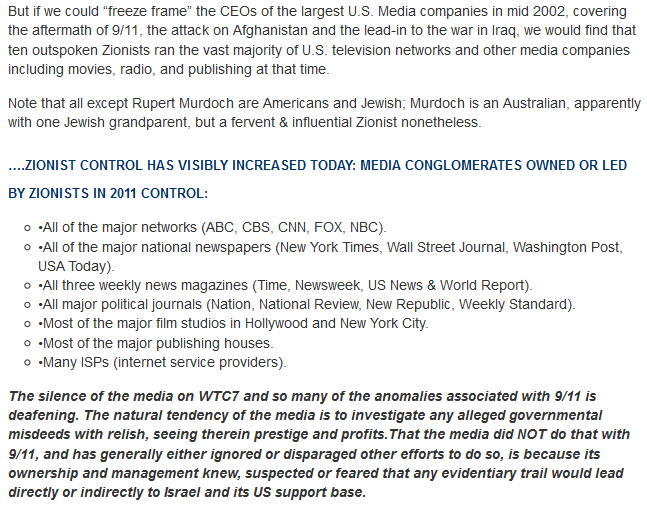 Source:
Dr. Alan Sabrosky
As for the British media, Jews are also heavily represented.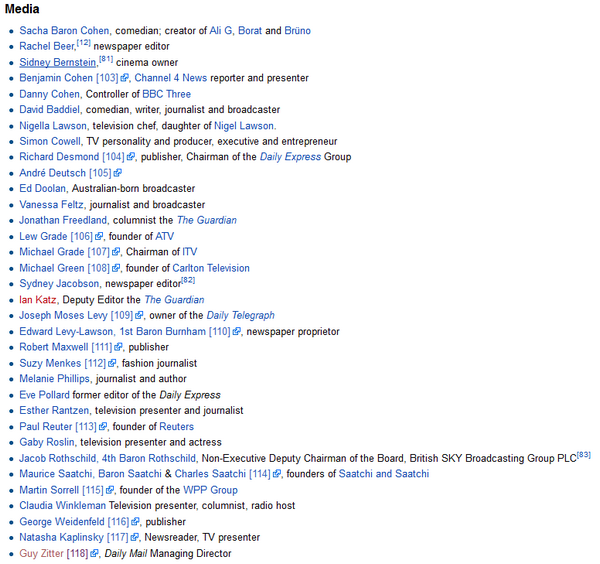 Source:
Wikipedia, list of British Jews
The Daily Mail's Managing Director Guy Zitter no doubt shies away from any independent, unbiased investigation into WTC7 and other impossibilities, improbabilities and anomalies associated with the official 9/11 narrative because he is aware, suspects or fears "that any evidentiary trail would lead directly or indirectly to Israel and its US support base", as Dr. Alan Sabrosky sagely observes.
As mentioned above, the Mail's writers include the Zionist Jew Melanie Phillips and the Zionist Richard Littlejohn, so the evidence points to Zitter being a Zionist Jew. And the Mail's editor Paul Dacre is Zionist, otherwise Phillips and Littlejohn would be fired and replaced by those with the honesty to tell it like it is.
There is an argument that those such as Zitter and Dacre should stand trial for aiding and abetting terrorism and as accessories to mass murder, given their role in protecting Criminal Zionism through their rigid adherence to the official 9/11 narrative. However, this argument will strengthen if they continue to promote 9/11 lies as those who support the nineteen Arabs story are increasingly seen as retards and fruitcakes who are a few sandwiches short of a picnic. Newspaper bosses will use the defense that there is no "Jewish conspiracy", they are merely continuing to go with the consensus (of the false narrative) because they believe (albeit probably incorrectly) it would be bad for business to do otherwise. And in many cases, this is probably true.
Zionist occupied government (ZOG)
Jews who believe in justice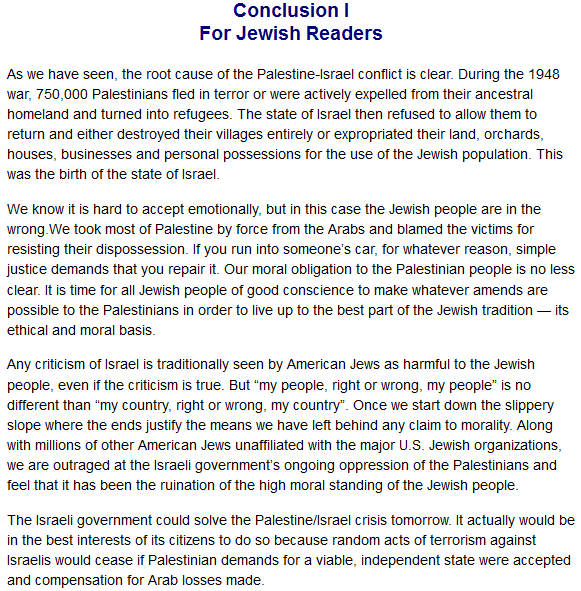 Source:
Jews for Justice in the Middle East
So here's how Zionism works:
The cancer of Zionism
Zionism is a cancer on humankind and must be consigned to the rubbish bin of history.
takeourworldback.com : Ground Zero fires could have heated the steel by up to 4 °F
:
An abundance of forensic evidence proves the official 9/11 conspiracy theory is scientifically and physically impossible
. If the official theory were true, the laws of thermodynamics and thermochemistry would need to be rewritten and people would survive months of burial in sand. Air flow through the Ground Zero pile is found to be more than three orders of magnitude short of that required to sustain smoldering combustion except for within voids, and sufficient to raise the temperature of the steel by 2.2 °C in five months. The maximum sustainable heat release rate is equivalent to one burning cigarette every 32 square feet. Steel that was heated to cherry-red would have cooled within hours. Single-wall carbon nanotubes (CNT), found in the WTC dust and in the lungs of people exposed to the dust, are used in explosive mixtures capable of producing average shock waves of 6.8 km/s and temperatures of 1,500 to 2,000 °C. The
active thermitic material found in the WTC dust
was manufactured with 40 nm-thick aluminum plates, which happens to be the optimum size for aluminum particles in explosive nano-thermite mixtures, since any decrease in size below this critical value does not provide any further increase in reaction speed. Research was being carried out as early as 1995 into molybdenum trioxide-based aluminothermic nano-composites, which are known to have a combustion velocity of 990 m/s.
A molybdenum spherule, indicating a previously molten state, was found in the WTC dust
. The official
conspiracy theory of nineteen Arabs with box cutters is easily refuted
with a few short steps that evaluate the physics and the physical evidence. The death blow has already been dealt by combining
1)
and
2)
with
4)
or
5)
below, and several further points are provided for diehard reality deniers. A standalone set of evidence described in
8)
is more than capable of rebutting the "Arabs did 9/11" thesis, and the same could be said of
6)
. Part
3)
is necessarily lengthy, in order to dispel an aspect of the legend that is much misunderstood and has taken on a quasi-religious tone. Those who prefer to sidestep the (elementary) math can go on to part
4)
. Or go to the
index
to review a topic of interest.(...)
Here are a few clues as to why the Guangzhou high-rise burned
for more than eleven hours
, yet did not suffer the same fate as World Trade Center buildings 1, 2 and 7:
1) Larry Silverstein hadn't insured the building against terrorist attacks to the tune of $3,546,800,000 "per occurrence", six weeks prior to two occurrences of terrorist attacks.
2) No fireproofing (SFRM) will be found to have "melted into a glassy residue", no steel will be found to have "vaporized" in "searing temperatures", the building's lead structural engineer will not report seeing a "little river of steel, flowing" in the debris pile, and there will be no WDS analysis of previously molten metal confirming an abundance of iron and scarcity of aluminum.
3) No SFRM "upgrades" to the Guangzhou building were carried out in the preceding five years.
4) There were no Israeli "moving companies" involved such as Urban Moving Systems, whose employees were caught filming the burning WTC whilst high-fiving, hugging each other and smiling, and whose operation in New Jersey and New York in the late 1990s was consistent with a murderous scheme to switch Blaze-Shield II SFRM originating from Stanhope, NJ and destined for the WTC, with a lethal replacement containing embedded accelerants designed to demolish the building in the event of a carefully targeted plane crash.
5) There was no bizarre "coincidence" whereby a Boeing aircraft targeted the very center of the upgraded SFRM floors (i.e., 92 to 100 of WTC1).
6) There was no bizarre "coincidence" in which measurements revealed the impact zone floors 94 to 98 happened to be the exact same floors with upgraded SFRM that had different characteristics - a higher density and cohesion/adhesion - compared to the SFRM on other upgraded floors, and consistent with the targeted floors' SFRM being embedded with accelerants.
7) Larry Silverstein's close friend, the BSc-qualified architect and twice-serving Israeli premier Benjamin Netanyahu, did not "predict" the destruction of the Guangzhou building by terrorists in a book he wrote six years in advance of the fire, and will not declare the incident to have been "very good" for Israel and then say the incident is still "benefiting" Israel seven years later when he is seeking a second term as premier.
8) The Zim American-Israeli Shipping Company did not move out of the Guangzhou building one week in advance of the fire.
9) Israeli security officials did not inspect an underground garage owned by the Zim American-Israeli Shipping company and conclude that it was vulnerable to a truck bomb, ten years in advance of the Guangzhou fire.
10) There was no truck bomb attack on the Guangzhou building to serve as a pretext for fireproofing "upgrades" eight years in advance of the fire, with the conspirators including Zionist assets such as a Mossad mole and an FBI informant, and with the bombing going ahead after an FBI supervisor called off a plan to switch the explosives with a harmless powder.
11) Rabbi Dov Zakheim, former CEO of a company that produced "Flight Termination Systems" capable of electronically hijacking in-flight aircraft and steering them into targets such as tall buildings and the Pentagon, did not co-author a PNAC paper that called for a "new Pearl Harbor" one year prior to the Guangzhou fire, and was not appointed as Pentagon Comptroller months before the fire when the Pentagon's accounting section was targeted in a terrorist attack on the same day, being a year after news broke of how the Pentagon's accounts were in such "disarray" that $2.3 trillion out of $7 trillion bookkeeping corrections did not even have receipts.
12) In the months leading up to the Guangzhou fire, there were no Israeli "art students" living within a mile of people who would later be accused of being suicide hijackers responsible for the fire, with around half of the "hijackers" later turning up alive and well.
13) In the case of the Guangzhou fire, no Police Commissioner (i.e., Bernard Kerik) claimed a "hijacker's" passport had been found and denied that an Israeli van stopped near the George Washington Bridge contained any explosives following multiple reports that it had "tons" of explosives, had taken a trip to Israel to meet with an Israeli billionaire two weeks before the fire, had subsequently received a $250,000 "loan" from the very same billionaire, and had later been convicted and jailed for lying, conspiracy and fraud.
14) There was no connection between the Guangzhou building and Israel, a State notorious for staging false-flag terrorist attacks (such as the Lavon Affair) for political gain, and which benefited after 9/11 through the sacrifice of thousands of other nations' soldiers, the squandering of $trillions in wars against Israel's foes, the killing and maiming of countless innocent civilians, and the torture and imprisonment without trial of other innocents whose only 'crime' was to live in a nation whose leaders had refused to become puppets of the corrupt Zionist elite.
For further information and references, see:
Why 9/11 researchers know the official story is false
The "Dancing Israelis" FBI Report - Debunked
Ground Zero fires could have heated the steel by up to 4 °F