Incendie d'une église en Israël : des suspects juifs arrêtés
Israël : des suspects juifs arrêtés pour l'incendie de l'Eglise de la multiplication des pains
Arrestations suite à l'incendie de l'Eglise de la Multiplication
Plusieurs personnes soupçonnées dans l'incendie de l'église, le 18 juin, au bord du lac de Tibériade ont été interpellées
Police arrest Jewish suspects in arson at 'loaves and fishes' church
Israel police arrests 3 Jewish youth suspected of arson at Galilee church
Palestinian Christians sceptical as Israeli police 'investigate' church attack
Religious Jewish terrorism: Tabgah Church arson
RT - Israël : un lieu saint catholique incendié dans une attaque d'extrémistes juifs
Jewish settlers burn, destroy Catholic Church on the banks of the Galilee sea
Religious Jewish terrorism: Tabgah Church arson
The Church of Loaves and Fishes: A brief history
Originally built in the 4th century, the ancient church was lost to time, rediscovered in the early 20th century and rebuilt – only to be badly damaged by fire last week.
Israeli Extremists Burn the Church Where Jesus Multiplied Loaves and Fishes
Un sanctuaire chrétien endommagé par un incendie suspect en Israël
Israël: 16 jeunes colons interpellés après l'incendie d'un haut lieu du christianisme
Un haut lieu du christianisme en Israël endommagé par un incendie suspect
Israeli Arson Attack Burns Historic Lake Kinneret Catholic Church
Israeli Settlers Torch Jerusalem Church, Spray Racist Graffiti on School
Torched Church of Loaves and Fish Still Waiting for State Compensation
It's a pity thousands of tourists hoping to spend Christmas Eve at the historic church have to see 'what happens at the hands of Jewish extremists' says church official.
Destruction et terreur : ce qu'il faut subir pour pouvoir vivre en tant que chrétien en terre juive.
Israeli Jews Ban Christian Prayer in Jerusalem, Calling it "Pagan Ceremony".
Radical jewish group breaks into Christian conference in Jerusalem
C'est le gang de terroristes appelé Lehava,
qui a déjà mis le feu à une école mixte
(pour enfants arabes et juifs).
Brothers gets jail time for Jewish-Arab school arson in Jerusalem
Brothers sentenced for Jerusalem arson hate-crime on Jewish-Arab school
Two (jews) sent to prison for torching Jewish-Arab school
Jerusalem bilingual school arsonists given heavy sentences
Nahman and Shlomo Twito sentenced to 30 and 24 months in prison, 25,000 shekels in fines; brothers say crime was 'worth the price,' burst into song after court session.
Arsonists of Jewish-Arab school sing 'praise God' after jail sentence
Two of the perpetrators get at least two years jail time and ordered to compensate Jerusalem school; 'It was worth it,' they said upon leaving the courtroom smiling. (...) After the court hearing was over, the brothers reportedly said burning the school was "worth the price" and burst into triumphant songs praising God as they were led away by guards.
Update: Jewish Arsonists sing 'praise God' after jail sentence
Two Kahane Supporters Who Burned Jewish-Arab School Get "Harsh" Prison Sentences
Two indicted for Church of Multiplication arson
Yinon Reuveni and Yehuda Asraf stand accused of flagrant attack against Christian site of worship near Sea of Galilee.
Lehava retakes J'lem streets
'Anti-assimilation' group has increased its presence in the capital, in order to fend off 'harassment' of Jewish women by Arabs.
IS BURNING CHURCHES KOSHER?
Le dirigeant du groupe radical juif prône de brûler les églises
La loi juive requiert de mettre le feu aux églises, affirme Benzi Gopstein de Lehava qui est prêt à aller en prison pour ses propos
Rabbi Bentzi Gopstein Rabbi and leader of extremist group says he's in favor of burning churches, in theory
Rabbi Bentzion "Bentzi" Gopstein, the head of the extremist neo-Kahanist Lehava religious purity organization, said Tuesday he endorses church-burnings.
Radical Jewish group's head advocates burning churches
Israeli extremist group leader calls for torching of churches
Lehava's Benzi Gopstein tells yeshiva panel that the Rambam's ruling for destruction of idol worship is still valid.
Jewish supremacist: Burning churches legitimate under Jewish law
Radical right wing activist Bentzi Gophstein, who has narrowly escaped charges of incitement to violence, was recorded saying that he unquestionably supports the burning of churches and 'houses of idolatry.'
L'extrémiste juif qui veut brûler les églises
Israeli settler leader calls for burning down churches
Israeli Christians file complaint against extremist Israeli settlers' leader
Catholic Churches File Complaint against Chief Extremist
Catholic Church heads in Israel file complaint against extremist group chief for incitement
Complaint voices deep concern over rise in hate crimes, attacks against Christian holy sites; Vatican has been appraised of statements by Lehava chief Benzi Gopstein.
Vatican calls on A-G to indict extremist Jewish leader following endorsement of burning churches
Jewish supremacist: Burning churches legitimate under Jewish law
Radical right wing activist Bentzi Gophstein, who has narrowly escaped charges of incitement to violence, was recorded saying that he unquestionably supports the burning of churches and 'houses of idolatry.'
Vatican Representatives Demand Israel Charge Jewish Extremist Leader With Incitement
In letter to attorney general and state prosecutor, Custody also criticized AG for 'procrastination' in action against Lehava's Gopstein, who called for churches to be torched.
Jewish supremacist: Burning churches legitimate under Jewish law
Radical right wing activist Bentzi Gophstein, who has narrowly escaped charges of incitement to violence, was recorded saying that he unquestionably supports the burning of churches and 'houses of idolatry.'
Vatican seeks indictment of Jewish supremacist for supporting church burning
The Custody of the Holy Land asks AG to indict radical right-winger for saying church burning complies with Jewish law.
Vatican : La violence anti-chrétienne dépasse la « ligne rouge » en Israël
Le conseiller en chef de l'église catholique en Israël appelle le gouvernement à traquer les extrémistes juifs
Vatican: Anti-Christian violence crosses 'red line' in Israel
Senior adviser to the Catholic church in the Holy Land calls on the government to crack down on Jewish extremists
Holy Land Catholic body urges action against Jewish extremists
Jew comments on carrying out his religion: Gets damage-control repose from Israeli authorities
Pyromania in the name of God
Op-ed: It's easy to see the ongoing harassment of clergymen and churches in Israel as an expression of the world-view of 'errant weeds'; unfortunately, these weeds may be errant, but are fed by fertile ground.
Israël: un leader extrémiste juif interrogé par la police pour ses propos antichrétiens
Vatican wants Israel to bring charges against Jewish extremist
Right wing NGO: Lehava is an anti-Zionist organization
Zionist Union calls for ban on radical Lehava group
Israelis obstruct Christian worship in Jerusalem
EU missions denounce Jewish settler attacks on mosque and church
Israeli Occupation Forces arrest Bishop Hanna, protesting illegal seizure of church property
Israeli Crimes against Humanity: Palestinian Mother Dies from Israeli Settler Inflicted Immolation
Palestinians in Duma are angry that no one has been charged for murders, after 38 days
Israel Clamping Down on Jewish Terror - but Not Tightly Enough
Israeli security services have cracked other cases involving arson attacks by Jewish extremists, but those who set fire to a home in Duma, killing a baby and his parents, are apparently still at large.
An Orgy of Violence
 and Closed Cases
NGO calls to raze outpost homes: 'Israel's complicity in illegal building is outrageous'
VIDEO -
Christians harrassed by Israel
Archbishop Hanna Attends Protest over Settlement Plans for Church Compound
Israël : appel à la grève dans les écoles chrétiennes à la veille de la rentrée
Survey reveals widening gap between secular and religious
Palestinian officials: Jewish extremists have committed 375 'price tag' attacks in 2015
Arson Suspect in Galilee Church Torching Charged With Sedition
Rishon Letzion court adds new charge against Moshe Orbach, who allegedly set fire to the Church of the Loaves and Fishes.
En Israël, la rentrée dans les écoles chrétiennes en péril
Israël: les écoles chrétiennes pourraient pousser à fermer les lieux saints
Israel Rejects Compensation For Burnt Historic Christian Church
Israel's Chief Rabbinate blasts 'spiritually dangerous' Christian event in Jerusalem
Christian Schools On Strike in Israel Over 'Discrimination'
Même chose pour les musulmans:
Which Comes First: Messiah or the Temple?
La destruction de la mosquée al-aqsa à Jérusalem est le but ultime de groupes israéliens
Les Etats-Unis fustigent la critique de l'ONU « unilatérale » sur le mont du Temple
Jerusalem's mayor warns Palestinians in holy site clashes: 'if they use violence we will hunt them'
Video: Why is Israel attacking Jerusalem's al-Aqsa mosque?
Saudi king urges Obama to stop 'Israeli attacks' on Temple Mount
Mont du Temple : la France exprime sa « vive préoccupation »
Des milliers de Jordaniens manifestent contre les "violations" israéliennes à Al-Aqsa
L'archevêque Hanna: Nous sommes tous unis face aux agressions israéliennes
Palestinian Journalists Say They Were Beaten by Israel Police During Jerusalem Clashes
Des fanatiques israéliens poussent à la prise d'assaut et à la profanation de la sainte mosquée d'al-Aqsa
Les policiers israéliens sont entrés dans la mosquée al-Aqsa, troisième lieu de l'islam, et ont provoqué des dégâts.
Israel Desecrates Islam's Third Holiest Site for the Third Day
Raw Footage: Israeli forces storm Al-Aqsa Mosque
Jewish snipers inside Al-Aqsa mosque on third day of clashes
US Calls on Israel to Maintain Ban on Jewish Temple Mount Prayer
Israeli forces attack Palestinian women at Aqsa mosque
Third Jew arrested on Temple Mount for insulting Prophet Muhammad
Woman who called Muhammad a pig after Temple Mount visit: I could no longer stay silent
"If we continued to hide our heads, we would be like the Jews in exile who are afraid of non Jews," says the 20-year-old who has received death threats.
How Hilltop youth plan hate-crime attacks, evade capture
Two weeks after fatal arson strike on Palestinian home, former member of Jewish far-right settler group details how raids are organized
Jewish nationalism and 'the settlements'
Jewish Terror Slow-Growing "Cancer" in Israel. "Acute Deficiency of Leadership". Former Shin Bet Head
Zionists Finally Admitting Wave of Hatred That's Consuming Israel
Israel's Arrogance Will Be Its Comeuppance
The Jewish State has always been somewhat condescending toward Diaspora Jewry, but its recent retreat into itself has become a destructive, dangerous solipsism.
Diaspora jews unconvinced over Israel's desire for peace
Shin Bet issues 10 restraining orders to far-right activists
Orders exclude the extremists from West Bank outposts from which Shin Bet claims the activists carried out attacks; attorney Ben-Gvir states: 'there are no indictments and no due process by which they can receive answers and defend themselves'.
IDF Issues Administrative Orders Against Some 10 Jewish Extremists
Some settlers ordered to leave West Bank, others placed under nighttime curfew.
Hold Israel, the Israelis and American Zionists Responsible for Terrorism
Des extrémistes juifs présumés interdits d'entrée en Cisjordanie et à Jérusalem
Après l'incendie criminel, les services de sécurité ont délivré des ordonnances d'interdiction administrative à 10 extrémistes
Hundreds protest Israeli separation wall in Beit Jala
Israeli forces begin construction of Wall through monastery
Malheureusement, Danny Danon est le vrai visage d'Israël sous Netanyahu
Difficile d'imaginer une nomination plus myope, embarrassante et néfaste que celle qui transforme le faucon du Likud en émissaire à l'ONU. Un mauvais choix pour le Premier ministre mais aussi pour Israël dans son ensemble
Danny Danon appointment shows what Netanyahu thinks of UN
Israel's New UN Envoy Is the Wrong Man in the Wrong Place at the Wrong Time
Israel's ambassador to the UN has to deal with the Israeli-Palestinian conflict on an almost daily basis - but the opinions Danny Danon brings with him are a red flag for many of Israel's allies.
Antisémitisme : Israël exige des sanctions contre un haut responsable de l'ONU
Amnesty defends senior official's anti-Israel tweets
Probe into fatal stabbing at gay parade calls for dismissal of 3 senior cops
It's Time to Admit It. Israeli Policy Is What It Is: Apartheid
I used to be one of those people who took issue with the label of apartheid as applied to Israel. Not anymore.
Haaretz op-ed declares 'It is time to admit it - Israeli policy is what it is: Apartheid'
US must take action on Israeli settler violence
'There is no Jewish terror': Conspiracy theory spreads among Israelis that Palestinians committed Duma firebombing
Voyez: un grand nombre de théories du complot sont de la merde dangereuse et doivent être combattues énergiquement.
Tsahal : Il ne fait pas de doute que l'attaque de Duma est un acte de 'terrorisme juif'
Un militaire de haut rang a rejeté les spéculations selon lesquelles l'incendie criminel de juillet ait pu avoir été commis par des Palestiniens
Ya'alon: Detention without trial of far-right activists prevented series of attacks on Arabs
Ya'alon: No Arrests in Duma Arson Due to 'Difficulty' in Putting Attackers on Trial
Ya'alon: Administrative detention used on Jewish extremists to prevent future attacks
Le ministre de la Défense nie savoir qui a tué les Dawabsha
'We know Duma attackers'
Ya'alon claims to know who perpetrated arson attack in Duma, says no arrests had been made in order to avoid exposing intelligence sources.
Israeli Authorities Know Who Burned Palestinian Family Alive, Defense Minister Says
Ya'alon says suspects not being identified to protect the sources; since attack that killed members of Dawabsheh family, three Jewish assailants have been detained.
Israel Has Identified Duma Arson Suspects but Won't File Charges Yet, Says Defense Minister
Une minute de silence pour les victimes de Duma à la Mostra de Venise
West Bank Holocaust: The Holocaust of the Dawabsheh family
Bébé brûlé vif, parents tués
Ya'alon: Tough measures necessary for Jewish terror suspects
UN official blames Israeli settlement activity for Duma deaths
Aux racines de l'extrémisme juif en Israël, une affaire de famille
Israeli settler to Palestinian farmers: "You will all be our slaves if you're worthy"
Settlers, Palestinians clash near Yitzhar settlement in West Bank
Palestinian Christians scuffle with Israeli police over divisive wall
Palestinian Christians clash with Israeli police over separation wall
A visit to the grave of mass-murderer Baruch Goldstein
"Jewish extremists" are Israel's own sons
Un mois après Duma, toujours pas de jury pour combattre les terroristes juifs
Le ministre de la Défense affirme qu'emprisonner les suspects sans procès a évité une future vague d'attaques graves contre les Arabes.
Month after fatal firebombing, jury is out on fight against Jewish terror
Op-ed: Defense minister claims jailing suspects without trial has prevented a further wave of grave attacks on Arabs. Dare we believe him?
National-religious rabbis issue letter of support for administrative detainees
15% of West Bank Settlers Are American
Israel to Remove Jordan Valley Settlers Farming Private Palestinian Land
Haaretz exposé prompted High Court petition over allocation of land to settlers.
Burning the Palestinian children alive and its religious roots!!
VIDEO -
Temple movement rabbi proselytizes for genocide
DO NOT MISS | À NE PAS MANQUER ! Un discours du leader du Sanhédrin, 9 septembre 2015. (S-T Anglais - English Subtitles)
Le Sanhédrin passe un jugement contre le Pape François et Barack Obama sur le Mont Sion. Par Adam Eliyahu Berkowitz – Le 10 septembre 2015
Sanhedrin Passes Judgement Against Obama on Mt. Zion
Pointing Finger at Americans for Settler Violence Shirks Israeli Responsibility
Despicable criminals are only a fraction of Jewish-American immigrants to Israel, most of whom are law-abiding citizens.
'The Gatekeepers' Director: Netanyahu Is the Greatest Danger to Israel
Film director and producer Dror Moreh says the prime minister is doing everything he can to undermine Israeli democracy.
Bibi's Plan for Next Elections: Israel's Own Republican Party
Though he's occupied with Iran, the U.S. Congress and the gas deal, the prime minister is also thinking about the next elections – and a large right-center bloc he would lead to victory.
The Man of the Year Is King Bibi's Nemesis, President Reuven Rivlin
Rivlin has turned out to be the people's president, a seeker of peace and an impregnable wall against the forces that threaten to destroy Israel's democracy.
Netanyahu rebuffs UK chief rabbi's concern over settlements
Ephraim Mirvis says settlement expansion troubles Israel supporters in the UK; 'settlements are not the issue,' PM responds.
Le déni de réalité n'est jamais un choix avisé, Bibi!
Netanyahu « La haine d'Israël mènera l'Europe à sa perte. Nous sommes les gardiens de la civilisation. »
'We will prevail against militant Islam,' Netanyahu vows in 9/11 tribute
'Let the People of Israel Enter the Gates and Kill Arabs'
Good Jews Roam Through Jerusalem Attacking Palestinians, Screaming "Death To Arabs!"
VIDEO -
Death-chanting Israeli mob rejoices as Palestinian teen is executed
Far-right Activists Chant 'Death to Arabs,' Assault Passersby in Jerusalem After Terror Attack
Several violent incidents reported as hundreds march through capital, block traffic.
'Let the People of Israel Enter the Gates and Kill Arabs'
Racist violence has erupted following terrorist attacks in the past, but this time it seems that the Jewish mob which took to the streets was accepted by Jerusalemites with understanding, if not downright approval.
The Right-wing Loonies Bully Me, and So Does Facebook
I got suspended from the site for criticizing 'armed pagans.' Too bad they didn't suspend all the people who wished for my murder.
KING BIBI is 'the leader of the Jewish world,' says top aide
Temple Mount is the issue, not terror
A Jérusalem, la « guerre de religion » masque un colonialisme pur et dur
Benjamin Netanyahu: A Prime Minister Detached From Reality
This week's series of terror attacks is another warning written on the wall: A third intifada is on the way.
Netanyahu: Israel Will Expedite Demolition of Terrorists' Homes
Day after two Israelis stabbed to death in Jerusalem's Old City, prime minister orders measures to curb terrorism; meanwhile, violence resumes in East Jerusalem.
Netanyahu : « Pas de limites » dans la lutte contre les terroristes palestiniens
Le Premier ministre réitère son engagement en faveur du « combat à mort de la terreur palestinienne » annoncé à son retour de New York
Netanyahu ordonne d'accélérer les démolitions des maisons des palestiniens
Florida Jew arrested for posing as online jihadist, encouraging terrorism
Le djihadiste australien était un troll juif américain
Les dix commandements de la terreur promise
Netanyahu arrest up for debate as UK petition hits target
Netanyahu Visit: Britain Prepares Major Security Operation in Face of Protests
Israeli Terrorists, Born in the U.S.A.
Mother of baby killed in Duma attack is clinically dead


Masked Israeli youth attack Palestinian in Hebron IDF soldier detains Palestinian who is wanted for questioning by police, but before the cops could get there, a group of settlers arrived on the scene and attacked him.
The Doctrine of 'Superior People': The Bond between Israel and World Zionism by James Petras
Netanyahu: Israel determined to be 'world power'
Wipe Out the Jewish Terrorist Nest? Nah, We Can't Reveal Our Sources
Netanyahu Escalates War on Palestine. Israel's War on Self-Defence "Terrorism" and Stone Throwing
Israel's Convoluted Legal System: "Administrative Detention" and Israel's "Moral Imperative"
Israel's Collapse Imminent Due To Lack Of Diversity According To "Jews For Social Justice"
No Room for Dissent in Israel's Schools
Right-wing ideas permeate Israeli schools, and an educator who disagrees risks a witch-hunt.
KING BIBI is 'the leader of the Jewish world,' says top aide
Benjamin Netanyahu: A Prime Minister Detached From Reality
This week's series of terror attacks is another warning written on the wall: A third intifada is on the way.
Netanyahu: Israel Will Expedite Demolition of Terrorists' Homes
Day after two Israelis stabbed to death in Jerusalem's Old City, prime minister orders measures to curb terrorism; meanwhile, violence resumes in East Jerusalem.
Netanyahu : « Pas de limites » dans la lutte contre les terroristes palestiniens
Le Premier ministre réitère son engagement en faveur du « combat à mort de la terreur palestinienne » annoncé à son retour de New York
Netanyahu ordonne d'accélérer les démolitions des maisons des palestiniens
'Let the People of Israel Enter the Gates and Kill Arabs'
Good Jews Roam Through Jerusalem Attacking Palestinians, Screaming "Death To Arabs!"
VIDEO -
Death-chanting Israeli mob rejoices as Palestinian teen is executed
Far-right Activists Chant 'Death to Arabs,' Assault Passersby in Jerusalem After Terror Attack
Several violent incidents reported as hundreds march through capital, block traffic.
'Let the People of Israel Enter the Gates and Kill Arabs'
Racist violence has erupted following terrorist attacks in the past, but this time it seems that the Jewish mob which took to the streets was accepted by Jerusalemites with understanding, if not downright approval.
The Right-wing Loonies Bully Me, and So Does Facebook
I got suspended from the site for criticizing 'armed pagans.' Too bad they didn't suspend all the people who wished for my murder.
Le Bureau de presse du gouvernement met en garde la BBC à propos d'un titre
Roger Waters (pro-BDS) à Bon Jovi : «Vous êtes solidaires avec le colon qui a brûlé le bébé»
AU NOM DU TEMPLE (Charles Enderlin, France2)
RABIN, THE LAST DAY (Amos Gitai, 2015)
Israeli Cinema Is Finally Tackling Rabin's Assassination, 20 Years Later
The release of Amos Gitai's 'Rabin, the Last Day' and Erez Laufer's 'Rabin in His Own Words' highlights the contrasting approaches to the former prime minister's death taken by features and documentaries.
PM Rabin killing "written on wall", filmmaker Gitai says
Former British MP George Galloway expresses support for third intifada
En Israël, les écoles chrétiennes veulent une égalité de traitement avec les écoles juives
Krauthammer: Obama's remarks on Israel are 'shameful'
Justice Minister Shaked: U.S. Criticism 'Unacceptable' and 'Distorts Reality'
In opening session of Israeli expat conference, Ambassador Dermer says Israel and U.S. formulating 'common policy' against 'continuing dangers' from Iran.
Dennis Ross: Obama Doesn't Understand Israeli Concerns
Former peace negotiator Dennis Ross and Harvard law professor Alan Dershowitz criticize U.S. as lacking a Middle East policy.
Settlers forcibly evict Palestinian families from Silwan homes
Israël: un mur de béton isole un quartier palestinien à Jérusalem-Est
Israel's system of segregated roads: where your number plate dictates which road you can drive on
Israel's Leaders Are Fulfilling Their Zionist Ideology
I disagree with my friend on a lot of things, but we agree that whether a Palestinian is a collaborator or an ISIS member, most Israelis will stick to their dogma.
Are UN Workers Stoking Hatred of Israelis?
Not just BDS: Why it's hard to bring singers to Israel
VIDEO -
Vidéo facebook pour la campagne BDS
(avec Naomi Klein, Roger Waters, etc.)
Hypothesis: Cappuccino Israelis will be radicalized against apartheid
Israeli brutalities caught on camera
Israel, its media coverage, and the anatomy of a pathological society
VIDEO -
WAR CRIMES: AN EXACT SCIENCE (MUST WATCH)
VIDEO -
Israël : Un soldat tué, 11 blessés, 5 dans un état grave. Un Érythréen tué par erreur car noir.
(
version plus longue
)
Police start probe into lynch
'The security officer yelled terrorist, and we didn't think twice. If he was a terrorist - people would be thanking me,' says participant in mob.
Israeli bus station attack: IDF soldier killed, police mistakenly shoot dead foreigner
VIDEO -
Une Israélienne parle: "de toute façon, là où vivent les Palestiniens c'est chez nous!"
VIDEO -
Extremists zionists of settlers encourage israeli occupation forces to arrest & Assault of a disabled palestinian child at the Occupied City of Hebron 23/10/2015
VIDEO -
Scène de violence gratuite contre un cuisinier palestinien
VIDEO -
Jewish extremist attacks Israeli activist with knife
L'ex-Premier ministre israélien Ehud Barak poursuivi en justice aux Etats-Unis
Israel Minister Ayelet Shaked Wants To Imprison Young Palestinian Children
The Subhumans Among Us
The Palestinian body has become fair game. The prisons are full of them. Their release is our downfall.
The lynching and the cover-up
Most religious Zionists want Arabs out of Israel, study finds
Israel's Government, Army and Police Must Calm Down This Wild West Atmosphere
The fear of terror attacks is difficult enough for civilians to cope with; it must not be exacerbated by the horror of unrestrained shooting.
Israël dénonce le vote "honteux" de l'Unesco sur les lieux saints musulmans à Jérusalem
Les mistaravim où comment les soldats israéliens infiltrent les Palestiniens
Manifestation anti-AFP de la Ligue de défense juive : un journaliste pris à partie
BuzzFeed journalist attacked by far-right Jewish extremists (terrorists) in Paris
Le journaliste David Perrotin de BuzzFeed pris à partie lors d'une manifestation de la LDJ
La LDJ violente un journaliste en plein Paris, mais le gouvernement ne bouge pas
Far-right French Jews Assault BuzzFeed Journalist
Armed with batons, dozens of violent Jewish activists who had gathered to protest the news agency's Israel coverage, assaulted David Perrotin.
Netanyahu denies Palestinian claim that he agreed to settlement freeze
Car Set Ablaze, Hebrew Graffiti Spray-painted in Suspected East Jerusalem Hate Crime
'Death to Arabs' sprayed next to burnt car in Tsur Baher; Police launch investigation.
Netanyahu Mulls Revoking Residency of Palestinians Beyond E. Jerusalem Separation Barrier
The prime minister raised the possibility at a recent security cabinet meeting; ministers note the 'dramatic political implications' of the measure.
Netanyahu's Latest Ethnic Cleansing Scheme: Forcibly Displacing East Jerusalem Arab Residents
God's Chosen People? — Guest Column by Stephen Lendman
Checkpoints stir Palestinian anger in East Jerusalem
VIDEO -
Un rabbin attaqué au couteau par un colon juif
The pornography of terror on Israeli media
57 Palestinians, Including 13 Children And A Pregnant Woman, Killed This Month
VIDEO -
Caught on Camera: Israel's extrajudicial killings
New Israeli execution of school girl in West Bank (Video)
Nos médias parlent des exécutions, mais seulement quand elles sont le fait des "fous d'Allah" et autres "sales arabes".
Lieux saints de Jérusalem: l'Unesco condamne l'agression d'Israël
'We didn't realize how much Rabin was hated'
Rabin's daughter: Israel did not learn from my father's murder
Bill Clinton to Speak at Rally in Tel Aviv Marking Yitzhak Rabin Assassination
20 Years After Rabin, Extremists Still Legitimize Violence in Israel
How would Rabin have dealt with the challenge of the extremism that still burns within Israeli society—the same extremism that struck him down?
The Rabin Assassination: When Judaism Failed
The religious and cultural failure that led to the Rabin assassination continues to threaten Israeli sovereignty and democracy today.
Rivlin vows he'll never free Rabin's killer
On 20th anniversary of assassination, president warns against 'destructive potential of political violence'
Israel's descent into unmasked, right wing extremism: A new generation rises to fight occupation, settler-colonialism, apartheid
Yaalon: Israel's disputes over Iran nuclear deal are over
Échec retentissant pour le lobby juif international va-t-en-guerre. Enfin des bonnes nouvelles...
'America First Not Israel': Detroit billboard urges US to restrict influence of Jewish Lobby
EN RAPPEL. J'ADORE.
Are American Donors Helping To Fuel Jerusalem Tensions With Settler Push?
Struggling Israel supporter laments hardhearted Israelis and 'hegemony of big donors'
VIDEO -
(JOKE) Netanyahu Announces his US Presidential Bid
C'est une proposition d'Ann Coulter.
OBAMA: Israel must end its 50-year occupation
Netanyahu Will Meet With Obama From a Position of Weakness
Israel may learn the hard way that without a deep ideological pact with the U.S., it will not have a viable strategic alliance either.
VIDEO - Rappel:
U.S. lawmakers forced to pledge of allegiance to Israel
Netanyahu Traps Israel in a World of False Images
The prime minister is actually saying this: The right didn't incite to Rabin's murder, although he was murdered, and you in the left are inciting to my murder, even though you won't murder me.
Bibi Nation: Everyone Can Stop Fighting Over Israel's Soul, Netanyahu Has Won
Israel is now Bibi nation, wholly synonymous with Netanyahu: Bibi is Israel. Israel is Bibi.
Collective Punishment: Arabs in Israel Face the Sack Because They're Arabs
Israel's local authorities are scandalously adopting the fearmongering and racism of parents demanding they prevent Arab workers from working in their children's schools.
An Organized Barbarity Called 'Demolishing Terrorists' Homes'
Insisting on due process in cases of demolition of terrorists' houses obscures the fact that this practice has across-the-board support.
Israeli Military Prohibits Male Palestinian Youths From Hebron's Jewish Settlement
Directive doesn't apply to area's residents, IDF says; Palestinians call for mass demonstration and prayers – including in Cave of the Patriarchs – in protest of 'Israel's policies of execution.'
Thirteen Year Old Terrorist Charged With Attempted Murder
An Israeli court charged 13-year-old Ahmed Mansara with attempted murder on Friday; Palestinian President Mahmoud Abbas said Mansara had been executed by Israel.
Palestinian baby dies (killed) from Israeli tear gas in West Bank home
ADL slams British MP for accusing Israel of fabricating terror attacks
ADL chief: Western media's pursuit of equivalence warps Israel reporting
Rabbi of Western Wall denounces UNESCO over holy sites vote
Les Palestiniens accusent Israël de « nettoyage ethnique » devant la CPI
How the Middle East Conflict Is Warping Judaism
Max Igan Assaulted and Beaten After Delivering Pro Palestinian Speech
Rabbi Arik Ascherman: What I Wish for the Settler Who Attacked Me With a Knife
In the moment my attacker nearly became my murderer, did he wonder why he was on a hilltop in the Occupied Territories, driven to violence because the Israeli army was protecting Palestinian farmers?
Le rabbin Arik Ascherman attaqué au couteau par un colon sioniste parce qu'il aide les Palestiniens !
Temple Mount Extremists Making Inroads in Both Knesset and Israeli Government
Netanyahu is appalled at the possibility that Temple Mount activists will become part of the governing faction, but their agenda is already voiced by some ministers.
Jewish activists emboldened in struggle over volatile Temple Mount
How the Temple Mount Obsession Could Destroy Judaism
How the Rabin Assassination Exposed Two Israels
While one Israel lost a leader, the other spawned his killer.
How Yitzhak Rabin's Assassin Succeeded in Changing History
'Yigal Amir was willing to die in order to kill Rabin,' assassin's brother says
Un parlementaire anglais accusé d'antisémitisme pour avoir évoqué "l'argent juif" des Conservateurs
FRANCE BANS BDS (because it is "anti-semitic")
BDS calls for culinary boycott of Israel
Rowling appeases readers
British author tweets that she identified with the 'untold injustice and brutality' suffered by the Palestinian people.
J.K. Rowling: I understand appeal of BDS
Définition du révisionnisme 2.0
"Nier le lien du peuple juif avec la terre d'Israël"
Ménard: "Je n'ai rien contre le kebab, mais ce n'est pas la France"
(Bien sûr, Bob, moi non plus je n'ai rien contre le burger, le spaghetti, la pizza, mais ce n'est pas la France.)
This is Netanyahu's horror: "An open unleashing of raw racism that has always been a part of Israeli society"
Netanyahu: "We Will Forever Live By The Sword", Indefinitely Control All Palestinian Territory
Netanyahu: 'We need to control all of the territory for the foreseeable future'
PM rebukes deputy FM for dreaming of Israeli flag on Temple Mount
Netanyahu clarifies yet again that status quo at religious site remains; Hotovely says she was expressing private opinion.
Zealots and Fools Should Not Oversee Jerusalem Holy Sites
Only objective secularists can safeguard the holiness attributed to these sites, to preserve the holiness of humankind, and prevent bloodshed.
The Innocent Settlers in Netanyahu's Warped Mind
Actually, that group is the strongest, cruelest, most important, most determined and most dangerous power controlling the occupied territories.
Esplanade : Netanyahu rappelle son gouvernement à l'ordre après des propos incendiaires
Netanyahu blasts Israeli media for downplaying journalist's 'incitement' against him
Netanyahou envisage de retirer aux arabes de Jérusalem-Est le confortable statut de résident
The Danger of Revoking East Jerusalem Residency
Revocation of residency poses a dual threat not just to the residents of the East Jerusalem neighborhoods but to all citizens of the state.
The Real Blackout Throughout Israel Can't Be Blamed on Israel Electric
While parts of Israel suffered a two-day blackout, Gazans have been living with minimal electricity for years.
The disgrace of Jewish extremism
C'est un juif qui parle évidemment. De notre point de vue non-juif c'est pas une disgrâce, c'est juste la conséquence logique de leurs croyances débiles, attardées, barbares, dépassées depuis des millénaires...
Women's Liberation: Violence and Palestinian Women in the Third Intifada
Women make good terrorists: They don't conform to Israel's traditional security profiles, arouse less suspicion, and their actions can attract more international media attention.
Netanyahu Marks Rabin Murder With Nightmare Prophecy Israel's Future
Still, I have to force myself to remember that nothing is forever. Even Netanyahu.
Rivlin vows he'll never free Rabin's killer
On 20th anniversary of assassination, president warns against 'destructive potential of political violence'
Twenty years on, what would have happened had Rabin lived?
Over 300 British academics pledge boycott of Israel
Days after J. K. Rowling and 150 authors call for dialogue with Jewish state, scholars publish ad decrying 'illegal occupation'
UK : 343 universitaires s'engagent pour le boycott d'Israël
BDS movement to top chefs: Don't feed apartheid
Meet the 'lifelong Zionists' who called for an Israel boycott in the Washington Post
Anti-Israel Activism Criminalized in the Land of Charlie Hebdo and "Free Speech"
Top minister: Labeling settlement products is veiled anti-Semitism
Yuval Steinitz slams EU for not applying same standard to Chinese-controlled Tibet or Turkish-occupied Cyprus
Israel attacks journalists to hide reality Palestinians face
Tous les Israéliens ne pleurent pas Yitzhak Rabin
'Rabin, the Last Day': An important film
In his complex and seemingly disorganized way, director Amos Gitai has crafted a memorial of the Israeli PM's murder and the incitement that preceded it, as well as a stinging indictment of today's politicians. From this perspective, 'Rabin, the Last Day' touches the raw nerves in Israeli society without resorting to clichés.
Jewish American activists unfurl banner in support of BDS at the Western Wall
Pro-Palestinian activists defy new ban on BDS across France
juif.org-Boycott anti-juif en Europe: suivez l'étoile'
King Bibi Rules, but He's Weaker Than You Think
Israelis may idolize Benjamin Netanyahu, but they worship at the church of the status quo.
10 Falsehoods That Netanyahu Told During His Appearance At CAP
PM on Facebook: I have no plans to uproot settlements
BIBI: ISSUE OF JERUSALEM AND 'TEMPLE MOUNT' IS UNSOLVABLE
Interdire le BDS en France: une fausse bonne idée?
Même les juifs sont sceptiques face à l'interdiction de BDS en France...
Munich Mayor: No Anti-Israel or Pro-BDS Events in Municipal Space
The mood in Germany: Kristallnacht 'nein,' BDS 'ja
Le maire de Londres rejette le boycott 'gauchiste' d'Israël
At Western Wall, London mayor affirms his Jewish ancestry
Un rabbin extrêmiste favorable au vol d'organes sur les morts palestiniens
Dozens of rabbis demand death sentence for terrorists
Rabbis Dov Lior and Yitzchak Ginsburgh lead a petition calling on the government to 'take a firm hand against Israel's cruel enemies.'
Du bon usage du mot « terrorisme » et de quelques autres termes
Des concepts à dimension variable
Member of Israel's Knesset Calls for the Internment of Palestinians in Concentration Camps
Israeli Media Is Buying What Netanyahu Is Selling
Power struggles among local media are nothing more than business disputes. There is no ideological clash here. At most, there's just disagreement over nuances.
Netanyahu Shows D.C. Liberals Why He's the 'Armor-plated Bullshitter'
Instead of admitting his opposition to a Palestinian state, Netanyahu twisted the concept beyond recognition.
'While Netanyahu freezes settlements, Bennett keeps quiet,' settlers say
Were All Palestinians Killed in Hebron Recently Really a Threat to Soldiers?
There are two versions to the recent spate of killings at Hebron checkpoints: IDF says Palestinians attacked them with knives and were shot, while Palestinians question whether the people even had knives at all. Haaretz examines the evidence.
Mouvement Chabad : « Tout Israël appartient aux Juifs ! Non à la solution à deux États ! »
Amnesty : Israël a un lourd passé d'actes de liquidations sommaires
Israël : pathologie d'une société malade de sa violence et de son racisme
Israeli Knesset Bill to Deny BDS Activists Visas Passes
How the Rabbinate creates bastard children
In a recent case, a divorced woman was denied right to remarry because she has a baby and is subject to halachic rule of nursing. After asking her intrusive questions, religious judges decide to include her son on a secret blacklist of 'mamzerim.'
Israeli Soldiers Kidnap Eight Teenagers In Jerusalem
Israel gets to use violence. Palestinians don't. That's the rule
South Africa issues arrest warrants against 4 Israeli commanders
Quand tu découvres qu'Israël est une théocratie #wtf
Another Palestinian burnt to death in Galilee
Palestinian homes vandalized in suspected hate crime
Anti-Israel UN resolutions expected to pass
Bennett: We should have killed more Arabs
Israel calls to dismantle Palestinian 'refugee camps'
Israeli settlers burn (yet another) young Palestinian to death
Israel to revoke work permits of Palestinians who have family fighting against Israeli oppression
Anthropologists Vote Overwhelmingly in Favor of BDS
Israeli forces continue to target human rights activists during the wave of house raids in Hebron
Prominent Israeli settler runs over 16-year-old girl, then shoots her dead
Netanyahu responsible for executions of children, rights group says
VIDEO -
David Sheen: Hard to believe how bad Chabad hates non-Jews
Avigdor Liberman: Israel should resume targeted assassinations
VIDEO -
David Sheen on Jewish Dominionists: Chabad
Israel confiscates ICRC tents from Palestinians in Jordan Valley
The Difference Between Identifying Jewish Terror Suspects and Putting Them on Trial
The gag order and terse hints in the media may create a mistaken impression that authorities are close to fully solving the cases involving Jews who have committed anti-Arab terrorist acts.
Jew who burned Palestinian teen alive pleads… insanity
'There is no justice here in Israel': Two found guilty of murdering Mohammed Abu Khdeir, but ringleader verdict delayed
Jewish settlers threaten to burn family of female captive
Netanyahu: We could destroy Al-Aqsa, but we don't want to
Netanyahu : Nous pourrions détruire Al-Aqsa si nous le voulions
Israel failed to try perpetrators of settler violence: UN
Israël: arrestations après un incendie ayant décimé une famille palestinienne
Shin Bet: Several Israelis Arrested for West Bank Arson Murders
Weeks-long gag order partially lifted: Suspects are 'young people suspected Jewish terrorist carrying out terrorist acts;' outgoing police chief Benzi Sau said this week that he was 'very optimistic' about progress.
Israel arrests Jewish terror suspects in deadly firebombing
Gag order lifted on investigation into attack on Dawabsha family that left three dead, but identities and number of people arrested remain muzzled
Jewish Terrorism: Despite Arrests, West Bank Arson Case Is Far From Solved
If the investigation fails, residents of the territories will see this as further proof that Israel does not value Palestinian lives, even when they're innocent terror victims.
Erdan : Il n'y a pas assez de preuve pour inculper les terroristes juifs
'Israel is anti-Semitic state'
Father of suspect arrested over Duma attack claims his son was nowhere near the scene of the crime, and compare Israel to Third Reich.
Bien sûr ça prend des nazis antisémites pour faire enfermer un juif ayant tué une famille au complet en mettant le feu à leur maison.
Relative of Jewish terror suspect: He's a gentle, caring soul
Mother-in-law of central suspect in killing of Dawabsha family does not believe he was involved: 'He is interested only in Torah'.
Si on dit "il ne s'intéresse qu'à la Torah": ça inspire la confiance alors on a envie de lui donner une seconde chance. Si on dit "il ne s'intéresse qu'au textes islamiques", la peur s'installe alors on serait même pas choqué qu'il soit envoyé à Guantanamo!
Israel says too early to try suspects over torching of Palestinian home
Right-wing Israeli groups 'raid' Al-Aqsa Mosque compound
Online store tells customer: 'We don't sell to Arabs'
A youth from Haifa called the website of shop 'Class Deal' after the shoes he had ordered 4 months ago never arrived; a site representative swore at and insulted him: 'You dog, you terrorist, if I'd known you were a stinking Arab I wouldn't have approved your order.'
Jews demand expelling Christians out of Palestine
Jewish terrorism: The missing link
Trump in High Heels? Meet Miri Regev, the Big Mouth of the Israeli Right
In the utopian Jewish state of Israel's firebrand culture minister, Arabs are welcome to stay, as long as they understand that 'this is our country.'
Former ICC prosecutor: High Court approval could save settlements from war crime label
Shaked: State will raze Jewish terrorists' homes if attacks persist
Netanyahu Most Popular World Leader Among Evangelical Christians in US
Netanyahu Allies Donated to Groups Pushing for Third Temple
Haaretz investigation reveals deputy defense minister and a key Netanyahu supporter in the U.S. donated to groups campaigning to impose Israeli sovereignty over Temple Mount.
VIDEO -
Jewish Dominionists: LEHAVA
Jewish Home MK: Fatal firebombing that killed Dawabshe family 'not a terror attack'
Un suspect de l'incendie criminel de Duma assigné à résidence
The face of Jewish terrorism
Somewhere on the way, Rabbi Meir Kahane's grandson Meir Ettinger, has formed a radical and anti-Zionist ideology.
CNN's Ashleigh Banfield: Should We Ban Jews Since They've Committed Terrorist Attacks?
Police Block Jewish Extremists From Temple Mount
Radical group called 'Returning to the Mount' planned to light Hanukkah candles at flashpoint site.
Israel court says book on killing non-Jews 'not incitement'
Killing Non-Jews in Israel: "The New Normal"
San Bernardino et l'Etat d'Israël : Discours de Benjamin Netanyahu au Forum Saban
Israeli restrictions destroying Gaza's furniture industry
Israel attacks West Bank college twice in one week
In rare move, Shin Bet lashes out at Jewish terror groups
'Anti-Zionist Jewish terrorists want regime change in Israel,' Shin Bet charges
C'est pas les antisionistes que vous croyez: ce sont des kahanistes qui trouvent que l'État juif actuel est antisémite!
Shin Bet slams 'slander'
Security service releases rare statement about investigation into Jewish terrorism, the details of which are still under gag order.
Shin Bet responds to attempts at 'slander'
The Shin Bet published a highly unusual statement on Thursday evening with regard to the ongoing investigation into Jewish terrorism, the details of which are still under gag order. The Jewish arrestees are defined as members of an 'anti-Zionist organization' that is working to violently overthrow the government.
Claims Shin Bet tortured Jewish terror suspects must be investigated, cabinet member says
At Least Four Detained Jewish Terror Suspects Have Dual Citizenship
The Difference Between Identifying Jewish Terror Suspects and Putting Them on Trial
The gag order and terse hints in the media may create a mistaken impression that authorities are close to fully solving the cases involving Jews who have committed anti-Arab terrorist acts.
Three Jewish suspects in Duma arson attack to be kept from meeting lawyers
Court denies legal counsel for Jewish suspects in case under gag order
Father of Jewish suspect in Duma killings blasts 'fuhrer' Rivlin, 'Arab' Obama
Ya'alon: Not enough evidence to try Duma firebombing suspects - Defense minister says those responsible for 'Jewish terrorism' will be brought to justice but state still lacking evidence
Yaalon : pas encore assez de preuves dans l'incendie criminel de Duma
Le ministre israélien de la Défense a certifié que les coupables finiraient par être jugés.
Father of Suspect in West Bank Arson Killings Calls President Rivlin 'Führer'
Son is detained for the killing of three members of the Dawabsheh family in Duma; three suspects are being denied access to attorneys.
'Dawabsheh family not entitled to compensation'
Dawabsheh family set on fire and murdered by Judaic terrorists 'not entitled' to compensation
Israeli Fighter Jets Bomb Besieged Gaza Strip
Palestinian family buries second child in 6 weeks
Israeli forces kill Palestinian youth, 24, six weeks after killing his sister, 17
Un réserviste de Tsahal brièvement détenu au Royaume-Uni pour « crimes de guerre »
What Really Scares Me (And It's Not Im Tirtzu)
The campaign against human rights activists? That is nowhere as frightening as the occupation, of indifference to injustice, sanctimoniousness and passing shock.
Im Tirtzu and the Proto-fascist Plot to Destroy Israeli Democracy
The group's video portraying human rights activists as terrorist-supporting traitors is a symptom of a rapidly spreading, potentially terminal disease.
Im Tirtzu's Pernicious Video Equates Human Rights With Treason
Only a distinctly anti-democratic organization would consider the efforts of these four left-wing NGOs cause for incitement.
Right-wingers Flag Up a Bigger Problem in Israel
Even when we are appalled by the antics of some right-wing groups, their actions aren't always as absurd as they may initially appear.
The discourse of hatred: A victory for marginal groups
This is a warning call: Something bad is happening to us. The margins are taking over the public discourse, turning it into a discourse of hatred.
Ils ont un tas de petits Zemmours très bruyants dans l'arène politique en Israel...
CNN Anchor Calls Out Jews as Terrorists
Francis Ford Coppola : « Les Juifs ont aussi été des terroristes »
Francis Ford Coppola–Jews were terrorists before Israel's founding
Francis F. Coppola: les Juifs étaient des terroristes avant la création d'Israël
Coppola: Jews were terrorists before Israel's founding
In an interview with Variety magazine at the 15th International Film Festival, the veteran filmmaker says: 'We were terrorists in the United States.'
VIDEO -
Jews Celebrate Wedding by Stabbing Photo of Dawabsheh Baby
Video Shows Jewish Radicals Celebrating Wedding by Stabbing Photo of Dawabsheh Baby
Police seize clip showing youths dancing at wedding reception with guns, knives and a firebomb.
Clip shows far-right wedding-goers celebrating Duma killings
Israeli youngsters, said to be friends of detainees in deadly firebombing, stab photo of 18-month-old victim; wave firebombs, rifles and knives at Jerusalem event
Un adolescent israélo-américain serait détenu dans l'affaire Duma
Le journal Forward de New York identifie un suspect ; beaucoup de détails sont toujours sous obligation de silence en Israël
Foreign report says American-Israeli teen held in Duma case
New York-based Forward newspaper names suspect; many details of case still under gag order in Israel
Family Claims American Teen Held as Jewish Extremist Is Being Tortured by Israel
Il défendent un gars qui a probablement tué une famille au complet! Souvenez-vous en de ça: ces juifs sont prêts à défendre un meurtrier qui tue des bébés en leur mettant le feu! Pourtant ces mêmes juifs exigent que tous les droits constitutionnels soient retirés aux présumés terroristes (non-juifs)!
Smoke grenades thrown into Palestinian home in suspected Jewish terror attack
Fascism in Israel? It's Up to You
I'm sick to death of the Zionism of horseshit, of the incitement which prides itself on hatred and, yes, that 'beautiful face' of fascism. It's up to every one of us. We can stand up now, or be put down later. Like dogs.
A Plant Named Occupation Has Grown Into a Deep-rooted Tree
When someone says something against the occupation, he is attacked as if he is the ultimate enemy of all Jews from the time of Moses to Yair Lapid.
Far-right activists protest outside Shin Bet chief's home
Demonstration follows allegations of torture by security service against Jewish suspects in Duma terror attack
Torture Allegations Pit Shin Bet Against the Settler Community
The torture described by Jewish suspects in the Duma arson-murder case is strikingly similar to descriptions by Palestinian torture victims.
Israel's Extreme Right Isn't Jewish, It's Totalitarian
Hannah Arendt makes clear the real issue: the hatred of pluralism and an open society – the drive to have a homogeneous society without dissent.
Reform leaders call on Netanyahu to condemn 'violent rhetoric' against Rivlin, NGOs
Thousands March in Tel Aviv in Protest of Incitement Against Rivlin, Leftist NGOs
Organizers of Tel Aviv demonstration call on Israel to defend civil society, Netanyahu to speak out against inflammatory remarks.
Hatred within the camp
Op-ed: As an expert on the history of the movement which brought him to the President's Residence, Reuven Rivlin knows that once a leader deviates from the party line or causes damage to its image - there is no forgiveness.
MK to rabbis: Help me base laws on Torah
Video of Israeli soldiers using dogs against Palestinian boy sparks outcry
Five live bullets fired by IDF recovered from body of Palestinian boy
NEW VIDEO ON THE TORTURE OF PALESTINIAN CHILDREN
Israel has 'deprived 23,000 orphans of monthly sponsorship'
West Bank village punished for exposing Israel's brutality
VIDEO -
The Bullet, The Ballot and The Boycott [FULL]
a presentation by David Sheen - Fall 2015
WATCH the entire presentation in 10 parts:
http://bit.ly/bbboycott
- all 10 parts in 1 video
http://bit.ly/bbboycottt
- playlist with all 10 parts
http://bit.ly/bbboycott1
- Part 1: Boycotting
http://bit.ly/bbboycott2
- Part 2: Firebombers
http://bit.ly/bbboycott3
- Part 3: Chabad
http://bit.ly/bbboycott4
- Part 4: Jewish Home
http://bit.ly/bbboycott5
- Part 5: Lehava
http://bit.ly/bbboycott6
- Part 6: Miscegenation
http://bit.ly/bbboycott7
- Part 7: War on Africans
http://bit.ly/bbboycott8
- Part 8: African Wild Ass
http://bit.ly/bbboycott9
- Part 9: Pinkwashing
http://bit.ly/bbboycott10
- Part 10: Dissidents
VIDEO -
Quand France Inter censure en direct une question sur la LDJ
The Murder of Yitzhak Rabin
Ben-Zion Gopstein, leader of Lehava, says Christians are "blood-sucking vampires"
Extremist religious leader says there's no place for Christmas in Israel
Jewish Extremists' Leader: Christians Are 'Blood Sucking Vampires' Who Should Be Expelled From Israel
VIDEO - (ITELE) Une vidéo d'extrémistes juifs célébrant la mort d'un bébé palestinien indigne Israël
VIDEO - Israël: Une vidéo d'extrémistes juifs célébrant la mort d'un bébé palestinien fait scandale - Cette vidéo a été filmée durant un mariage…
Le Monde - En Israël, les images choquantes d'extrémistes juifs célébrant la mort d'un bébé palestinien
Libération - En Israël, une vidéo d'extrémistes juifs célébrant la mort d'un bébé palestinien fait scandale
Onde de choc après des images d'extrémistes juifs célébrant la mort d'un bébé palestinien
La danse de la mort - The dance of death
Injures au 'Ku Klux Klan juif' et contre le terrorisme La presse hébraïque digère la mort de deux Israéliens dans un attentat à Jérusalem, et bout à propos de la vidéo d'un « mariage de haine »
Le Shin Bet nie avoir rendu public la vidéo du mariage
VIDEO - Jews Celebrate Wedding by Stabbing Photo of Dawabsheh Baby
Video Shows Jewish Radicals Celebrating Wedding by Stabbing Photo of Dawabsheh Baby Police seize clip showing youths dancing at wedding reception with guns, knives and a firebomb.
Clip shows far-right wedding-goers celebrating Duma killings Israeli youngsters, said to be friends of detainees in deadly firebombing, stab photo of 18-month-old victim; wave firebombs, rifles and knives at Jerusalem event. Footage released on Wednesday showed dozens of young Israeli right-wing extremists, said to be linked to the suspected perpetrators of the Dawabsha family murder, celebrating the killing at a wedding last week. The images in the clip immediately sparked wide condemnation.
Radical right wedding shocks Guests are seen dancing with guns and knives, and even stabbing a picture of murdered Palestinian baby, in wedding video.
Video of far-rightists stabbing photos of dead Palestinian baby shocks Israel
Who taught the Jewish radical settler youth to celebrate murder? It's now clear from the shocking video of hilltop youth celebrating the Dawabsheh infant's murder that incitement to hatred is being taught in Israel's religious Jewish education system.
Outrage over video of Jews mocking Palestinian baby's death
Israeli wedding party celebrates Dawabsheh killings
CELEBRATING TERROR AT AN ISRAELI WEDDING
Don't Be So Shocked by the Israeli Wedding of Hate' This is what a climate of tolerance and acceptance of violence, racism and hatred looks like.
Police Investigate Wedding Video of Settlers Dancing With Weapons and Singing Revenge Songs The video also shows one guest stabbing a photo of the Palestinian boy killed in the Duma firebombing.
IDF to investigate army-issued guns in 'hate wedding' video
Police open probe into wedding video cheering Duma murders
Religious Jewish Wedding Songs Are Anthems of Hatred and Incitement In the background of the horrific video where the Dawabsheh murders were celebrated are songs glorifying murder that are commonplace at Orthodox weddings, and not just at the extreme and negligible margins of Israeli society.
Rabbi from hate wedding says Shin Bet, Arabs torched Dawabsha home
30 wedding guests to be questioned over clip cheering Duma murders
30 invités du mariage seront interrogés sur la vidéo célébrant les meurtres de Duma

Almost 100 alleged far-right extremists jailed, restricted or questioned, supporters say As security chiefs warn of danger posed by Jewish terror underground, backers publish names of 'arrestees of Zion' on Facebook, solicits donations
Meretz chief: Probe rabbis who back right-wing extremism Zahava Gal-on says young religious radicals would not be flourishing without the support and encouragement of spiritual leaders.

Lapid names 2 rabbis who he says inspire far-right radicals Religious Zionism cannot absolve itself, says Yesh Atid leader, citing Rabbis Ginsburgh and Lior; Jewish extremists are 'not wild weeds. They grew in a well-cultivated patch of earth'


Rabbi: Shin Bet and Arabs committed Duma murders Daniel Stavsky, who participated in the radical-right wedding captured on video, says undercover agent provocateurs collaborated with Arabs to kill Palestinian family and frame rightists.
Inciting Rabbis Aren't the Reason for Current Spate of Jewish Terror Today's Jewish extremists are protesting against too-moderate rabbis, not acting on their edicts.
Report: Deputy attorney general visited Duma terror suspects

Groom says 'didn't even see' extremists' behavior at wedding Yakir Ashbal, said to be friends with Duma suspects, insists he was unaware of revelers celebrating with weapons, photo of murdered Palestinian baby.
Yaalon : Inculpations "proches" pour l'incendie de Duma

Ya'alon: Jewish terrorists to be indicted soon for Duma attack Defense minister says Israel taking 'draconian steps' to prevent repeat of July firebombing that killed Palestinian parents and baby.
Jewish terrorism must be 'crushed with an iron fist,' former PM says Right-wing extremists 'a direct threat to democracy, the state, Zionist enterprise,' Ehud Barak says in televised warning.
Netanyahu: 'No comparison' between Jewish and Palestinian terrorism
Shin Bet uses 'ticking bomb' methods on Jewish terror suspects The revelation that other radical Jews may carry out further attacks against Palestinians led to Shin Bet investigators receiving authorization to use harsher methods of investigation, including physical pressure.
Bennett at odds with Bayit Yehudi over Duma arson investigation While his colleagues Uri Ariel and Bezalel Smotrich call to close the Shin Bet's Jewish Division, Naftali Bennett stands firm with the agency and the state. Will he pay a political price for coming out against his voters?
Bennett gets tighter security as he backs Shin Bet probe of Jewish extremists
If slain Palestinian teen had been a camel, Israelis would be outraged over her death The body of the camel that soldiers killed for a laugh in November was examined by an Israeli veterinarian; no one took witness statements from Samah Abdallah's family, and no one ordered an autopsy on her body.

A desperate war for our future Op-ed: How is it possible that this despicable gang of Jewish jihadists, celebrating a wedding while repeatedly stabbing the heartbreaking picture of a murdered Palestinian baby, is one of our own?
The Jewish equivalent of ISIS The Jewish extremists running amok in Israel have far more in common with the Islamic State than they realize. Both groups need to be confronted and destroyed.
Israeli Defense Minister: Israeli Right Must Do Some Soul-searching Over Jewish Terror Naftali Bennett responds: Some politicians are cynically exploiting West Bank arson murders to 'silence or tarnish the entire nationalist camp.'
The enemy within: The danger of radicalism Op-ed: The ultra-right extremists have become a problem that can't be ignored any longer. It's not enough to condemn. It's too easy. It's time to do something.

Rabbis Force Israeli Military to Rethink Limiting Religious Influence on Troops IDF's proposal to lessen authority of its Military Rabbinate hits fierce resistance from religious circles both within and outside army.
Why is the government afraid of coward rabbis? Op-ed: A country which has sent a former president, prime minister, ministers and Knesset members to prison has never had the courage to act against religious leaders who instigate masses and are bringing all of us closer to the edge of abyss.


Denying torture claims, Shin Bet decries 'slander campaign'
Lawyer for American 'Torture' Teen Turns to Israel Justice Minister
Father of U.S.-Israeli Suspect in West Bank Arson Murders: 'He Confessed Under Torture'
Bennett: Jewish Terror Suspects Treated as Harshly as Palestinian Ones Minister refutes torture allegations, says Jewish extremists want to bring down the state.
Alleged Torture of Jewish Terror Suspects Opens Wide Cracks in religious-Zionist Community Habayit Hayehudi leader Naftali Bennett hesitated for a while before coming down firmly on the side of the Shin Bet - and against some of his party colleagues.
Shin Bet use 'ticking bomb' investigative techniques on Jewish terrorists
Shin Bet: Duma suspects treated as 'ticking bombs'
Lapid: Jewish terror enjoys 'political' support
Bennett: Far-right protesters called me 'traitor' When murder is involved as in the case of the Duma killings, says right-wing leader, it's no longer a matter of education, but must be handled with the firmest hand

Does Israel's government consider Duma arson a terrorist attack? Depends whom you ask
Netanyahu condemns Jewish terror, but says no comparison in scope to Arab terrorism
Israël contraint d'affronter l'extrémisme juif
Yesh Atid leader: Right-wing Jewish extremists have 'wider circles of support'
Religious Zionism doesn't need terror, it has taken over the state In Naftali Bennett's criticism of the group that spawned the Duma killers, we could detect another message: Religious Zionism no longer needs this kind of terror.
Israelis Don't Want to Confront the Ugly Truth About the Occupation That's too bad, because in not one case have reports and testimonies collected by Breaking the Silence been proved wrong.
Religious Zionists Have Taken Over Israel First they built the settlements, then they killed off the two-state solution, now they are free to turn to their next target.
We've entered the final decade to save Israel There are three processes taking place in Israel that, if not reversed by 2025, will end this country's life as a modern Jewish democracy.
What happens if Israel's extreme right gets its way? Let's say we silence Breaking the Silence and outlaw all groups critical of Israel. Then what?
Shin Bet: Jewish extremists seek to overthrow Israel's gov't and crown a king
Ex-Shin Bet chief: Far-right threat today is 'worse than before Rabin's murder'
Politicians Put Up Strong Front for Shin Bet in West Bank Arson-killing Case Even settler friend Naftali Bennett is backing the security agency against the harsh torture allegations during the interrogations of Jewish suspects.
Heirs of Hatred: Jewish Extremists Are Settlement Enterprise's New 'Pioneers' A straight line links the arson-murder in Duma, the 'wedding of hate' video and a new law that passes funds to the settlements – and no one should be surprised.
We Need to Stop Playing Defense Against Israel's Right-wing Inciters Im Tirtzu is a warning sign for what desperation, failure and fear look like when they combine with right-wing ultra-nationalism and extremism.
Israeli 'freedom of worship' bill allows Jewish settlers to pray in Al-Aqsa
Jewish Terrorists Burned An Israeli Church, Now Israel's Government Is Screwing The Church Out Of The Money It Needs To Rebuild
Merry Christmas and get out of Israel, you blood-drinking Christian vampires
Jewish Extremists' Leader: Christians Are 'Blood Sucking Vampires' Who Should Be Expelled From Israel
Torched Church of Loaves and Fish Still Waiting for State Compensation
It's a pity thousands of tourists hoping to spend Christmas Eve at the historic church have to see 'what happens at the hands of Jewish extremists' says church official.
'Hate wedding' revelers, including groom, freed to house arrest
Groom, guests from video celebrating Duma attack set to be released by police
Primary suspect in West Bank arson to be charged with murder next week
Report: Duma firebombing suspect to be charged with murder
Duma : 2 personnes devraient être inculpées d'ici 5 jours
Two set to be indicted for Duma killings within 5 days
Killing a Palestinian Baby Twice
What would the sages say about these new Jews, the neo-fanatics? They would decree destruction because of unjustified hatred.
Devil's Advocate? The Lawyer Who Defends Israel's Jewish Terror Suspects
Itamar Ben-Gvir honed his legal skills defending himself against more than 50 indictments, and now offers his services to radicals suspected in cases of Jewish terror and hate crimes.
Meet the Settler Arrested for Participating in the 'Wedding of Hate' : Meet Daniel Pinner - an Extremist West Bank Settler
He wrote a hate poem about Yitzhak Rabin, went to prison for shooting and injuring an Arab and is an admirer of Yaakov Teitel and Baruch Goldstein. Meet Daniel Pinner, an extreme right-wing activist from the settlement of Kfar Tapuah.
Duma reaction shows gap in Israeli and Palestinian responses to terror
The Anglo Connection: Why Do So Many Jewish Terrorists Come From the English-speaking World?
From the suspects in the Duma arson case to the revelers in the 'wedding of hate,' the ranks of Jewish extremist groups are filled with immigrants from the U.S. and other English speaking countries.
COMPLICIT HATRED IN ISRAEL
Relatives point to contact between security service coordinator and father of groom as evidence that Shin Bet was present at event but neglected to stop incitement.
Why Are Israelis So Shocked by the 'Wedding of Hate' Video?
Israel Police Arrest Groom From 'Wedding of Hate' Video Clip
Le marié du « mariage de la haine » a été arrêté
Police arrest four, including groom, from 'Jewish extremist wedding video'
Duma suspect released to house arrest
Duma detainee to be indicted for assault on Arab 2 years ago
Duma arson suspect could be released to house arrest
State Attorney files prosecutor's statement against one of the Jewish terror suspects, but not in the Duma case, leading the court to order his release; state appeals decision.
Top justice official visits Duma suspects amid torture claims
Deputy A-G Raz Nizri's meeting considered extraordinary step, but attorney for suspects in deadly firebombing says not enough time spent with detainees
Rabbi Shmuel Eliyahu suggests Shin Bet behind wedding celebrating Duma murders
Israeli Court Releases Jewish Terror Suspect After More Serious Allegations Were Dismissed
The 18-year-old suspect, who was arrested by the Shin Bet in connection to the Duma arson-murder case, was placed under house arrest.
Un Juif israélien arrêté pour avoir poignardé un employé arabe
Democratic Activists Are Now Marked Out as Israel's New 'Traitors'
Speakers from Breaking the Silence triggered my engagement with Israel. Now I'm afraid for their lives.
Israeli youth held for planning to attack left-wing protesters
Jewish-Israeli teen held for allegedly planning attack on left-wing demonstrators
This is Netanyahu's horror: "An open unleashing of raw racism that has always been a part of Israeli society"
We Can't End the Desecration of Judaism Without Ending the Occupation
Mainstream Israelis far from the West Bank hilltops watching the "hate wedding" clip celebrating of the Dewabsheh family's murder shouldn't be sitting comfortably. Secular Israel and its representatives funded and produced that video.
We Religious Zionists Are in Deep Trouble
The thugs filmed celebrating the murder of a Palestinian toddler embrace ideas that are the logical extension of the combustible mix of religion and Zionism.
Is Israel losing its mind?
Op-ed: We are in the midst of a conspiracy of silence. Why aren't we talking out loud about our national illness and its symptoms – the destabilization of the rational and moral grounds of Israel's democracy?
Don't complain about hilltop youth when Israeli ethics contradict the rest of the world's ethics
The thunderous laugh of history rang out Sunday after the government backed the bill forcing representatives of NGOs to wear a special tag. Oh, Europe of the benighted 1930s, we have returned.
Who's to blame for the acts of Israel's extreme right fringe?
Those who accepted the legal anomaly of the settlements from Day 1 and even encouraged them are suddenly looking in the mirror at the ugliest parts of their faces.
Israel now has its very own Jewish Hamas
If rules need to be bent to get the information required to convict the Duma murderers, then so be it. To the security services: Do what you have to do. Do it quickly. Do it now. By Rabbi Eric Yoffe
The two faces of fascism in Israel
Op-ed: Those who believe in democracy try to convince; those who have lost faith in democracy try to impose. That's exactly what far right-wing activists and far left-wing activists are trying to do.
Jewish Terror Doesn't Happen Because of Radical Rabbis, but in Spite of Them
'Inciting rabbis' is a cliché that took root in the 90s after Rabin's assassination, but is irrelevant when it comes to the extreme right in 2015.
Netanyahu's 'hierarchy of terror' is the heart of a corrupt Zionism
It would be a big mistake to make religious Zionism responsible for uprooting those terrorists, a task at which it has failed dismally.
The only leader who dared
Op-ed: Ariel Sharon defeated not only the second intifada and his own outlook, but also the Jewish minority group which had been considered undefeatable until then: The hardcore of the settlers.
Deux Israéliens inculpés pour avoir brulé vif un bébé palestinien et sa famille
Israel Charges Two Jews Over West Bank Arson Murders
One adult charged with three counts of murder, one minor charged as accessory to murder. Two others charged with violence against Palestinians.
Three more arrested in far-right 'hate wedding' case
Jewish Terror Suspects Indicted, but Convictions, if Any, Will Be Long in the Making
Prosecutors face several hurdles in the upcoming trial of Amiram Ben-Uliel and the minor A.: First of all, the admissibility of confessions obtained under torture.
'Stood up by accomplice, Ben-Uliel torched Duma home alone'
Jewish extremist who killed the Dawabsha family carried out firebombing attack as revenge for the murder of Malachy Rosenfeld, Shin Bet says.
The Night a Jewish Terrorist Killed Three Members of a Palestinian Family
Amiram Ben-Uliel had planned to attack the village of Duma with an accomplice, but when the accomplice failed to turn up, he set out alone, indictment filed Sunday alleges.
Letter to the Editor: Why Are So Many Jewish Terrorists 'Anglo Saxons'?
When the shoe fit, Shin Bet knew it had found Duma killer
Investigators say evidence from the scene helped to incriminate Amiram Ben-Uliel, who also knew details of the firebombing that hadn't been publicized.
Who Is Amiram Ben-Uliel, the Alleged Killer of the Dawabsheh Family?
21-year-old son of a rabbi spent several years with extremists in West Bank settlements, but had recently embraced Hasidic ultra-Orthodoxy.
Duma Attack and Jewish Terrorists: Q&A With Haaretz's Chaim Levinson
Put your questions to our correspondent about the West Bank arson attack that killed three members of the Dawabsheh family, and extremist Jewish youths in the settlements.
« Aidé par un complice, Amiram Ben-Uliel a incendié seul la maison de Duma »
Le principal suspect dans le meurtre de la famille Dawabsha aurait mené l'attaque pour se venger de l'assassinat de Malachi Rosenfeld, selon le Shin Bet.
Amiram Ben Uliel and minor indicted in Duma terror attack
Analysis: The Duma terrorist and the 'Judean monarchy' ideology
Jewish terror suspect freed from 5-month administrative detention
Mordechai Mayer, 18, suspected of torching Christian sites, is released without charges
Jewish man charged with July murders of Palestinian family in Duma
Amiram Ben-Uliel, 21, allegedly firebombed home, killing Ali, Saad, Riham Dawabsha; second suspect, a minor, charged as an accessory; 5 other Jewish terror suspects indicted for anti-Arab attacks.
VIDEO -
Video shows Jewish extremist reenacting deadly Duma firebombing Amiram Ben-Uliel charged with murder for the July attack that killed Dawabsha parents, baby
Jewish Terror Suspects Indicted, but Convictions, if Any, Will Be Long in the Making
Prosecutors face several hurdles in the upcoming trial of Amiram Ben-Uliel and the minor A.: First of all, the admissibility of confessions obtained under torture.
Groom at Israeli 'Wedding of Hate' Freed Along With 2 Guests
Duma suspect's wife: We want halachic state, but don't burn people
Father of 'hate wedding' bride blames Shin Bet conspiracy
Soldier whose gun was used in extremist wedding celebration sent to prison
Soldier whose rifle was brandished at 'hate wedding' gets 21 days in jail
Religious ultranationalist Zionists have taken over Israel
The True Barbarians at 'Wedding of Hate' Are You, the Viewers
The recent media storm over the 'wedding of hate' video proves that transparency has become the most-prized, and overrated, virtue in Israel.
Palestinians plan to turn Dawabsha home into a museum
PA offers to donate $1 million to build memorial structure next to house burned in deadly attack by alleged Jewish terrorist.
Investigation Into West Bank Arson Murders Showcased a Weak Legal System
Uttering the magic words 'national security' is enough to get all judicial values and human rights thrown into the trash can.
Four Duma terror suspects to be indicted
Jewish detainees to be charged with involvement in firebombing that killed three members of Palestinian family in July
Analysis: Is the Duma case full of holes or does Ben-Uliel face jail time?
'Duma killers could have been arrested on night of firebombing'
4 Jewish suspects in Duma attack return to court for remand hearing
Draft indictment expected later this week, with Shin Bet set to offer evidence linking detainees to 10 other cases
The hilltop youth circus
These hilltop youth call themselves a "rebel group."
Two Israelis charged over arson attack that killed Palestinian family
Israeli prosecutors file murder charges against a man and a minor for arson attack in occupied West Bank that killed three members of a Palestinian family.
Israel charges two Jewish extremist youths in Duma killings
Israeli West Bank youth sentenced to jail for posing 'national security' risk
Sure, Oppose Murder, but What About the Atmosphere That Leads to Murder?
A fellow Haaretz opinion writer chastises rabbis for not warning about the ticking bomb that led to the Duma murders. But that's not enough.
You can't say the Jew's a wild weed while the Arab is a terrorist
The religious Zionists will remain a state within two states, Israel and Palestine, in which Israeli law isn't always enforced.
Religious Zionism must disengage from zealots
'No Such Thing as Jewish Terror' and More From the Poster Boy of Israel's Far Right
Lawmaker Bezalel Smotrich wants Israel to annex the West Bank, calls gays 'abnormal' and thinks the burning to death of a Palestinian family was not a terror attack because it was done by Jews.
Murder as a tool for redemption
The notion of a price to be paid for Jewish blood has deep roots in Jewish underground movements.
2 ados israéliens inculpés pour avoir battu sauvagement un Palestinien
Settlement youths sentenced to prison for attacking police
Anti-Palestinian Hate Crime Drops After Right-wing Activists' Expulsion From West Bank
About a third of the cases opened in past years were closed because police were unable to identify the perpetrators.
Six Yitzhar settlers jailed for attacks on security forces
Two men, four minors get 8-month sentences in plea bargain for crimes including rock-throwing, disrupting police work
Jewish settlers bore into Palestinian children's bedroom
Des "instructions" publiées dans une brochure pour nuire aux Arabes
Le groupe d'extrémistes des « jeunes des Collines » pense que l'Etat d'Israël n'a aucun droit à exister
FLASHBACK: Meet the Jewish Extremist Group That Seeks to Violently Topple the State
Members of 'The Revolt' meet only at night, move from house to house and know how to maintain an alibi. And their violent tactics make 'price tag' attacks look like child's play. AUGUST 07, 2015
Israeli official calls for occupying Damascus based upon teachings from the Torah
Jewish Jihadists: How to Combat Violent Extremism in Israel
Our most pressing challenge is to articulate an alternative to radicalism, a moderate but authentic Orthodox Judaism that rejects xenophobia and violence.
Meet Judeo-ISIS: The Inevitable Result of Israel's Presence in the West Bank
Footage showing settlers celebrating the death of a Palestinian baby 'outraged' politicians - who took no responsibility for their role in creating the monster.
The Other American Revolution
Part 2:
What part does their American heritage play in Jewish terrorists' murderous zealotry?
La vraie question que personne ne pose en dehors des médias israéliens, c'est "pourquoi les juifs américains jouent-ils une si grande part dans le terrorisme juif et dans l'extrémisme juif"...
US taxpayers subsidizing Jewish terrorism in Israel, complaint alleges
Israel has always been xenophobic, it just used to be better at hiding it
Long before Prime Minister Benjamin Netanyahu and Justice Minister Ayelet Shaked, there was no real democracy in Israel. There was plenty of hatred of Arabs, but everything was hidden, unlike today – so which is better?
Israël a toujours été xénophobe mais a toujours su le cacher
Israeli Extremist Leader Once Again Calls for Torching Jerusalem Churches
Jewish Extremists Divide Israel's Right Wing — Even as Orthodox Take Reins of Security Services
Greater Israel in the Making? Israeli Official Calls for the Occupation of Damascus
VIDEO -
MUST WATCH!!! Jews openly brag about non jews being put on earth to serve the Jews
Judaic Indoctrination of American Christians

IDF allows anti-Islam activist to spread hate, chocolate to soldiers Beneath a cheery name, head of the 'Hershey's for Heroes' organization disseminates messages against Muhammad, Allah, Dome of the Rock — sweetened with candy.
Michael Ganoe, who calls Muhammad a 'blood-thirsty, child-raping false prophet,' has visited numerous IDF bases, spoken to soldiers, instructors.
Bennett : les autorités recherchent "un ou deux rabbins" qui ont aidé à radicaliser "les jeunes des collines"
Bennett: Authorities looking at 'one or two rabbis' who helped radicalize 'hilltop youth'
Radical Israeli rabbis come under fire amid settler violence
Recent attacks against Arabs have brought the teachings of extremists into the spotlight.
U.S. State Department's Deafening Silence After U.S. Citizens Engage In Israeli Settler Violence
The silence of the U.S. government when American citizens are actively engaged in anti-Palestinian terrorism suggests that we condemn Islamist terror while condoning Jewish terror.
Les chrétiens d'Israël face à l'intolérance religieuse
L'appel à l'épuration de Benzi Gopstein, disciple de Meir Kahane.
Palestinien brûlé vif : la prison à vie requise contre 2 Israéliens
Israeli prosecutors urge life sentences for killers of Palestinian teen
VIDEO -
The Gatekeepers - Enquête sur le Shin Beth [Arte Reportage]
À ne pas manquer! Excellent reportage, qui comprend l'extrait "
Le mouvement clandestin juif voulait détruire le dôme du rocher
" Plus d'infos:
Israel, le mouvement clandestin juif et le Mont du Temple
Israel tortures Palestinian children and keeps them in outdoor cages in winter
Pour Israël, la ministre des Affaires étrangères suédoise soutient le terrorisme et la violence
Sweden urges 'thorough' investigation into Israel's killing of Palestinians
Hotovely says Swedish FM not welcome in Israel after 'extrajudicial killing' comments
Hotovely : Les officiels suédois ne sont pas les bienvenus en Israël
La ministre suédoise des Affaires étrangères interdite de séjour en Israël
Israel blasts Swedish FM for 'supporting terrorism, encouraging violence'
Israel to bar Sweden from any role in future diplomatic process with Palestinians
Palestinians praise Swedish FM's 'brave humanitarian stance' against Israel
Israel Slams Swedish FM for 'Delusional' Call to Probe 'Extrajudicial Killings' of Palestinians
Israel's Foreign Ministry says Margot Wallstrom's call for investigation 'irresponsible and delusional,' adding that she is 'giving support to terror and thus encouraging violence.'
Minister Steinitz Calls Swedish FM 'anti-Semitic'
Steinitz slams Swedish call to investigate Israel for treatment of Palestinians; Deputy Foreign Minister Hotovely says 'Israel is closing its gates to official visits from Sweden'; Senior official says no such decision has been made.
Israel Reprimands Swedish Envoy Over FM's Call for Probe Into Killings of Palestinians
Foreign Ministry summons ambassador after Margot Wallstrom called for investigation to determine if Israel was guilty of extrajudicial killings of Palestinians during recent wave of violence.
PM: Swedish FM's remarks on response to Palestinian attackers are outrageous
Netanyahu on Swedish FM's remarks: Outrageous, immoral, unjust, wrong and stupid
Minister Steinitz Calls Swedish FM 'anti-Semitic'
Steinitz slams Swedish call to investigate Israel for treatment of Palestinians; Deputy Foreign Minister Hotovely says 'Israel is closing its gates to official visits from Sweden'; Senior official says no such decision has been made.
Why Israel's Government of Inciters Can't Win
The battle now is a battle for democracy, and therefore we will defeat you. That's how it is everywhere in the world and that's how it is here.
Knesset Transparency C'tee: Gov't unknowingly funding 'price tag' activities
Funds transferred by different ministries to Samaria and Binyamin local councils used to fund NGOs encouraging Jewish terror activities against IDF soldiers, Israeli citizens, Palestinians, says c'tee chairwoman Shaffir.
Jewish terror bomber claims influence with Ted Cruz
C'est le terroriste juif "Victor Vancier", qui disait
à propos du terrorisme juif
:
In 1986, the New York-based leader of the terrorist Jewish Defense League, Victor Vancier, gave a prophetic hint of what may have been finally played out on Sept. 11, 2001:
"If you think the Shias in Lebanon are capable of fantastic acts of suicidal terrorism, the Jewish underground will strike targets that will make Americans gasp: 'How could Jews do such things?'"
According to Vancier, quoted by Robert I. Friedman in The Village Voice on May 6, 1986, his allies were "desperate people" who "don't care if they live or die."
VIDEO -
Chaim Ben Pesach (Victor Vancier) JTF This Week: Innocent Jew faces murder charge; JTF Ted Cruz blitz begins.
Ce célèbre terroriste juif en campagne pour Ted Cruz et défend un autre terroriste juif qui a mis le feu à une maison palestinienne et tué une famille incluant un bébé palestinien. Aucune controverse, auun scandale on n'en entend parler nulle part...
Ari Shavit, You've Fallen Into the Trap of 'Extremists on Both Sides'
As opposed to the Haaretz columnist's claim, in reality not a single word has been spoken in support of left-wing activist Ezra Nawi's statements about informing on Palestinians to the Palestinian Authority.
In Glock We Trust: Ultra-Orthodox Settlement Guns Up
A gun sale sponsored by the municipality in the settlement of Betar Ilit highlights a near 180 in how the religious view gun ownership in light of recent violence: 'The more the merrier, regrettably.'
Jerusalem church defaced with anti-Christian graffiti
Jews spray "Slaughter the Christians" on walls of Jerusalem monastery
ANOTHER CHURCH VANDALISED IN JERUSALEM
Jerusalem church vandalized with crude anti-Christian slogans
Jewish Extremists Vandalize Jerusalem's Dormition Abbey
The vandals wrote anti-Christian slogans such as 'Death to the heathen Christians the enemies of Israel' on the walls and doors of the building.
Hebrew graffiti at Jerusalem monastery threatens Christians
A new act of vandalism against Christians in Israel
Jérusalem: trois adolescents israéliens inculpés pour des graffitis antichrétiens
'Fundamentalist' Jewish Terror a Growing Threat to Israel: Experts
Les terroristes du gang "prix à payer" écrivent des slogans injurieux anti-chrétiens à Jérusalem
The Duma Murder Is an Exception to the Already Violent Rule
The murder of the Dawabsheh family did not mess anything up because Israel fully backs Jews stealing Palestinian lands, a subtle form of violence.
Father of Palestinian teen burned alive by Judaic terrorists–'Demolish homes of his Jewish killers, just as you do with Arabs'
Child Survivor of West Bank Arson Murders Doesn't Know His Family Was Killed
Four-year-old Ahmad Dawabsheh's grandfather tells NBC News that he plans to break the news to the still-hospitalized child later this week.
Sweden investigating Israeli death threats against its foreign minister
La Cour suprême a aggravé les peines des pyromanes de l'école judéo-arabe
VIDEO -
Palestinian Kids Dodge Settler Attacks
JERUSALEM – Another Church hit by Jewish extremists
Palestinian Woman Kicked in Head as Jewish Mob Debates Whether to Kill Her
Investigation protocols reveal Duma murderer's interrogation
Amiram Ben-Uliel led his interrogators through the crime scene, recounting the arson attack that killed three members of the Dawabsheh family.
Double standard seen as Israel sentences minors involved in Abu Khdeir murder to prison but no punitive measures
Abu Khdeir murderers convicted, sentenced
Two minors found guilty of burning the Palestinian teenager alive; one was sentenced to life in prison, while the other to 21 years.
Minors handed life sentence, 21 years for Abu Khdeir murder
Une escorte policière en place au mont du Temple en raison des 'provocations juives'
« Il n'y a pas d'égalité » sur le site saint à Jérusalem, a affirmé le chef de la police à des diplomates israéliens
Police escorts on Temple Mount due to Jewish 'provocations,' police chief says
'There is no equality' at the Jerusalem holy site, 'to the disadvantage of the Jews,' Roni Alsheich tells Israeli diplomats
Soutien au cinéma Utopia de Toulouse vandalisé par des groupes fascistes pro-israéliens
Israeli Cop accused of 'turning in' Jewish girls consorting with Arabs
Israel's Bennett: Palestinians must be killed, buried in secret graveyards
Bill Seeks to Increase Role of Jewish Law in Israel's Legal System
Jewish MK pushes bill to insert Halakhah (jewish law) into Israeli Law
Duma suspect says interrogators beat him, made him listen to women sing
In recording, Amiram Ben-Uliel, who confessed to firebomb murder of Dawabsha family, insists abusive interrogation led him to falsely admit he carried out the crime.
Report: Ringleader in Abu Khadeir murder found fit to stand trial, despite insanity plea
Detention without trial prolonged for Jewish extremist
Amid Shin Bet crackdown on far-right activists, court extends Meir Ettinger's administrative imprisonment by 4 months.
Israeli Psychiatrist: Main suspect in Abu Khdeir murder fit to stand trial, is only pretending to be insane
Jewish Fundamentalism Is Beginning to Infect Israeli Schools
Education Minister Naftali Bennett reveals how far his religious political party has accelerated towards fundamentalism when he anoints himself Chief Censor for Israeli schools.
La police va enquêter sur un dirigeant extrémiste pour des propos antichrétiens
Le procureur de l'Etat demande une enquête sur Bentzi Gopstein, de Lehava, pour un article comparant les chrétiens à des "vampires"
Police to probe extremist leader for anti-Christian comments
Israeli rabbi: Israeli soldiers can rape Palestinian women
Israël: un juif inculpé d'incitation à la violence contre des Palestiniens
VIDEO -
IDF Execute Palestinian Youth In Front Of Al Jazeera Camera
Israeli indicted for posting 'Death to Arabs' on Facebook
Modi'in man charged with incitement after call to 'slaughter Arabs'
'Guys, we need to take the law into our own hands already and start slaughtering,' writes Eliyahu Eliav Mualem; 'It's very good that Abu Khdeir was 16. Let's hope the next Arabs who are murdered are younger,' another post reads.
Suspect Arrested for Deadly Arson Attack on Palestinians
Was Top Police Target for a Year 'When a man declared a police target manages to commit a significant crime under the law enforcement system's nose, that's a failure,' says former police investigator.
Alleged murderer in Duma firebombing arraigned
PICTURE OF THE DAY: Young Ahmad DAWABSHE looking at a photo of his parents and baby brother who were burned alive by jews
Foreign Ministry: 'Price tag' attacks increase anti-Semitism
Statement deplores actions against Christians and Muslims, saying they contribute to international delegitimization efforts and damage Israel's image.
Jewish man accused of attacking police upon illegal entry to Temple Mount, indictment says
Un enseignant sous le coup d'une enquête pour avoir accroché une photo du tueur de Rabin
Le ministère de l'Education a convoqué l'enseignant pour une audience disciplinaire.
IRAN – 2 jews arrested for a "death to Haman" graffiti
Israeli Facebook users launch 'Death to Arabs' campaign
Extremist Israelis (JEWISH TERRORISTS) threaten to kill Palestinian hunger striker Al-Qeeq
Jewish terrorists burn home of only witness to Duma arson attack
Home of Key Witness in Duma Arson-murder Catches Fire
Police say findings appear to rule out deliberate arson by Jews; Home of Ibrahim Dawabsheh reportedly targeted, human rights group says, months after he witnessed his relatives being killed in a firebomb attack.
Police and Shin Bet: New Duma fire not arson attack by settlers
Israel Forces Routine Attacks against Palestinian Schools. Disabling the Educational Process
Violations Against Palestinian Educational Process in 2015
It's Never Israel's Fault: Two Gazan Children Are Dead and Their Story Goes Untold
It's not hard to imagine what would have happened had Hamas killed two Israeli children, brother and sister, with a Qassam.
Israeli soldier says it is his job to frighten 5-year-old Palestinians (VIDEO)
Israël nomme à la tête du Shin Beth le cerveau présumé d'assassinats ciblés
VIDEO -
Australian documentary film on Israelis torturing non-Jewish children
Israeli Chief Rabbi to Troops: Ignore Courts, Commander, Just Kill Armed Palestinians
"Mowing the lawn" – new jewish airstrikes kill two more children in Gaza
Satmar Rebbe: Settlers causing terrorism
"the real culprits are the settlers in Israel who agitate the nations of the world in the country and throughout the world, which causes serious hatred of Israel and the severe wave of attacks."
Israeli rabbi: 'killing Palestinians commanded in teachings of the Torah'
Le procès de membres de la LDJ, dans l'indifférence générale - "Ma vie s'est arrêtée le 12 avril 2009", Hatim Essabbak, agressé par des membres de la LDJ.
Procès des voyous de la LDJ : justice sera-t-elle-rendue ?
Peines de prison pour 6 voyous de la LDJ
Six members of Jewish Defence League participated in 'lynching' of two men and chanted 'Death to Arabs' during 2009 assaults
Jewish vigilantes jailed over Paris attack on Gaza fundraising event
Une hotline créée pour dénoncer les relations mixtes entre juifs et non-juifs en Israël
Israeli group sets up "hotline" to attack mixed marriage
Arab NGO report says Israel racism doubled in past year
The report documents 465 alleged racist incidents from March 2015 to March 201.
Bolivia declares 'Israel a terrorist state'
Israël renonce à une figure de la colonisation pour son ambassade au Brésil
Israel abandons effort to make settler leader ambassador to Brazil Netanyahu retracts
Dani Dayan's appointment in face of implacable opposition from Brasilia, names him as consul general to New York instead.
Dear U.S. Jews: Israel's Sending You the Apartheid Choice for N.Y. Envoy. Send It Back
If you are an American Jew who wants to foster the values of democracy, equality, self-determination and human rights in Israel, now is the time to stand up and raise your voice against the appointment of Dani Dayan.
Ya'alon to Bennett: Pleasing an Extreme, Violent Minority Could Lead Israel to Anarchy
Israeli defense minister slams lawmakers who he says are waging a campaign of incitement against the IDF.
Liberman slams Netanyahu for 'field trial' of IDF soldier who killed wounded terrorist
Hebron settlers file complaint against Palestinian who filmed execution
New video shows soldier shaking hands with far-right activist after shooting subdued Palestinian attacker
Jewish terrorists threaten life of Palestinian who shot video of execution
Controversy Surrounding Hebron Shooting Is Hypocrisy Indeed
Is this the first time a soldier has executed a Palestinian in cold blood, or did the fact that it was caught on film make the difference?
Israelis rally around soldier filmed executing injured Palestinian
35,000 Israelis Sign Petition to Award Medal to IDF Soldier Who Murdered Wounded Palestinian
After killing stabber, soldier shook hands with far-right activist
On Hebron Shooting, Netanyahu and Bennett Follow Enraged Public All the Way to the Right
Cabinet members seem to be riding the tiger of public opinion — which, at least on social media, is vehemently and crudely backing the soldier who shot and killed a wounded Palestinian assailant — and are afraid to anger it.
Netanyahu defends soldier caught on tape executing wounded Palestinian: 'IDF is the most moral army in the world'
Chief Rabbi Yosef: If a terrorist is trying to commit an attack it is a mitzvah to kill him
Israeli medics are leaving wounded Palestinians to bleed to death
Israeli Soldier Filmed Executing Wounded Palestinian Man
Why Did Israeli Police Ambush and Shoot at Palestinian Kids?
The Border Police shot a Palestinian boy in the leg during a protest. The army says he was using a slingshot; his father thinks he was deliberately targeted.
An Anti-democratic Revolution Is on Its Way in Israel
Forces israéliennes au camp d'Aida
"Nous vous gazerons jusqu'à la mort de tous" (vidéo)
VIDEO -
Renegade Jewish Settlers
Non-Jews are forbidden by Jewish law to live in Israel, chief rabbi says
Grand rabbin : les non juifs ne devraient pas avoir le droit de vivre en Israël
Le rabbin Yitzhak Yosef dit que les non juifs qui n'appliquent pas les sept lois de Noé devraient être "expulsés en Arabie saoudite"
Non-Jews are forbidden by Jewish law to live in Israel, chief rabbi says
Sephardi Chief Rabbi Says non-Jews Forbidden From Living in the Land of Israel
Rabbi Yitzhak Yosef argues that Jewish law prohibits non-Jews from living in Israel unless they have accepted Noachide laws, adding that some non-Jews live in Israel to serve the Jewish population.
American Jews, Demand Action on ultra-Orthodox Hate Speech
Israel's own policies, ceding control of Jewish life in Israel to the ultra-Orthodox, legitimatize the now-commonplace defamation of Reform Jews by Haredi leaders.
Avi Mograbi : "Israël est un pays raciste où la question de la pureté de la race est sans cesse posée"
Survey: 85% of Israeli Arabs fear rising levels of racism
Israeli Agency OKs Right-wing NGO's Plans to Build Large Visitors' Center in East Jerusalem
After pressure from the Justice Ministry, the National Planning and Building Council overturns a decision to limit the size of the center, which the Elad group is planning to build in Silwan.
Armed Israeli Settlers to Police Illegal Palestinian Construction Near Jerusalem
Group known as the Jerusalem Periphery Forum planning to patrol road in Gush Adumim, between Kfar Adumim and Jericho, with police's blessing.
POURIM -
Le chef d'état-major israélien représenté en roi perse cruel
Le police enquête sur une incitation contre Gadi Eisenkot après l'étalage d'affiches l'appelant à démissionner pour avoir « mis en jeu » le sang juif, suite au tir dans la ville de Hébron.
VIDEO -
Netanyahu, l'accusé principal du Dernier jour d'Yitzhak Rabin ?
Netanyahou traite les Arabes de « bêtes sauvages » et annonce la construction d'un nouveau mur
Traduction française d'une nouvelle qui date d'il y a plus d'un mois.
US : Un sénateur réclame une enquête sur les présumées 'exécutions extra-judiciaires'
US senator asks for probe into possible Israeli 'extrajudicial killings'
Israel's Leaders Are Appeasing Extremists at the Cost of Diaspora Jewish Support
Two diametrically opposed world views are clashing in Israel – and at stake is whether Israel will continue to be a unifying symbol for Jews worldwide.
Leahy Asks Kerry to Investigate if U.S. Aid Contributes to Israeli 'Human Rights Violations'
Senior Senator, along with 10 Democratic Congressmen, ask the State Department to investigate alleged 'gross violations of human rights,' namely Israel's alleged extrajudicial killings of Palestinians.
Netanyahou s'en prend aux sénateurs américains qui appellent à une enquête sur les assassinats de Palestiniens
Netanyahu pans US senator's call to probe 'extrajudicial killings'
The 'Traitors' Who Filmed Our 'Heroic' Soldier Executing a Wounded Palestinian Terrorist
According to Israel's right wing, the anti-occupation NGO B'Tselem is the guilty party.
Israeli Army Raids Home of Man Who Filmed Hebron Execution
'Hebron soldier acted according to wartime protocol'
Right-wingers rally for release of IDF soldier outside military court
Netanyahu to Kerry: Declare Israel doesn't commit extrajudicial killings
Netanyahu spars with US senator over Israeli army's rights record
Netanyahu faces criticism over shooting of Palestinian
Don't Believe the Polls: Israelis Don't Really Think Killing Neutralized Terrorists Is Right
The minute Ya'alon and Eisenkot came out at the head of those convicting the soldier in the Hebron incident, they elevated the seriousness of the affair completely out of proportion.
Le jeune soldat israélien a été acquitté du meurtre du terroriste arabe palestinien
Bibi Orders Kerry To Declare Israel Doesn't Commit Extrajudicial Killings
Execution of Young Palestinian Exposes Israel's Military Culture
VIDEO -
Jews Rally For Israeli Soldier Who Executed Palestinian on Video
IDF Soldier claims he was stabbed; police skeptical
On dit "je suis sceptique" pour ne pas dire crument "bullshit", ça passe mieux pour la campagne de communication/relations publiques.
How Israel's High Court Implicitly Aids the Soldier Accused of Hebron Manslaughter
Why be shocked at the public's support for arrested IDF soldier when the country's justices have already provided him with a line of defense?
Israeli minister proposes putting pre-teens in jail
israeli court refuses to release 11-year-old Palestinian prisoner
Plus de 400 enfants palestiniens détenus dans les prisons israéliennes
Israeli High Court Rejects Haaretz Petition to Interview Jailed Palestinian Leader Marwan Barghouti
Senior Fatah official is serving five life sentences for murdering Israelis; court rejects petition without hearing parties' arguments.
Israeli Doctors Assist In Torture Of Palestinian Prisoners
Israel's Justice Minister Must Stop Attempts to Fundamentally Distort Israeli Democracy
Controversial Israeli Arab Lawmakers Know Exactly What They Are Doing
Balad MKs have never disguised their aspiration to change Israel's nature as the nation-state of the Jewish people. What's becoming clear is the strategy they have chosen for this purpose.
Israel is reborn into a monster – and no one is going stop it
By Gideon Levy (Ha'aretz)
The Dangerous Political Battle for Israel's Extreme Right
Netanyahu, Bennett and Lieberman are trying to draw a small but dangerous group to their respective sides, allowing an extremist, irresponsible minority to effectively control the Israeli agenda.
Unsafe Places: The Racism Behind Identity Politics
Misguided attempts to combat racism are simply conservative politics in disguise.
Analysis: Unyielding religious establishment threatens to be its own undoing
The IDF: The Most Semi-moral Army in the World
If half of the Israeli population is racist, violent, bloodthirsty, aggressive and ultra-nationalist, does that mean that half of the Israeli army is, too?
'Another Terrorist Is Born': The Long-standing Practice of Racism and Segregation in Israeli Maternity Wards
While no hospital in Israel has a policy of separating Jewish and Arab patients, testimonies show segregation is implemented in wards with doctors and management turning a blind eye.
With Few Tweets, Israeli Lawmaker Reveals Extent of Settlers' Racism
The Habayit Hayehudi MK is just another weird, racist clown who loses control and spews nonsense in abundance, without even being aware of the damage he is causing.
Lawmaker backs segregated Jewish, Arab maternity wards
Bezalel Smotrich says he doesn't 'enjoy' Arabs' company because they're 'enemies'; Bennett: They're 'created in God's image'
Israeli Lawmaker: My Wife Wouldn't Want to Give Birth Next to an Arab Woman
MK: Segregation in hospitals
Bayit Yehudi MK Betzalel Smotrich calls for segregating maternity wards and is immediately condemned for racist remarks.
Un député prône la séparation des Arabes et des Juifs dans les maternités
Bezalel Smotrich a déclaré qu'il n' « appréciait » pas la compagnie des Arabes parce qu'ils sont des « ennemis »
La ségrégation, pratique courante dans les hôpitaux israéliens
Israël commence à ériger son mur de séparation dans un secteur chrétien
Jewish extremist remains in jail as son is circumcised
Rejecting offer to conduct ceremony in prison, family holds brit in Jerusalem after courts rule that Meir Eittinger is public threat.
Meir Ettinger will not be released for his son's circumcision
The radical right-wing activist's family are planning to appeal the decision at the High Court of Justice; his wife refuses to have the ceremony in jail.
Incitement against Ya'alon
Likud activists angry the defense minister won't back soldier who shot wounded terrorist post inciting photos, calling to end his career.
Is Ya'alon the target of political assassination?
Defense Minister Moshe Ya'alon has found himself in the right flank crosshairs of the Likud after taking a moral stand on the Hebron shooting.
Under fire from extremists, Ya'alon vows: I won't yield in fight for Israel
Israel was soft on Jewish terrorists in the 1980's, will history repeat?
Le Grand rabbin séfarade d'Israël précise ses propos controversés contre les non-Juifs
Il rappelle simplement que l'État juif veut pas juste dire que les juifs dominent mais que c'est l'État des juifs, l'État des juifs vivant séparés des autres peuples. Donc en principe il devrait y avoir que des juifs. Mais bien sûr il y a les réalités: la job sale doit être faite par quelqu'un, ce qui permet des entorses au principe de stricte judéité d'Israel... Il est en train de dire que l'État juif ne doit pas considérer les non-juifs comme des Israéliens à part entière.
Le Grand Rabbin d'Israël revient sur ses déclarations messianiques'
Le Grand Rabbin sépharade d'Israël, Yitzhak Yosef, est revenu sur sa déclaration au sujet des personnes qui ne respectent pas les lois Noahides qui ne devaient pas vivre en Israël, en affirmant que son commentaire était « théorique ».
5 shocking quotes by Israel's chief rabbis
VIDEO -
Judaism In Action: "Death to the Arabs!", "Arabs to the Gas Chambers!"
Does Monotheism Breed Religious Violence?
In his new book, 'Putting God Second: How to Save Religion Itself,' Rabbi Donniel Hartman argues that religion often fails to create believers who care for their fellow man.
Ben-Gurion in 1951: Only death penalty will deter Jews from gratuitous killing of Arabs
Israel Seeks to Divert Attention from Its Execution of Wounded Palestinian Prisoners
Israeli Army Giving Its Soldiers a License to Kill
Shoot to kill. Not to apprehend, not to wound. To kill. This is the ethos of the IDF 2016.
Meet the West Bank Cobbler Who Took Video of Israeli Soldier Shooting Palestinian in Head
Israel And The 'Shoot To Kill' Policy
To Those Racists in Israel Who Are Proud of a Murderer
Which leader is worthy of admiration: Ahmad Tibi or Rehavam Ze'evi?
5 Israelis arrested on suspicion of 'security crimes' against Palestinians
The Judeo-Nazis in the Israel's Legislature
Racism is always offensive and it is important to fight it. But even racism has its shades, too. Knesset Member Bezalel Smotrich's vocabulary is that of the master race.
How and Why Radical Right-winger Bentzi Gopstein Was Acquitted
The judge's faith in Gopstein is interwoven in a process of acceptance, separation and differentiation.
Radical right-winger acquitted of assault of radical left-winger
Despite being documented on video attacking Ezra Nawi, judge clears Benzi Gopstein of charges, accepting his claim that he thought Nawi and other left-wing activists, who were climbing the fence into a Jewish neighborhood in Hebron, were Arabs seeking to harm Jews.
Right-wing extremist group head Gopstein acquitted of assault against left-wing radical
Analysis: The IDF sees rising national-religious influence
Blood and Money: US Tycoons, Charities and Israel's Settlements
Why Is Goldman Sachs Funding the Violent, Racist Jewish Settlers of Hebron?
Even though the firm's Charitable Gift Fund consistently gives to right-wing Israeli groups or their U.S. fronts, the Hebron aid is a standout, as the showcase city for the worst of the Israeli occupation.
THURSDAY'S TOON ~~ GOLDMAN SACHS FUNDS HEBRON SETTLERS
VIDEO -
Settlers, Olives, and Occupation: Voices from the West Bank
VIDEO -
Jewish Settlers in the Hamas Stronghold of Hebron: Rockets and Revenge (Dispatch 6)
VIDEO -
Radical Young Israelis and the Price Tag Attacks: Rockets and Revenge (Dispatch 7)
Does Yitzhak Rabin's Party Still Believe the Occupation Is the Israel's Biggest Problem?
The absolute condemnation by the Labor Party of its own MK for his comments on the Hebron shooting raises difficult questions.
Criticizing Nuclear Armed Israel and Its Illegal Settlements Must Not be Construed as Antisemitism
59% des jeunes israéliens sont de droite
Why Israeli kids are so right-wing – a historical explanation
Un professeur d'études juive (l'université de Sorbonne) : «Dieu autorise à violer les non juifs»
Refusing to Give Birth to Racism: No to Arab-Jewish Segregation in Israel's Maternity Wards
It's shameful that an Israeli lawmaker brought the ugliness of racism, all the talk of 'us' and 'them', back into the one place meant to be the safest space, a space of solidarity, for all.
Segregation of Palestinians and Jews in maternity wards becomes an issue in Israel
Polls show most Israelis oppose segregating Jews and Arabs in hospitals
Les colons font-ils partie du sondage?
The Israeli Right's Monstrous Naiveté on the Occupation
Dani Dayan, who was recently appointed Israel's consul general in New York, believes the Palestinians have accepted the presence of settlers throughout the West Bank.
What Happened at This Once-idyllic West Bank Spot Embodies the Israeli Occupation's Evils
As of this week, Israeli authorities have demolished structures in a Palestinian hamlet near the Jordan Rift Valley four times this year. An improvised school and a small swimming pool also fell victim to the bulldozers.
On racism and criticism in Israel
Op-ed: For Bezalel Smotrich's information - there's a higher chance the Arab baby born on the same day as your son will be a life-saving doctor than a life-taking terrorist.
There's No Place in Israel for an Honest Arab
Zionist Union's Zouheir Bahloul dared to say the truth - that anyone who tries to stab a soldier at a damned Hebron roadblock isn't a terrorist - and started an almost fascist stampede.
Video -
Netanyahu's Strategy will Undermine Israel's Long-Term Security
Meet The Former Left-wing jewish Activist Who's Now Racist and Proud
Field Trips, Workshops and Ceremonies: How Settlers' Agenda Found Its Way Into Israeli Schools
Analysis of four programs operated by the Education Ministry shows a common method and goals – omitting or distorting historical facts, blurring disputes and continuous emphasis on one identity, closed off to others.
Zionism is not really secular
Unitarian Universalists divest from companies profiting from Israel's occupation
On attend toujours quelque prise de position semblable du côté de l'Église catho... On risque d'attendre longtemps. Les Églises unies et presbytériennes ne sont pas aussi immobiles et crasses que l'Église catho et les évangélistes à ce sujet là. Ily a de moins en moins de différence entre les évangélistes sionistes et l'Église catho. C'était pas aussi pire sous Benoit XVI...
La United Church of Christ, socialement engagée, rejoint le mouvement de boycott d'Israël:
United Church strengthens call to end Israeli occupation
United Church of Christ votes to boycott and divest from companies profiting from Israel's occupation
US churches vote on joining BDS movement targeting Israel
United Church of Christ joins Boycott, Divest and Sanction campaign in protest at treatment of Palestinians, with two other denominations due to decide
Three US churches consider BDS measures against Israel in upcoming vote
US church to divest over Israeli treatment of Palestinians
Delegates call on United Church of Christ's financial arms to sell off stock in any company profiting from 'human rights violations arising from the occupation'; economic impact on Israel expected to be negligible.
As UN vents on Gaza, Jews and Christians festively argue Israel's case
Outside UN Human Rights Council debate in Geneva, demonstrators from across Europe commiserate about an irreparably biased organization
US church votes to divest from companies operating in West Bank
United Church of Christ urges boycott of Ahava Dead Sea products, SodaStream; two more churches weigh similar resolutions.
To Our Friends in the United Church of Christ
We write to thank you as Jews, Muslims, Protestants, atheists and others; as mothers and fathers, daughters and sons; and as people united in our belief in justice and liberation for all peoples. We thank you for your historic and moral vote to divest from the Israeli occupation. Your vote is a profound act of solidarity with Palestinians who have suffered decades of occupation, dispossession, and discrimination.
Heeding "His Call," United Church of Christ Divests from Israel
Israeli Foreign Ministry slams US church boycott as 'immoral'
Spokesperson says United Church of Christ move to divest from companies operating in West Bank is 'demonization' of Israel
United Church of Christ votes to divest from companies with ties to Israeli settlements
Delegates called on the denomination's financial arms to sell off stock in firms profiting from human rights violations.
In op-eds, church leaders say BDS is moral response to Netanyahu's rejection of Palestinian statehood
Church of England Vicar Speaks of Zionist Threat — Links Dr. Duke's Videos and Website
Chief rabbis criticized for call to ban Jerusalem Christian prayer service at Temple Mount
Chief rabbis oppose Jewish-Christian prayer service
VIDEO -
Les chrétiens de Jérusalem menacés par des juifs radicaux
Israël : grève des écoles arabes en solidarité avec les chrétiens
Arab state school students join Christian schools' strike
With Schools Starved of Funds, Christians Question Their Future in Israel
Israeli foreign minister: Jesus wanted to alter the ' Jewishness ' of Israel and he was condemned to the most excruciating death
"Israël" protège les colons juifs terroristes
Court upholds administrative detention for Kahane's grandson
Israeli discourse plagued by hatred
Video of Palestinian police beating man goes viral
How relevant is the Old Testament in understanding Jewish behavior in the Middle East and beyond
Le changement de "climat" pourrait entraîner un deuxième Holocauste
Bible in hand, Trump woos evangelical Christians
FLASHBACK: The world was right about Iraq– though Israel got its 'Clean Break', June 14, 2014
UN chief condemns recent killings of Palestinians, without mention of Israeli terror victims
VIDEO -
ARAB JOURNALIST HIT BY STUN GRENADE WHILE REPORTING LIVE
Arab-Israeli TV journalist goes back on air after being hit by stun grenade
VIDEO -
FLASHBACK: Donald Trump Endorsement for Prime Minister Netanyahu
Donald Trump, Big In Israel, Endorses Prime Minister Benjamin Netanyahu
Why Won't Trump Stand Up to His Anti-Semitic Fans?
Temple Mount is the issue, not terror
A Jérusalem, la « guerre de religion » masque un colonialisme pur et dur
«Israël se diabolise lui-même chaque jour», par Shlomo Sand
Rappelons combien les terroristes juifs n'apprécient pas de recevoir la visite du Pape (printemps 2014):
Israel fears Jewish terrorists might carry out massive hate crime during papal visit
Vatican responds to Jewish extremists attacks against Christians ahead of Pope's visit
Israel hate crimes 'poison atmosphere' for pope visit
Israël: les actes antichrétiens "empoisonnent l'atmosphère" avant la venue du pape (Patriarche catholique)
Israel requests Pope's poster be removed
Orthodox Jews protest against Pope Francis' mass at Jerusalem site of Jesus' last supper
Price tag: "Prix à payer" : même le pape s'y met maintenant ?
L'église catholique romaine demande à Israël de prendre des mesures après qu'un graffiti en hébreu disant "mort aux arabes et aux chrétiens et à tous les ennemis d'Israël" ait été écrit sur une église de Jérusalem.
Israel: Anti-Christian Graffiti and "Price Tag" attacks rise before Papal visit
Catholic Church rips Israeli pols for silence on Jerusalem property 'price tag' attacks
Latin Patriarchate raps Israel on 'price tag'
"Jesus is Garbage"—Anti-Christian Hate Attacks in Israel Covered up by ZioMedia
Jewish Extremists Threaten Pope's Visit
Israel issues restraining orders against three Jewish youths ahead of Pope visit
Si c'était des musulmans, on en parlerait sans arrêt dans les médiats.
Hours after pope mass, arson suspected at Mount Zion
Une église catholique de Jérusalem incendiée pendant la visite du pape
Anti-Christian graffiti spray-painted on Be'er Sheva church
Two arrested for anti-pope, anti-Christianity posters
Judge Overrules Police, Allows Anti-Pope Protests
2 arrested for anti-Pope posters in Jerusalem
The posters called on Pope Francis to leave Israel and to return holy relics looted by the Romans from Beit Hamikdash (Second Temple).
A MOST UNWELCOME VISIT BY POPE FRANCIS TO THE HOLY LAND
L'accord du Vatican avec les officiels palestiniens risque de lui attirer de grosses difficultés prochainement. Affaire à suivre...
Vatican refuses to let Israel see details of agreement with Palestinians
Pope Francis to be Tried by Sanhedrin
A re-established and self declared Israeli Sanhedrin, the religious High Court composed of 71 sages, has declared that it is putting Pope Francis on trial unless he retracts his statement that the Jews have no right to the land of Israel or to Jerusalem.
We should all be outraged at the Jewish Sanhedrin prosecution of Pope Francis
Sanhedrin Warns Pope Francis: Godly Judgment May Prove "Very Risky"
Le Sanhédrin jugera bientôt le Pape François
Accord historique entre le Vatican et les Palestiniens
Israël « regrette » l'accord du Vatican avec « l'Etat de Palestine »
Reconnaissance de la Palestine : Le Vatican contre les Juifs
(Par le site évangélique Now The End Begins)
LE VATICAN VEUT ENLEVER AUX JUIFS LE MONT DU TEMPLE
(Par le site évangélique Now The End Begins)
In Adelson's paper, Bibi's man says Pope helping Palestinians crucify the Jews
Bibi Advisor Accuses Pope Francis of 'Nailing Entire Jewish People to the Cross'
Israel se vengerait-il de la reconnaissance de la Palestine par le Vatican?
Rappelons que ce grand malheur qui afflige le catholicisme, Vatican II, est en partie l'oeuvre de juifs convertis après la guerre.
Forward - Converts Who Changed the Church: Jewish-Born Clerics Helped Push Vatican II Reforms
Comment by Mike Hoffman: The "Jews" Behind the Second Vatican Council
Review of John Connelly, From Enemy to Brother. The revolution in Catholic teaching on the Jews 1933-1965
Pope Paul VI, first pontiff to visit Israel, moving closer to sainthood
Rappelons que Paul VI fut un pape
très particulier
(
version complète ici
)
C'est peut-être pour cette raison que certains sionistes sont amis avec l'Église et vice versa..
There's nothing to fear from the pope
The church is no longer a threat to Jewish existence, physical or spiritual - but some rabbis cannot accept that fact.
Former Israeli President Proposes Pope to Head 'UN for Religions'
The Myth of a Judeo-Christian Tradition
Unprecedented Vatican Declaration: Jewish People Part of God's Salvation
Dérogation : selon le néo-Vatican, les juifs peuvent obtenir le salut éternel sans devenir chrétiens. Trop cool !
L'Eglise catholique ne cherchera plus à convertir les juifs
De toute façon, le Pape est leur ami...
New pope has solid relationships with Argentina's Jewish community
from the WALL STREET JOURNAL p. A13. June 14, 2013
Praise of new Pope by war-hungry Israel not a good omen for a war-weary world
Argentine Jews hope Pope Francis will continue interfaith dialogue he promoted as archbishop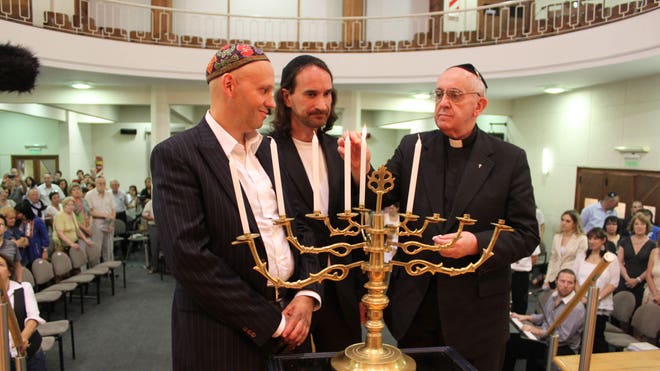 In this Dec. 12, 2012 picture provided by the NCI-Emanue El, Archbishop of Buenos Aires, Cardinal Jorge Mario Bergoglio, right, lights the Janukia during Hanukkah celebrations in Buenos Aires, Argentina, At left is Rabbi Sergio Bergman, and at right is Rabbi Alejandro Avruj, of the NCI-Emanu El congregation. The Jewish community in Argentina, the largest in Latin America, is thrilled with the new pope Francis, known for his excellent relationship with the Jewish community. Experts believe that Bergoglio, who took the name Francis as pope, will be an example of inter-religious relations. (AP Photo/NCI-Emanu El)
Photo:On Monday, November 12, 2012, the Cathedral of Buenos Aires hosted hundreds of people who attended the B'nai B'rith Argentina commemoration of Kristallnacht. Cardinal Jorge Bergoglio, now Pope Francis, lead the event, which was attended by high representatives of the Methodist, Lutheran, Presbyterian and Catholic Churches.
B'nai B'rith International welcomes Pope Francis, who was elected at the Vatican on March 13 by the 115 Catholic cardinals eligible to vote.
Source:
http://www.bnaibrith.org/5/post/2013/03/bnai-brith-international-welcomes-new-pope-francis-i.html
Le B'nai B'rith International se félicite de l'élection de François Ier Pape, qui a été élu au Vatican le 13 Mars par les 115 cardinaux catholiques habilités à voter.
Source:
http://www.bnaibrith.org/5/post/2013/03/bnai-brith-international-welcomes-new-pope-francis-i.html
Jewish leaders have hope in election of new Pope
ADL "reassured" by nomination of Pope Francis I, citing Jewish connections; WJC: Bergoglio to strengthen Israel-Vatican ties. (...) The ADL also cited his "dedication and support in standing up against extremism" in the new Pope's response to the
1994 bombing on an Argentinian Jewish center
. (...) "
Pope Francis I is no stranger to us. In recent years he attended many inter-faith events co-organized by the WJC and our regional affiliate, the Latin American Jewish Congress
," he wrote, adding he had met him in Buenos Aires in 2008.
Jewish community has friend in Vatican
Pope Francis Makes Good First Impression on Jews
The new pontiff "is no stranger to us," World Jewish Congress President Ronald Lauder, who met with Bergoglio in Buenos Aires in 2008, said in a statement. "He always had an open ear for our concerns.
Jews find early signs from Pope Francis encouraging
Pope Francis reaches out to Jews
Israel welcomes new pope as friend of the Jews
Israeli leaders are welcoming the selection of Pope Francis and calling him a friend of the Jewish people.
World Jews welcome Pope Francis
World Jews celebrate election of Pope Francis
Jorge Mario Bergoglio of Argentina hailed as close friend of Jewish community in Buenos Aires. 'He is a man of dialogue, a man who is able to build bridges with other faiths,' says WJC President Ron Lauder, who is convinced new pontiff will speak out against all forms of anti-Semitism
ADL Applauds Choice of New Pope
Actualité papale:
The PR Pope Was Picked To Save The Vatican…Not The World
Pope Francis, Please Stop Talking Politics
Pope praises Iran deal to United Nations
WHY AMERICAN JEWS LOVE THE POPE SO MUCH
Sur ce blog: