Merci aux médiats juifs tels que i24news pour leur vigilance et leur ardeur au travail.
Dror Even-Sapir
Publié 14 Mai 2014
L'illustration du terrorisme selon Larousse.fr
Selon le site encyclopédique, une photo de Menahem Begin devant le drapeau israélien convient le mieux
Au risque d'enfoncer des portes ouvertes, je commencerai par rappeler que l'ère de l'omniprésence d'Internet et des réseaux sociaux est aussi celle du relativisme. Lorsqu'en deux-trois clics tout peut s'écrire et tout peut se lire, tout se vaut, et plus rien ne permet de distinguer le vrai du faux.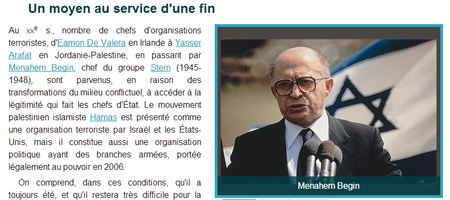 Rien d'étonnant à ce que les théories conspirationnistes y prospèrent : elles n'auraient pas pu rêver terreau plus fertile.
Dans ce contexte, à quoi peut donc se fier l'internaute avide de connaissance, mais conscient des pièges tendus par la toile ? Aux bonnes vieilles références, les survivances de l'époque post-Gutenberg mais pré-Zuckerberg. Celles en tout cas qui se sont adaptées, tant bien que mal, aux contraintes de notre temps, tout en tentant de préserver leur réputation de sérieux.
En d'autres termes, on s'attend à trouver, par exemple, moins de prises de position et moins d'erreurs factuelles sur le site du Larousse que sur Wikipédia.
C'est dans cet état d'esprit que je me suis récemment rendu sur le site du Larousse pour y lire la définition du mot "terrorisme''. Aucun problème avec la définition elle-même : claire, nette, bien formulée, et, naturellement, "objective''. Un autre élément de la même page m'a, par contre, pour le moins perturbé. Le site proposait les premières lignes de l'entrée consacrée au même terme sur l'encyclopédie en ligne de Larousse, et elles étaient illustrées…par une photo de l'ancien Premier ministre israélien Menahem Begin devant le drapeau de son pays.
Larousse
, une référence, un garant d'objectivité pour des millions de Français et de francophones à travers le monde, considère donc que Begin, et dans une moindre mesure l'Etat d'Israël, constituent le meilleur des exemples possibles lorsqu'il est question de terrorisme. Ni Al Qaïda, ni le Hamas palestinien, ni le Hezbollah libanais, ni les Brigades rouges italiennes, ni la bande à Bader allemande, ni le Sentier lumineux péruvien, ni l'O.A.S. française.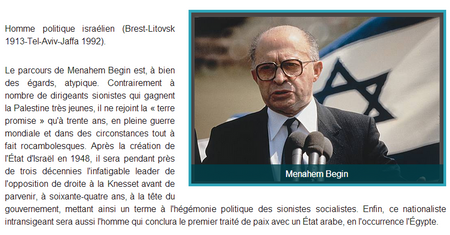 La liste est longue des organisations, qui, au début de notre siècle et tout au long du précédent, se sont livrées à "des actes de violence commis pour créer un climat d'insécurité, pour exercer un chantage sur un gouvernement, pour satisfaire une haine à l'égard d'une communauté, d'un pays, d'un système'' selon, précisément, la définition du Larousse. Mais les concepteurs du site de son encyclopédie en ligne ont jugé que Menahem Begin, posant devant le drapeau israélien, convenait mieux pour illustrer l'entrée "terrorisme''.
Déduisez-en ce que vous voulez.
Une semaine plus tard, la photo laissait place en entête à celle des tours jumelles du World Trade Center, mais restait présente dans le corps du texte. On aura apprécié l'équivalence sous-entendue par cette substitution.
Je n'étais pas au bout de mes surprises. En consultant la fameuse entrée "encyclopédique'' (vous constaterez un peu plus loin à quel point l'usage des guillemets se justifie), j'ai découvert que la photo de Begin avait été choisie pour illustrer un exemple de dirigeant terroriste devenu par la suite responsable politique. Car le chef historique de la droite israélienne, nous apprend le Larousse' en ligne, était bien un leader terroriste avant de se lancer dans la vie politique, puisqu'au cours des années précédant la naissance de l'Etat d'Israël il avait dirigé le ''groupe Stern''.
Dois-je rappeler que Begin n'avait rien avoir avec le ''groupe Stern'', plus connu en Israël sous le nom de ''Lehi'' ?

Il y avait bien, dans le triumvirat qui a dirigé cette petite organisation clandestine après la mort de son fondateur, Avraham Stern, un futur premier ministre israélien. Mais il s'appelait Yitshak Shamir.
En résumé, le symbole d'objectivité et de sérieux qu'est le 'Larousse' a été pris, à travers cet exemple, en flagrant délit de partialité idéologique et de grossière erreur factuelle. Certains seraient tentés d'établir entre ces deux travers un lien de cause à effet. Contentons-nous ici de rappeler la devise du Larousse, "Je sème à tout vent''. Censée exprimer la ''diffusion du savoir", elle prend soudain une toute autre signification.
Contacté par notre rédaction, Larousse n'a pas répondu à nos demandes d'explications.
Dror Even-Sapir est commentateur politique pour i24news et présentateur de l'émission "Tout est dans la presse"
VIDEO -
Palestine 1946: King David Hotel Bomb Warning Controversy
The end of a beautiful friendship?
Ever since Menachem Begin became PM four decades ago, American Jewry has been captivated by Likud pathos, symbolism and sense of victimhood, but things are beginning to change.
Homeland
, série télé antijuive?
Menahem Begin considéré comme un terroriste dans « Homeland »
L'ancien Premier ministre israélien est comparé à un chef taliban dans la série américaine d'espionnage
La série "Homeland" compare Begin à un terroriste et provoque un tollé en Israël
Saul, un personnage de la série américaine met sur le même plan le Premier ministre israélien et un taliban
Homeland ruffles Israeli feathers by likening Menachem Begin to Taliban leader
Director of the Menachem Begin Center protests a scene in which the former prime minister is likened to a terrorist over the 1946 bombing of the King David hotel in Jerusalem.
Encore un coup des médias antijuifs... MDR!
'Homeland' Finale Stirs Controversy by Comparing Israeli Prime Minister to Taliban Leader
The Showtime series' season-four ender included a quote about Menachem Begin killing British soldiers
Showtime's Homeland season finale is not sitting well in the same country which originated the show.
Daily Mail: Now Homeland upsets Israel: Controversial scene in season finale prompts fury after former prime minister
- Menachem Begin is compared to fictional Taliban leader
- Offending scene involves a former CIA director talking with a CIA agent
- Agent refers to a highly controversial attack by right-wing Jewish group
- He says Begin 'killed 91 British soldiers at the King David hotel' in 1946
- Pakistani diplomats have also condemned the Emmy-winning series
- Complained the show paints Islamabad as a 'hellhole' refuge for terrorists
- Insisted Pakistan was an ally of U.S. and supports its fight against Taliban
Why Israelis Are Angry About the 'Homeland' Finale
(...) The Emmy Award-winning "Homeland" is actually based on the Israeli series "Prisoners of War," which Makov said made the Begin line "especially irritating." In 1977, Begin won a landslide victory as head of the right-wing Likud Party to become prime minister of Israel. Two years later, he agreed to return the Sinai Peninsula to Egypt as part of the historic Camp David Accords peace treaty, for which he and President Anwar Sadat won a joint Nobel Peace Prize. Gideon Raff, the creator of the Israeli series and an executive producer for the U.S. show, did not comment to Ynet.
US Show Compares Israeli PM to Taliban (...)
In 1946, Irgun fighters planted bombs in the King David hotel. They then repeatedly called the hotel to warn that bombs had been planted – but the officers who took their call refused to evacuate. The bomb went off with the building still occupied, killing 91 people, 28 of them British citizens. Begin was not a part of the attack, but
accepted responsibility as the head of the group
.
'Homeland' Season Finale Stirs Controversy After Comparing Menachem Begin to Taliban Leader
(...) In the season 4 finale episode, which aired on Dec. 21, CIA black ops director Dar Adal, played by F. Murray Abraham, justifies a deal he made with a Taliban leader by referencing Begin. He makes the remarks in a conversation with former CIA director Saul Berenson, a Jewish character played by Mandy Patinkin. "Menachem Begin killed 91 British soldiers at the King David Hotel before becoming Prime Minister," Adal said, referencing the 1946 bombing at the King David hotel in Jerusalem carried out by the Irgun, a right-wing militant Jewish organization headed by Begin.
Homeland saison 4 : le final suscite la controverse au Pakistan et en Israël
(...)Une scène en particulier du final de la saison 4 a suscité l'ire de personnalités israéliennes haut placées. En cause : une phrase prononcée par Dar Adal (
F. Murray Abraham
) à propos de l'ancien Premier Ministre d'Israël Menahem Begin : "Menahem Begin a tué 91 soldats britanniques à l'hôtel King David avant de devenir Premier Ministre". L'incident auquel il fait ici référence est l'attentat du King David Hotel le 22 juillet 1946. Perpétrée par des extrémistes juifs, cette attaque à l'explosif avait fait 91 victimes (dont seulement 28 étaient britanniques en réalité). Une petite phrase qui est restée en travers de la gorge de Herzl Makov, directeur du centre Menahem Begin, qui a déclaré à ce propos à une agence de presse israélienne, propos rapportés
par le Hollywood Reporter
) : "C'est de la calomnie envers Menahem Begin. "Begin a tué" ? Il n'était même pas sur place. Le groupe de résistance était sous son commandement, et il en a assumé la responsabilité. Qui plus est, les Britanniques avaient été avertis à trois reprises et leurs commandement a refusé. Il y a donc une énorme différence entre les deux affaires. Pour moi, c'est comme dire que [Begin et le chef des talibans dans
Homeland
] sont tous les terroristes car ils portent tous les deux des chemises marron. Cela me surprend beaucoup vu que
Homeland
est inspirée d'une série israélienne [
Hatufim
]".
Si vous n'avez le temps de lire qu'un seul livre sur le sujet....
Michael Collins Piper
TABLE OF CONTENTS
Preface:
What this book is about......................................................................................................................13
Foreword:
Yes, American Leaders Pondered Staging False Flag Attacks on American Citizens................................ 19
Introduction:
What We "Know"About Terrorism And Why (and How) We Know About It.........................................23
Chapter One:
A Bad Habit : Israel's Use of "False Flags" in Global Terrorism...............................................................27
Chapter Two:
How Could Anyone Come Up With the Theory of Mossad Involvement in the JFK Assassination?..........35
Chapter Three:
JFK's Secret War With Israel Over Nuclear Weapons............................................................................44
Chapter Four:
The Myth of Dallas: The "Ring Wing" False Flag in the JFK Conspiracy..................................................57
Chapter Five:
The Man in the Middle: E. Howard Hunt and the JFK Assassination.......................................................64
Chapter Six:
The "Dummy" Assassination: E. Howard Hunt and the Events in Dallas...................................................79
Chapter Seven:
The Trumped-Up Story of E. Howard Hunt's So-Called "Deathbed Confession"....................................95
Chapter Eight:
The Mossad's "Explanation" of "What Really Happened" in Dallas....................................................... 110
Chapter Nine:
False Flag Number One: The Manipulation of Lee Harvey Oswald From New Orleans to Dallas...........114
Chapter Ten:
"Our New Backers Are the Jews—As Soon as They Take Care of JFK".............................................124
Chapter Eleven:
Yes, the Mossad Was Behind the Oklahoma City Bombing...................................................................129
Chapter Twelve:
Andreas Strassmeir: The Mossad's Man in Place in the Oklahoma Bombing..........................................137
Chapter Thirteen:
Timothy McVeigh and the Anti-Defamation League: Long-Time Mossad Monitoring of the "Patsy".........145
Chapter Fourteen:
"The Arabs Did It": Zionist Propaganda and Oklahoma City.................................................................150
Chapter Fifteen:
A Familiar Template for Terror and A Scenario That Does Make Sense...............................................155
Chapter Sixteen: September 11, 2001:
"The Big Winner Today is Israel".........................................................................................................163
Chapter Seventeen:
Blame Everybody but Israel................................................................................................................170
Chapter Eighteen:
The Mossad Link(s) to the First WTC Attack (in 1993)......................................................................179
Chapter Nineteen:
The Dancing Israelis Who Celebrated on 9-11....................................................................................186
Chapter Twenty:
The Israelis Who Were (or Were Not) There.....................................................................................199
Chapter Twenty-One:
Israel's Capacity to Monitor Bin Laden and Al-Qaeda.......................................................................202
Chapter Twenty-Two:
A "September Surprise" for George W. Bush?..................................................................................209
Chapter Twenty-Three:
Were Those Hijackers Really Arabs or WereThey Really Israeli "Mista'Arvim"?...............................218
Chapter Twenty-Four:
Israel's Covert Manipulation of Muslim Extremists: Toward Understanding Israel's Role in 9-11........230
Chapter Twenty-Five:
Israel's Agents Inside Al-Qaeda: A Critical Element of the Template for Terror on 9-11....................238
Chapter Twenty-Six:
Onward Christian Soldiers : What Really Happened on 9-11...........................................................250
Chapter Twenty-Seven:
Two SimpleWords.........................................................................................................................269
Chapter Twenty-Eight:
9-11 and the New Internet Paradigm.............................................................................................272
Chapter Twenty-Nine:
The Crisis Management Conspiracy:
The High-Level Experiment in False Flag Crowd Psychology Utilized at Sandy Hook and Boston..279
Chapter Thirty:
Who "The Crisis Actors" Really Are:
How Truth Seekers Were Manipulated Into Ignoring Genuine False Flag Terrorism........................306
Conclusion: It's Time to Take "The Stand".....................................................................................320