Israel denies treating injured al-Qaeda fighters, locals say otherwise
Israel's Dangerous Game with Syrian Al Nusra Islamists
Syria's "Moderate Terrorists": Neocons Urge Embrace of Al Qaeda
Par erreur, la CIA a financé Al-Qaida en 2010
Une chaîne d'information israélienne et le Wall Street Journal le confirment : Israël soutient Al-Qaïda et Al-Nostra mais craint l'Iran et le Hezbollah.
Israeli government is aiding al Qaeda terrorists
Le Wall Street Journal reconnaît qu'Israël soigne les djihadistes du front Al-Nosra blessés en Syrie
Report: Israel treating al-Qaida fighters wounded in Syria civil war
2013:
"Israël préfère qu'al-Qaida accède au pouvoir en Syrie"!
Al-Manar
L'ambassadeur d'Israël à Washington Michael Oren a déclaré au quotidien américain Washington Post que l'intérêt d'Israël réside dans le renversement du Président Bachar el-Assad, même si c'est al-Qaida qui va accéder au pouvoir à sa place!
« Israël est intéressé par la chute du Président Assad. Il a toujours voulu le renverser, avant même la crise syrienne. Nous préférons les méchants qui ne sont pas soutenus par l'Iran aux méchants qui bénéficient de son appui. Nous avons voulu toujours le départ d'Assad », a-t-il dit.
Et d'ajouter : « Nous réalisons qu'il existe des gens très méchants parmi les rebelles, mais le plus grand danger pour Israël est représenté par l'axe stratégique qui s'étend de Téhéran à Beyrouth, en passant par Damas ».
« Nous trouvons que le régime d'Assad est la pierre angulaire qui maintient debout cet axe et telle est notre position avant même l'éclatement des événements en Syrie », a-t-il dit.
« Pour Israël, la ligne rouge est la possibilité que l'Iran ou la Syrie transporte des armes chimiques ou des armes non conventionnelles au Hezbollah ou à d'autres organisations terroristes. Dans ce cas, Israël ne restera pas passif », a insisté Oren, tout en démentant les rapports médiatiques faisant état du transfert d'armes chimiques syriennes au Hezbollah.
Dans le même cadre, le quotidien israélien "Maariv" a révélé que l'ambassadeur israélien à Washington, et avec l'autorisation de Netanyahu, a mené une série de réunions au Congrès américain pour convaincre le Sénat et les membres de la Chambre de soutenir une frappe militaire en Syrie.
Citant Oren, le journal a dit: "Evidemment, une série de réunions a été tenue", soulignant qu'il n'avait pas pris l'initiative, mais qu'il "était au service de ceux qui ont cherché à connaître la position d'Israël en la matière."
Oren n'aurait pas tenu ces réunions s'il n'avait pas reçu le feu vert du Premier ministre israélien, poursuit le journal.
Aux efforts d'Oren s'ajoute une campagne assidue menée par le lobby sioniste à Washington, à la demande de la Maison Blanche, pour convaincre les membres du Congrès de voter en faveur d'une offensive contre la Syrie.
Syrie : Israël préfère le pouvoir d'al-Qaïda à la victoire d'al-Assad
04/06/2013
La radio de l'armée israélienne a rapporté mardi que les responsables du gouvernement israélien préfèrent que la Syrie soit dirigée par l'organisation d'al-Qaïda à la victoire du président syrien, Bachar al-Assad, sur les rebelles qui combattent pour la chute de son régime.
Selon la radio militaire de l'Etat hébreu, relayée par arabic-upi, "une crainte règne au sein du gouvernement israélien envers la force grandissante de Bachar al-Assad dans les batailles opposant l'armée syrienne aux insurgés". A ses yeux, "la gouvernance d'al-Qaïda en Syrie serait meilleure que la victoire de Bachar al-Assad".
"Si la résistance de Bachar al-Assad se poursuit dans la confrontation avec les rebelles, et s'il continue à gouverner la Syrie, il serait très attaché à l'Iran et lui sera reconnaissant, ce qui est de nature à renforcer la place de l'Iran comme une puissance régionale menaçant Israël", estiment les responsables israéliens.
"La relation entre la Syrie, l'Iran et le Hezbollah sera renforcée et sera plus dangereuse pour Israël", ajoutent-ils, selon la radio.
"Il existe un seul Etat qui dit que son but est de supprimer Israël c'est l'Iran. Assad est l'Iran, n'importe quel pouvoir en Syrie est de ce fait préférable, même s'il s'agit d'al-Qaïda et de l'Islam radical, tout est moins pire qu'un Assad faible qui sera une marionnette entre les mains des Iraniens", considèrent les responsables israéliens.
Le ministre de la Défense israélien, Moshe Ya'alon, avait déclaré lundi lors de la réunion de la commission des Affaires étrangères et de la sûreté, relevant de la Knesset, que "les forces de l'armée syrienne contrôlent 40 % seulement des territoires syriens, et que seuls quatre quartiers à Damas sont sous leur contrôle".
Selon ses dires, Israël suit avec inquiétude la possibilité que la Russie ravitaille la Syrie par le dispositif S-300. "Conformément à ce qui a été publié, ces missiles n'ont pas été encore acheminés, et s'ils venaient à être transférés, ils ne le seront qu'en 2014", a-t-il indiqué.
Moshe Ya'alon a encore dit qu'"Israël n'interviendrait pas dans la guerre en Syrie, tant qu'elle ne touche pas nos intérêts, y compris le transfert des armes développées, des missiles et de l'armement chimique au Hezbollah, et tant que le front n'est pas chauffé".
Ambassador Oren: Israel has wanted Assad ousted since Syria war began
In interview with Jerusalem Post, Israel's envoy to the U.S. says Jerusalem prefers 'bad guys who aren't backed by Iran', adds that Assad's overthrow could also weaken Hezbollah.
'Israel wanted Assad gone since start of Syria civil war
"Tehran-Damascus-Beirut arc is the greatest danger," says outgoing Israeli envoy to US Michael Oren.
Israeli Bombers over Syria: Al Qaeda's Air Force
Syria opposition leader praises Benjamin Netanyahu
ÇA C'EST UN NOUVEAU CLASSIQUE!
Israel Support to Al Qaeda Rebels: New Free Syrian Army (FSA) Commander Trained in Israel
Le grand dilemme étasunien. Faut-il sacrifier la Syrie ou Israël ?
By Michael Collins Piper
From an American perspective, the toll in the Afghan and Iraqi wars has been staggering: 2.5 million Americans were deployed, about half of them more than once. Some 6,650 died. Another 106,000 were wounded in action or evacuated for injury or disease. Some 675,000 veterans of the war on terror applied for disability. Suicides and other deaths among returning troops—drug overdoses, car crashes etc—are unusually high.
Now that Israel has betrayed America and supports al Qaeda, the U.S. should cut off relations with Israel, expel its diplomats and citizens from the United States, and henceforth consider Israel an enemy in the war on terror.
---
The Piper Report Broadcast - Sept 24, 2013
Download Here
THANK YOU FOR ASSISTING WITH THE COSTS ASSOCIATED WITH PRODUCING THIS PROGRAM
Although Syria's weapons of mass destruction— in this instance, chemical weapons —are now the focus of global media attention, what is largely suppressed in the mainstream media is the "back story" as to why Syria even has chemical weapons in the first place.
Pincus's article regarding Syria's drive for a military arsenal designed to counter Israel's nuclear weapons cache was instructive. Pincus wrote:
Syria's current arsenal of chemical warheads and Scud missiles to deliver them was started more than 30 years ago to counter Israel's development and possession of nuclear weapons, according to present and former U.S. intelligence officials.

"They have been developing chemical weapons as a force equalizer with the Israelis," a former senior intelligence analyst said yesterday. "Hafez al-Assad, the present president's father, saw chemicals as a way to threaten the Israelis and an equalizer for their nuclear program." Assad knew, the former analyst said, that "military aid from the Soviets would never be able to match what Israel developed in the nuclear field and received from the U.S."

Syria's possession of chemical weapons was an important part of the Bush administration's recent, week-long verbal offensive against Damascus. But it also has brought attention briefly to another highly sensitive issue: the impact that Israel's nuclear arsenal has had on its enemies in the Middle East.

The consensus from Middle East experts is that almost every country in the region has pursued weapons of mass destruction programs— and they have done so primarily because of the arsenal that Israel has built up, said Joseph Cirincione, head of the non-proliferation programof the Carnegie Endowment for International Peace.

"You can't get rid of chemical or biological or nuclear programs in Arab countries unless you also

address the elimination of Israel's nuclear and chemical programs

," Cirincione said.
Now, in recent days—despite overwhelming American popular opposition to an attack on Syria in retribution for its purported use of chemical weapons—we have seen the Jewish lobby in America loudly banging the drum for a U.S. military attack on Syria.
However, despite the infamous Capitol Hill clout of the well-funded Jewish lobby groups, the good news is that public pressure on Congress against another Middle East war is so overwhelming that even the pro-Israel forces are being beaten back.
Now, with Russian President Vladimir Putin's energetic intervention setting the stage for an agreement which seems to be undercutting the Jewish lobby's push for war, it appears that for the first time in many years, that powerful lobby will be defeated.
The bottom line is that recent events have brought into widespread attention the fact that the Jewish lobby in America stands in opposition to the vast majority of the American people, who are saying, "No more U.S. intervention in the Middle East." And many are beginning to see that those interventions have, in fact, been on behalf of Israel— not America.
-----
The Zionists seem to have loose lips. Michael Oren, Israeli ambassador to the U.S., admitted in a recent interview that Israel prefers the throat-slitting Takfiri Jihadist militants over Assad.
This confirms what many political commentators have rightly postulated — that Israel and its American and British puppets, in collaboration with Saudi and Qatari kingpins, are covertly supporting the Takfiri terrorists who are stampeding their way across Syria, chopping off heads, cutting out hearts, machine-gunning captive prisoners and unleashing sarin gas on civilians.
Oren's statement is consistent with the decades-old Israeli strategy of divide and conquer. Israel's plans to destabilize and eventually destroy the nation of Syria was laid out in plain English by the Neoconservative cabal of Zionist Jews led by Richard Perle and Douglas Feith in 1996:
After issuing that sinister and deadly "Clean Break" strategy paper for Israeli Prime Minister Benjamin Netanyahu in 1996, Perle and Feith would go on to become the two of the three principal architects of the Iraq war from within the Bush Regime in 2003. The other was Paul Wolfowitz, a Zionist Jew with intimate ties to Israel.
Israel prefers Al-Qaeda over Syria's al-Assad

Israeli envoy: Tel Aviv prefers Al-Qaeda groups rather than Iranian-backed groups.
Posted by:
M. Klostermayr
September 17, 2013
The Israeli envoy to the United States, Michael Oren, confirmed in a new statement that the Israeli regime in Tel Aviv fears the alliance of Syria, Iran, and Lebanon, and the Israeli Ambassador even confirmed that Tel Aviv prefers al-Qaeda jihadists rather than the secular government of Syria's President Bashar al-Assad in Damascus. Although not Syria has recently attacked Israel, but the Israeli regime has conducted at least three airstrikes on Syria in 2013.
The Israeli Ambassador to the United States, Michael Oren, also said in his new statements that the alliance of Syria, Iran, and Lebanon would pose the greatest danger to Tel Aviv and that the regime in Israel prefers Al-Qaeda linked groups rather than groups that are supported by the Iranian administration. However, not the alliance of Iran, Syria, and Lebanon has carried out attacks on Israel, but the Israeli regime has conducted airstrikes on targets in Syria – at least three airstrikes in 2013, which all have violated international law and were acts of aggression.
But it seems that the alliance of Iran, Syria, and Lebanon, the so-called "Resistance Axis", remains the main enemy of the Israeli regime in Tel Aviv and the rest simply doesn`t matter. Further, the statements by the Israeli envoy to the United States confirm that Israel rather supports the terrorist organization of Al-Qaeda than a secular government in the Middle East. Although Syria's President Bashar al-Assad has never attacked Israel, the regime in Tel Aviv wants rather Al-Qaeda in power in Syria and the overthrow of the secular-minded President. And this, although Al-Qaeda should afterwards become a serious threat for Israel. In a normal world and in the case that the common information and propaganda about Al-Qaeda is correct.
In case, it would come to such a dangerous situation of a new war in the Middle East. The first victim would certainly be Israel of such a new war by Western-led military forces (e.g. by the United States) against an Arab country in the Middle East. There are certainly several persons on both sides who are waiting for such a moment. However, no war is good and every war has to be prevented.
Israel's Ambassador to the United States, Michael Oren, also explained in his statement that Israel always wanted "the Syrian President Bashar al-Assad to go" and this has been the "initial message (by Israel) about the Syria issue." According to the statements by the envoy of the Israeli regime to Washington, Tel Aviv was always willing to see the overthrow of Syria's Bashar al-Assad and his government before the beginning of the conflict and armed terrorism in March 2011. Primarily, because the overthrow of Bashar al-Assad and the government in Damascus certainly weakens the axis of resistance against Israel in the Middle East.
While some might consider it as somehow schizophrenic or even dangerous that Israeli rather supports and prefers al-Qaeda terrorists and jihadists than the mainly secular government of al-Assad in Damascus, it seems such a logic is valid for Michael Oren and the Israeli regime in Tel Aviv. However, as mentioned, it is to expect that in the case the Syrian al-Qaeda branch would overthrow the Syrian governance and President al-Assad, these armed terrorists would probably start to hate Israel again – despite the current support by the Israeli regime for their armed fighting against the Syrian Army and government.
Of course, the Israeli Ambassador to the United States, Michael Oren, has no shy to mention the real reasons for the support of Al-Qaeda in Syria. On the one hand, it weakens the axis of resistance and thus, the Lebanese resistance movement Hezbollah and also the Iranian administration in Tehran. On the other hand, a weak Syria would pose no threat for Israel and has no more abilities to support the axis of resistance or the Palestinians in the occupied areas. Israel would have an easier life and would be able to expand its territory even further and more easily.
Syria has been successfully weakened, but to which is extent is still questionable and it hopefully has never to be shown. However, while the Israeli envoy talks about the reasons why the regime in Tel Aviv prefers to support Al-Qaeda operatives rather than the secular government in Damascus or Iranian-backed groups, it is questionable if the members of the regime in Tel Aviv really consider all possible consequences of its support of Al-Qaeda-affiliated terrorists in Syria just for the reason that they are not "Iran".
At least, one thing might be funny about the statements of the Israeli envoy. They really fear the axis of resistance and are still afraid of Syria. However, the propaganda is not quite correct by the Israeli Ambassador to the United States. As documents prove, there were several meetings and debates between Israel and Syria in recent years and especially when Bashar al-Assad came to power in Syria.
According to several information and documents, Syria's President was never interested in a war on Israel. In contrary, he wanted to resolve several problems, but the Israeli regime has hampered or even dumped every attempt by al-Assad. Israel really is notoriously hostile, fearful, and a liar. Not to mention all its crimes against humanity since the establishment of the little state of Israel.
In the second part of the interview Wilkerson confirmed what many political commentators have been saying for years, that Israel is engaged in a divide and conquer strategy in the Middle East to pave the path for their grand vision of a "Greater Israel". Israel intends to weaken and undermine all of its regional competitors by instigating and fomenting internal conflict in those countries — just as they did in Lebanon in the 1980s.
Wilkerson recently stated that the chemical attack in Syria that took place in late August of this year was likely an Israeli false-flag operation.
By Michael Collins Piper
One of America's most respected military figures charged publicly that long-standing allegations about the Syrian government's use of chemical weapons may have been, in his words, "an Israeli false flag operation" calculated to stir up opposition to Syrian President Bashar al-Assad, long perceived by Israel as a threat to its geopolitical agenda.
And now that the United States seems poised to attack Syria on the basis of new claims about the use of such weapons, what former U.S. Army Colonel Lawrence Wilkerson told Current TV on May 3 bears noting.
A longtime military intimate of U.S. General Colin Powell, and later his chief of staff when Powell was secretary of state under "W" Bush, Wilkerson said his intelligence sources dismissed claims at that time that Assad's military had used chemical weapons against terrorist forces.
Having loomed over Assad for months, that charge has been reinvigorated and the media revels in the possibility the U.S. will now attack Syria. However, the Los Angeles Times reported August 27 that Germany's Focus magazine—citing a former Israeli intelligence official—said Israel was the primary source for current charges about Syria's alleged use of chemical warfare.
Noting "U.S. intelligence sources long have relied on Israel to help provide intelligence about Syria" the Times didn't mention it was also Israel that previously supplied the Bush administration much of the false data about supposed weapons of mass destruction in Iraq, which provided the pretext for the invasion of that Arab republic.*
The mainstream media carefully suppresses the fact that—as demanded by the Israeli lobby in Washington—U.S. tax dollars (underwriting Israeli covert expertise) instigated the rebellion against Assad that led to the civil war that U.S. blood and treasure are now expected to resolve in a manner satisfactory to Israel.
Although the media suggests the Pentagon is eager for war on Syria, the fact is that—just as before the Iraq war when multiple military leaders were warning of the dangers of such a venture—top brass are likewise urging restraint vis-à-vis Syria. Even Joint Chiefs of Staff Chairman General Martin Dempsey recently told Congress that U.S. intervention in Syria would not be in America's interests.
Yet, despite widespread public opposition to war, many Republicans and Democrats alike—bankrolled by pro-Israel campaign contributors—are clamoring for action.
* See THE GOLEM: Israel's Nuclear Hell Bomb and the Road to Global Armageddon for more data on this little-known scandal.
'Back Story' on Putin-Obama Deal: Plug Pulled on Israel, Warmongers
• Zionists up in arms that peaceful solutions to Mideast problems being considered
By Mark Glenn
NEW YORK, N.Y.—To say it has been a month of political roller coasters powerful enough to give even the most seasoned veterans a case of severe whiplash is an understatement. This all culminated when the U.S. president, for the first time in three-and-a-half decades, telephoned the newly elected Iranian president on Sept. 27 to discuss firsthand the future of the two countries they lead.
September began with the possibility of yet another military disaster in the Middle East for Israel's benefit. By all appearances, a nagging Israeli Prime Minister Benjamin Netanyahu had finally gotten on President Barack Obama's last nerve and pushed him into doing what he had resisted doing for the last four years—war with Syria.
The calls for war were built around circumstantial evidence implicating the Syrian government led by Bashar al-Assad in a chemical weapons attack that took place in a suburb of Damascus on Aug. 21. Secretary of State John Kerry was out in front, accusing the Syrian military of gassing its own people. Ghastly videos of children dying were quickly posted to the Internet for the world to see, and estimates of the death toll escalated to more than 1,400 Syrians.
It was Iraq all over again. In spite of weak proof that the Syrian military was actually behind the attack, it looked as thoughWashington had made up its mind and was going to war whether or not the Assad regime was responsible or not.
With up-to-the-minute news reports featuring U.S. military assets steaming toward the Syrian coast, the drama was breathlessly reported by the mainstream media.
And then, almost as quickly as it all started, the shouts for war ended abruptly. Suddenly, Obama announced there would be nomilitary action without Congress being brought in, just as the Constitution demands.
Of course, even themost politically naive would have a hard time leaving out of this curious political equation the fact that a few days before Obama had suddenly became a conscientious constitutionalist he and other world leaders met in St. Petersburg, Russia for the G20 conference. Equally difficult would be dismissing the possibility of Obama having discussed the messy business of Syria with Russian President Vladimir Putin, who up to this point had made it clear that, when it came to a war with Syria, "nyet" means "nyet" and that his country was not going to sit by as another Middle Eastern country was bombed into oblivion by the United States.
However, even the most optimistic watchers of politics found it hard to believe that the Russian president could rein in the lawless America. After all, Putin does not control the U.S. Congress, the U.S. media or the U.S. financial system like Netanyahu's kith-n-kin. Jewish groups around the globe have made it clear that wars in the Middle East are vital for the continued survival of Israel.
It was against this backdrop that the crazy notion of an American president calling his Iranian counterpart on the phone actually took place on the last Friday in September, despite 34 years of silence between the two offices.
Fri, 08/23/2013 - 20:01
HAARETZ - Israel adamant it won't ratify chemical arms treaty before hostile neighbors
Israel Adamant it won't Ratify Chemical Arms Treaty as Hypocrisy abounds on Syria
YNETNEWS ISRAEL - Assad: Israel should be first to disarm
TIMES OF ISRAEL Assad says US must stop military threats, and Israel must sign WMD treaties
New Syria "CW Initiative": But What About Israel's Stockpile?
Israel worried it may be pushed to join chemical weapons ban
If Syria is scrutinized over chemical weapons, so must Israel
Zionists Panic as Assad Move Outsmarts them on Chemical Weapons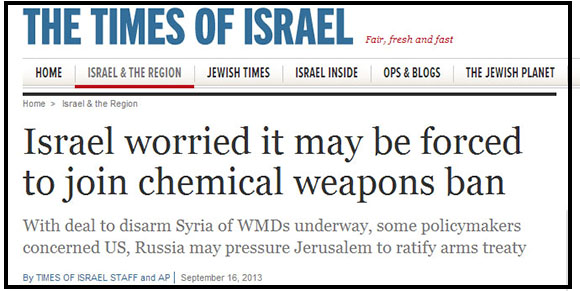 Putin: Syria's chemical arms are response to Israel's alleged nukes
'Sign non-nuclear treaty'
Syrian FM delivers UNGA address, noting his country supports Palestinians' right for state
Poutine : "Israël n'a pas besoin de l'arme nucléaire"
Canada plans to invade Syria
Fineprint: A new approach for Israel?
By
Walter Pincus
,
Washington Post,
Perhaps Netanyahu sees Iran following the path Israel took 50 years ago when it's known that his country joined the relatively small nuclear weapons club.
In early 1966, at the time of a U.S. sale of F-4 fighter-bombers to Israel, the Johnson administration insisted that Israel reaffirm that pledge. "Foreign Minister Abba Eban told Secretary of Defense Robert S. McNamara that Israel did not intend to build nuclear weapons, 'so we will not use your aircraft to carry weapons we haven't got and hope we will never have,'" according to the State Department's Foreign Relations of the United States, 1964–1968, Volume XVIII.
Inspection teams from the Organisation for the Prohibition of Chemical Weapons are on the ground in Syria. (...)
No doubt, there would be risk. Israel must ask itself if it is a chance worth taking.
VIDEO -
NEW — Dr. David Duke Exposes Nuclear Netanyahu Hypocrisy
New York Times: Netanyahu on 'Messianic Crusade'
La juiverie sioniste admet qu'Israël détient un arsenal nucléaire et prétend que sa survie en dépend!
C'est exactement que nous disons depuis le début du premier mandat d'Obama.
Un Moyen-Orient sans nucléaire et sans armes chimiques, c'est pas Israël qui veut ça, c'est la Syrie et l'Iran. Israël a accumulé un important arsenal chimique et nucléaire soi-disant pour assurer sa survie. En voyant Israel faire ça et les menacer en plus, les autres pays qui environnent Israel ont été forcés de se procurer un arsenal eux aussi, pour parer à la menace d'un Israël menaçant et doté d'armes chimiques et nucléaires.
NYTimes Op-Ed Never Appeared in US Edition - Let's Be Honest About Israel's Nukes
Egypt foreign minister calls for a nuclear-free Middle East
A "Nuclear-Free Zone" in the Middle East? Why Israel will not Join the Non-Proliferation Treaty
La condamnation par les États-Unis de l'usage des armes chimiques ne s'applique pas à Israël
Now Iran Turns Tables on Zionist Supremacists and their Nuclear Arsenal
Pour une courte introduction en français, visionner
cet extrait en français (@2:33)
d'un important reportage de la BBC
"Israel, Vanunu and the Bomb"
(
à voir en entier en version française
).
Israel's Chemical Weapons Stockpile Highlights Western Hypocrisy
WMD Double Standards: 51 UN Member States Vote to Keep Israel's Nuclear Arsenal Hidden from Public View
Israel's Nuclear, Chemical and Biological Weapons Threaten World Peace
U.S.: Singling out Israel at UN would harm efforts for nuclear-free Middle East
En fait c'est précisément l'inverse qui est vrai: s'attarder sur le cas d'Israel est la clé pour faire du Moyen-orient une zone sans nucléaire! Car c'était précisément à cause de l'arsenal nucléaire israélien que les pays voisins ont senti la nécessité de se procurer des armes chimiques!
Les fournisseurs de la Syrie et l'arsenal israélien en question
Seven Israelis in Syria OPCW Chemical Weapons Team?
'Syria army confiscates Israeli-made missiles'
TIMES OF ISRAEL - 'Dayan pushed PM Meir to consider using nuclear weapons in 1973 war'
"We Used Chemical Weapons in Vietnam": Oliver Stone and Peter Kuznick Explain How Telling the Untold History Can Change the World for the Better
Winston Churchill's shocking use of chemical weapons
Hitler Never Used Chemical Weapons
Israel amassing WMD due to US backing
Un document de la CIA récemment découvert révèle qu'Israël a mis aussi en place son propre arsenal d'armes chimiques.
Des documents de la CIA révèlent des réserves israéliennes d'armes chimiques
Israel's History of Chemical Weapons Use
Et si on parlait des stocks d'armes chimiques en Israël ?
Israel's chemical weapons under the spotlight
Israel's chemical arsenal under new scrutiny
Israel keeps mum on its chemical weapons
Israel Silent on Chemical Weapons
Les armes secrètes nucléaires, biologiques et chimiques d'Israël
JERUSALEM POST Report: CIA believes Israel acquired chemical weapons decades ago
'Should there be a need': The inside story of Israel's chemical and biological arsenal
U.S. media suppressed 2009 UN report showing Israel using chemical weapons against Palestinians: Obama ignores Israel's chemical weapons abuse while targeting Syria
Revisiting "Red Lines." Saving Syria from Chemical Weapons by "Punishing" With Chemical Weapons?
British PM cites Holocaust as a reason for military action in Syria
Reid compares Assad's attacks to Nazi gas chambers
Senate majority leader tries to drum up support in Congress for American military actions against Syria
THE JEWISH WEEK - Jewish Leaders Push Back On 'Warmonger' Accusation
'We have a dog in this fight,' they say in supporting Obama on Syria strike.
Le dynamitage du monde musulman. Par Pierre Hillard