24 novembre 2012
UN PLAN SIONISTE CONTRE LE MONDE ARABE
Canadian Researcher: US Targeting Syria to Change Region's Geo-Political Reality
OTTAWA: Canadian writer and researcher Mahdi Darius Nazemroaya said that the encirclement of Syria has long been in the works since 2001, and that permanent NATO presence in the Eastern Mediterranean and the Syrian Accountability Act are part of this initiative, adding that this roadmap is based on
a 1996 Israeli document aimed at controlling Syria
.
The document's name is "A Clean Break: A New Strategy for Securing the Realm."
The Oded Yinon Plan
IASPS (israeli site):
A Clean Break : A New Strategy for Securing The Realm
Work closely with Turkey and Jordan to contain, destabilize, and roll-back some of its most dangerous threats. This implies clean break from the slogan, "comprehensive peace" to a traditional concept of strategy based on balance of power.
Change the nature of its relations with the Palestinians, including upholding the right of hot pursuit for self defense into all Palestinian areas and nurturing alternatives to Arafat's exclusive grip on Palestinian society.
Forge a new basis for relations with the United States—stressing self-reliance, maturity, strategic cooperation on areas of mutual concern, and furthering values inherent to the West. This can only be done if Israel takes serious steps to terminate aid, which prevents economic reform.
A new strategy to seize the initiative can be introduced:
We have for four years pursued peace based on a New Middle East. We in Israel cannot play innocents abroad in a world that is not innocent. Peace depends on the character and behavior of our foes. We live in a dangerous neighborhood, with fragile states and bitter rivalries. Displaying moral ambivalence between the effort to build a Jewish state and the desire to annihilate it by trading "land for peace" will not secure "peace now." Our claim to the land —to which we have clung for hope for 2000 years--is legitimate and noble. It is not within our own power, no matter how much we concede, to make peace unilaterally. Only the unconditional acceptance by Arabs of our rights, especially in their territorial dimension, "peace for peace," is a solid basis for the future.
Syria challenges Israel on Lebanese soil. An effective approach, and one with which American can sympathize, would be if Israel seized the strategic initiative along its northern borders by engaging Hizballah, Syria, and Iran, as the principal agents of aggression in Lebanon, including by:
striking Syria's drug-money and counterfeiting infrastructure in Lebanon, all of which focuses on Razi Qanan.
paralleling Syria's behavior by establishing the precedent that Syrian territory is not immune to attacks emanating from Lebanon by Israeli proxy forces.
striking Syrian military targets in Lebanon, and should that prove insufficient, striking at select targets in Syria proper.
Negotiations with repressive regimes like Syria's require cautious realism. One cannot sensibly assume the other side's good faith. It is dangerous for Israel to deal naively with a regime murderous of its own people, openly aggressive toward its neighbors, criminally involved with international drug traffickers and counterfeiters, and supportive of the most deadly terrorist organizations.
We must distinguish soberly and clearly friend from foe. We must make sure that our friends across the Middle East never doubt the solidity or value of our friendship.
Israel can shape its strategic environment, in cooperation with Turkey and Jordan, by weakening, containing, and even rolling back Syria. This effort can focus on removing Saddam Hussein from power in Iraq — an important Israeli strategic objective in its own right — as a means of foiling Syria's regional ambitions. Jordan has challenged Syria's regional ambitions recently by suggesting the restoration of the Hashemites in Iraq. This has triggered a Jordanian-Syrian rivalry to which Asad has responded by stepping up efforts to destabilize the Hashemite Kingdom, including using infiltrations. Syria recently signaled that it and Iran might prefer a weak, but barely surviving Saddam, if only to undermine and humiliate Jordan in its efforts to remove Saddam.
But Syria enters this conflict with potential weaknesses: Damascus is too preoccupied with dealing with the threatened new regional equation to permit distractions of the Lebanese flank. And Damascus fears that the 'natural axis' with Israel on one side, central Iraq and Turkey on the other, and Jordan, in the center would squeeze and detach Syria from the Saudi Peninsula. For Syria, this could be the prelude to a redrawing of the map of the Middle East which would threaten Syria's territorial integrity.
Since Iraq's future could affect the strategic balance in the Middle East profoundly, it would be understandable that Israel has an interest in supporting the Hashemites in their efforts to redefine Iraq, including such measures as: visiting Jordan as the first official state visit, even before a visit to the United States, of the new Netanyahu government; supporting King Hussein by providing him with some tangible security measures to protect his regime against Syrian subversion; encouraging — through influence in the U.S. business community — investment in Jordan to structurally shift Jordan's economy away from dependence on Iraq; and diverting Syria's attention by using Lebanese opposition elements to destabilize Syrian control of Lebanon.
Most important, it is understandable that Israel has an interest supporting diplomatically, militarily and operationally Turkey's and Jordan's actions against Syria, such as securing tribal alliances with Arab tribes that cross into Syrian territory and are hostile to the Syrian ruling elite.
King Hussein may have ideas for Israel in bringing its Lebanon problem under control. The predominantly Shia population of southern Lebanon has been tied for centuries to the Shia leadership in Najf, Iraq rather than Iran. Were the Hashemites to control Iraq, they could use their influence over Najf to help Israel wean the south Lebanese Shia away from Hizballah, Iran, and Syria. Shia retain strong ties to the Hashemites: the Shia venerate foremost the Prophet's family, the direct descendants of which — and in whose veins the blood of the Prophet flows — is King Hussein.
Israel has a chance to forge a new relationship between itself and the Palestinians. First and foremost, Israel's efforts to secure its streets may require hot pursuit into Palestinian-controlled areas, a justifiable practice with which Americans can sympathize.
We believe that the Palestinian Authority must be held to the same minimal standards of accountability as other recipients of U.S. foreign aid. A firm peace cannot tolerate repression and injustice. A regime that cannot fulfill the most rudimentary obligations to its own people cannot be counted upon to fulfill its obligations to its neighbors.
Israel has no obligations under the Oslo agreements if the PLO does not fulfill its obligations. If the PLO cannot comply with these minimal standards, then it can be neither a hope for the future nor a proper interlocutor for present. To prepare for this, Israel may want to cultivate alternatives to Arafat's base of power. Jordan has ideas on this.
To emphasize the point that Israel regards the actions of the PLO problematic, but not the Arab people, Israel might want to consider making a special effort to reward friends and advance human rights among Arabs. Many Arabs are willing to work with Israel; identifying and helping them are important. Israel may also find that many of her neighbors, such as Jordan, have problems with Arafat and may want to cooperate. Israel may also want to better integrate its own Arabs.
In recent years, Israel invited active U.S. intervention in Israel's domestic and foreign policy for two reasons: to overcome domestic opposition to "land for peace" concessions the Israeli public could not digest, and to lure Arabs — through money, forgiveness of past sins, and access to U.S. weapons — to negotiate. This strategy, which required funneling American money to repressive and aggressive regimes, was risky, expensive, and very costly for both the U.S. and Israel, and placed the United States in roles is should neither have nor want.
To anticipate U.S. reactions and plan ways to manage and constrain those reactions, Prime Minister Netanyahu can formulate the policies and stress themes he favors in language familiar to the Americans by tapping into themes of American administrations during the Cold War which apply well to Israel. If Israel wants to test certain propositions that require a benign American reaction, then the best time to do so is before November, 1996.
TEXT: Israel will not only contain its foes; it will transcend them.
Notable Arab intellectuals have written extensively on their perception of Israel's floundering and loss of national identity. This perception has invited attack, blocked Israel from achieving true peace, and offered hope for those who would destroy Israel. The previous strategy, therefore, was leading the Middle East toward another Arab-Israeli war. Israel's new agenda can signal a clean break by abandoning a policy which assumed exhaustion and allowed strategic retreat by reestablishing the principle of preemption, rather than retaliation alone and by ceasing to absorb blows to the nation without response.
Israel's new strategic agenda can shape the regional environment in ways that grant Israel the room to refocus its energies back to where they are most needed: to rejuvenate its national idea, which can only come through replacing Israel's socialist foundations with a more sound footing; and to overcome its "exhaustion," which threatens the survival of the nation.
Ultimately, Israel can do more than simply manage the Arab-Israeli conflict though war. No amount of weapons or victories will grant Israel the peace its seeks. When Israel is on a sound economic footing, and is free, powerful, and healthy internally, it will no longer simply manage the Arab-Israeli conflict; it will transcend it. As a senior Iraqi opposition leader said recently: "Israel must rejuvenate and revitalize its moral and intellectual leadership. It is an important — if not the most important--element in the history of the Middle East." Israel — proud, wealthy, solid, and strong — would be the basis of a truly new and peaceful Middle East.
http://www.israeleconomy.org/strat1.ht
'High Priests of War'Still Have Blood on Hands
by Victor Thorn
Sibel Edmonds Names Names in "States Secrets" Gallery
21 photographs
in 3 groups, ostensibly of parties guilty in her case. Three of the photographs are simply question marks, for reasons as yet unknown.
As Edmonds has
said
, her case involves "highly-recognizable, highly-known names", as can be confirmed below.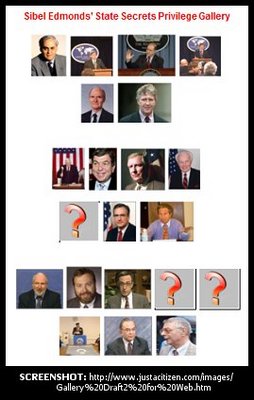 ©bradblog.com

WAR FOR ISRAEL
Crimes of Zion (
Blog
)
Préparation de l'échiquier du « choc des civilisations » : Diviser, conquérir et régner au Moyen-Orient
par Mahdi Darius Nazemroaya - 2011-12-13
(...)
Le plan Yinon, qui constitue un prolongement du stratagème britannique au Moyen-Orient, est un plan stratégique israélien visant à assurer la supériorité d'Israël dans la région. Il souligne qu'Israël doit reconfigurer son environnement géopolitique par la balkanisation des États arabes, soit la division de ceux-ci en États plus petits et plus faibles.
Les stratèges israéliens voyaient l'Irak comme l'État arabe représentant leur plus grande menace stratégique. C'est pourquoi l'Irak a été caractérisé comme la pièce maîtresse de la balkanisation du Moyen-Orient et du monde arabe. En Irak, sur la base des concepts du plan Yinon, les stratèges israéliens ont réclamé la division de l'Irak en un État kurde et deux États arabes, l'un shiite, l'autre sunnite. La première étape de ce plan était une guerre entre l'Irak et l'Iran, abordée dans le plan Yinon.
Bien que tordu, le plan Yinon est en marche et voit le jour dans « A Clean Break: A New Strategy for Securing the Realm » (Une nette rupture : Une nouvelle stratégie pour protéger le domaine), un document de politique israélienne écrit en 1996 par Richard Perle et le groupe d'étude sur « Une nouvelle stratégie israélienne vers l'an 2000 » pour Benjamin Netanyahou, le premier ministre d'Israël à l'époque. Perle était alors un ancien secrétaire adjoint au Pentagone pour Ronald Reagan et est devenu par la suite conseiller militaire pour George W. Bush et la Maison-Blanche. Le groupe d'étude comprenait par ailleurs James Colbert (Jewish Institute for National Security Affairs), Charles Fairbanks Jr. (Johns Hopkins University), Douglas Feith (Feith and Zell Associates), Robert Loewenberg (Institute for Advanced Strategic and Political Studies), Jonathan Torop (The Washington Institute for Near East Policy), David Wurmser (Institute for Advanced Strategic and Political Studies) et Meyrav Wurmser (Johns Hopkins University).
Le document de 1996 demande de « repousser la Syrie », aux environs de l'an 2000 ou après, en poussant les Syriens hors du Liban et en déstabilisant la République arabe syrienne avec l'aide de la Jordanie et de la Turquie. Ces événements se sont respectivement produits en 2005 et en 2011. Le document indique : « Israël peut modeler son environnement stratégique en coopération avec la Turquie et la Jordanie, en affaiblissant, en endiguant et même en repoussant la Syrie. Afin de contrecarrer les ambitions régionales de la Syrie, les efforts pourraient viser à expulser Saddam Hussein du pouvoir, un objectif stratégique en soi important pour Israël [1].
Le document demande par ailleurs à Tel-Aviv de « saisir l'opportunité afin de rappeler au monde la nature du régime syrien [4] ». Cela convient parfaitement à la stratégie israélienne consistant à diaboliser ses opposants par des campagnes de relations publiques. En 2009 des médias israéliens ont ouvertement admis que, par le biais de ses ambassades et missions diplomatiques, Tel-Aviv avait lancé une campagne médiatique mondiale et organisé des manifestations devant les ambassades iraniennes pour discréditer les élections présidentielles en Iran avant même qu'elles n'aient lieu [5].
L'étude fait aussi mention de ce qui ressemble à la situation actuelle en Syrie : « Il va de soi, et c'est le plus important, qu'Israël a intérêt à appuyer diplomatiquement, militairement et opérationnellement les actions de la Turquie et de la Jordanie contre la Syrie, comme en protégeant des alliances avec des tribus arabes à travers le territoire syrien et hostiles à l'élite dirigeante syrienne [6]. Les bouleversements de 2011 en Syrie, le mouvement des insurgés et la contrebande d'armes par les frontières jordanienne et turque sont devenus des problèmes majeurs pour Damas.
Dans ce contexte, il n'est pas surprenant qu'Israël, alors dirigé par Ariel Sharon, ait dit à Washington d'attaquer la Syrie, la Libye et l'Iran après l'invasion étasunienne de l'Irak [7]. Finalement, il importe de savoir que le document de 1996 préconise également une guerre
préemptive
pour modeler l'environnement géostratégique d'Israël et sculpter le « nouveau Moyen-Orient » [8]. Il s'agit d'une politique que les États-Unis adopteraient aussi en 2001.(...)
Une stratégie pour Tel Aviv dans les années 80
par Hélios
Netanyahu: No 'Lebanon' will be on the map
At a news conference in Switzerland, on the occasion of the building an Israeli railway there, the German newspaper
Die Zeit
interviewed Israeli Prime Minister Benjamin Netanyahu:
"Congratulations Mr. Netanyahu, my first question is that does the beginning of the large train line's construction confirm the announcement of the dissident Syrian Intelligence Office that you will strike Lebanon?"
In reply, Netanyahu stated:
Given that the UN Security Council has listed 388 Israeli airspace violations by Israel against Lebanon, there is no doubt what Israel is planning regarding Lebanon.
By Maidhc Ó Cathail
The Passionate Attachment
March 14, 2012
According to its June 3, 1997 Statement of Principles, the Project for the New American Century (PNAC) was created to advance a "Reaganite foreign policy of military strength and moral clarity," a policy PNAC co-founders, William Kristol and Robert Kagan, had advocated the previous year in Foreign Affairs to counter what they construed as the American public's short-sighted indifference to foreign "commitments." Calling for a significant increase in "defense spending," PNAC exhorted the United States "to meet threats before they become dire."
The idea of preemptive war also known as the Wolfowitz Doctrine—subsequently dubbed the "Bush Doctrine" by PNAC signatory Charles Krauthammer—can be traced as far back as Paul Wolfowitz's Ph.D. dissertation, "Nuclear Proliferation in the Middle East," which was based on "a raft of top-secret documents" his influential mentor, Cold War nuclear strategist Albert Wohlstetter, somehow "got his hands on" during a post-Six Day War trip to Israel. The "top-secret" Israeli documents supposedly showed that Egypt was planning to divert a Johnson administration proposal for regional civilian nuclear energy into a weapons program. Among those who signed PNAC's Statement of Principles were Wohlstetter protégés Francis Fukuyama, Zalmay Khalilzad, and Wolfowitz, who despite having been investigated for passing a classified document to an Israeli government official through an AIPAC intermediary in 1978 would be appointed Deputy Secretary of Defense in the George W. Bush administration, where he would be the first to suggest attacking Iraq four days after 9/11; Wolfowitz protégé I. Lewis Libby, who later "hand-picked" Vice President Dick Cheney's staff mainly from pro-Israel think tanks; Elliott Abrams, who would go on to serve as Bush's senior director on the National Security Council for Near East and North African Affairs, his mother-in-law, Midge Decter, and her husband, Norman Podhoretz; and Eliot A. Cohen, who would later smear Walt and Mearsheimer's research on the Israel lobby's role in skewing U.S. foreign policy as "anti-Semitic."
On January 26, 1998, PNAC wrote the first of its many open letters to U.S. presidents and Congressional leaders, in which they enjoined President Clinton that "removing Saddam Hussein and his regime from power […] now needs to become the aim of American foreign policy." Failure to eliminate "the possibility that Iraq will be able to use or threaten to use" its non-existent weapons of mass destruction, the letter cautioned, would put at risk "the safety of American troops in the region, of our friends and allies like Israel and the moderate Arab states, and a significant portion of the world's supply of oil." An additional signatory this time was another Wohlstetter protégé, Richard Perle, a widely suspected Israeli agent of influence whose hawkish foreign policy views were shaped when Hollywood High School classmate and girlfriend, Joan Wohlstetter, invited him for a swim in her family's swimming pool and her father handed Perle his 1958 RAND paper, "The Delicate Balance of Terror," thought to be an inspiration for Kubrick's Dr. Strangelove.
Having helped sow the seeds of the Iraq War five years before Operation Iraqi Freedom, PNAC wrote a second letter to Clinton later that year. Joining with the International Crisis Group, and the short-lived Balkan Action Council and Coalition for International Justice, they took out an advertisement in the New York Times headlined "Mr. President, Milosevic is the Problem." Expressing "deep concern for the plight of the ethnic Albanian population of Kosovo," the letter declared that "[t]here can be no peace and stability in the Balkans so long as Slobodan Milosevic remains in power." It urged the United States to lead an international effort which should demand a unilateral ceasefire by Serbian forces, put massive pressure on Milosevic to agree on "a new political status for Kosovo," increase funding for Serbia's "democratic opposition," tighten economic sanctions in order to hasten regime change, cease diplomatic efforts to reach a compromise, and support the Hague tribunal's investigation of Milosevic as a war criminal. Now that "the world's newest state" (prior to Israel's successful division of Sudan) is run by a "mafia-like" organization involved in trafficking weapons, drugs and human organs, there appears to be much less concern for the plight of the ethnic Serbian population of Kosovo.
Continue reading…
Chomsky Acknowledges the Neocons as the Dominant Force in Pushing for Iraq War
By Stephen J.
Sniegoski
The Passionate Attachment
March 7, 2012
Thanks to the efforts of the indefatigable James Morris, a seeming transformation of the view of the illustrious Noam Chomsky was revealed, which, if not equivalent to the change that Saul of Tarsus underwent while on the road to Damascus, was significant nonetheless. Morris seems to have a knack for ferreting out the unknown views of the famous, as was illustrated in his 2010 email exchange with General David Petraeus, then head of U.S. Central Command, in which he was able to reveal the latter's close relationship with neocon Max Boot and his ardent desire to propitiate the pro-Zionist Jewish community at a time when it was generally thought that Petraeus was critical of the negative effects of the intimate U.S.-Israeli relationship on America's position in the Middle East.
The Chomsky revelation took place while the latter was a guest on Phil Tourney's "Your Voice Counts" program on Republic Broadcasting Network from 2:00 pm to 3:00pm Eastern Standard Time on Sunday, February 24, 2013. While Chomsky is a strong and very knowledgeable critic of Israel, he also has been (at least, was before this program) a stringent critic of the idea that the neocons have any significant impact on American Middle East policy. Rather, he presents a somewhat nebulous, quasi-monolithic, corporate elite, which includes the oil interests, as determining American policy in that region—as it does everywhere else in the globe—for its own economic interests. In what has been Chomsky's view, Israel only serves as an instrument for American imperialism; that it too might benefit from American policies is, presumably, only an incidental by-product.
Chomsky was quite impressive on the program as he demonstrated extensive knowledge of the USS Liberty issue, which is a major issue of the program, since Tourney was a seaman on that ill-fated ship that was deliberately attacked by Israeli planes and gunboats during the Six Day War in June 1967, causing the deaths of 34 U.S. seamen and wounding 171 others out of a crew of 297.
Chomsky included an injection of his standard theme that Israel became a valuable strategic asset to the United States with the 1967 war when it wrecked Nasser and secular Arab nationalism in general, thus aiding America's conservative client states, such as Saudi Arabia.
Finkelstein denies that the neocons were a factor in causing the U.S. to go to war—and has nothing to do with my book, describing it as conspiracist—but he does not seem to realize that his position contrasts with that of his mentor. Since the two are quite close, it would seem that Chomsky has not even expressed this new view to Finkelstein in private conversation. When Finkelstein finds out that his mentor holds that the neocons were the "dominant force" for war with Iraq, one wonders if he will then charge him with believing in a conspiracy.
Unfortunately, however, Chomsky still stops far short of the full truth. For in his response to Morris, he went on to maintain that the neocons are different from the Israel lobby—definitely implying, though not explicitly stating, that the neocons are not motivated by the interests of Israel. He quickly put forth two arguments for this contention. First, he claimed that the neocons are simply a mainstream force in American conservatism going back to the Reagan administration. Even if true, this would not necessarily preclude their being biased in favor of Israel. However, it is not true—the neocons did not just fit into existing mainstream conservatism, but altered it to fit their own goals.
As I bring out in "The Transparent Cabal" (with numerous citations from secondary sources, this being a rather conventional view), the neocon movement originated among liberal Democrats, mainly Jewish, who gravitated to the right in the late 1960s and early 1970s. In significant part, this reflected a concern that American liberalism was moving leftward in ways detrimental to Jewish interests. In foreign policy, this involved diminished support by American liberals for Israel—in line with the world left's support for Third World movements that included the Palestinians—and the liberals' turn against an anti-Communist foreign policy, as a reaction to the Vietnam imbroglio, at a time when the Soviet Union's policies were exhibiting discrimination against Soviet Jewry and opposition to Israel in support of its Arab enemies. In opposing what they saw as liberalism's move to the left, these proto-neoconservatives did not see themselves as becoming conservative, but were dubbed with the moniker "neoconservative" by left-wing social critic Michael Harrington, who intended it as a pejorative term, and the name soon stuck.
Neoconservatives basically wanted to return mainstream American liberalism to the anti-Communist Cold War positions exemplified by President Harry Truman (1945–1953), which had held sway through the administration of Lyndon B. Johnson (1963–1969). When this effort failed to achieve success, neocons would turn to Ronald Reagan in the 1980. Despite being newcomers to the conservative camp, neoconservatives were able to find significant places in the Reagan administration, especially in the national security and foreign policy areas, although at less than Cabinet-level status.
Neoconservatives, however, did not become traditional conservatives, but instead altered the content of conservatism to their liking. "The neoconservative impulse," pro-neocon Murray Friedman maintains in his book "The Neoconservative Revolution," "was the spontaneous response of a group of liberal intellectuals, mainly Jewish, who sought to shape a perspective of their own while standing apart from more traditional forms of conservatism."[Quoted in "Transparent Cabal," pp. 39-40]
In domestic policy, neoconservatives supported the modern welfare state, in contrast to the traditional conservatives, who emphasized small government, states' rights, and relatively unfettered capitalism. Most importantly, they differed significantly from the conservative position on foreign policy. Although the American conservatives of the Cold War era were anti-Communist and pro-military, they harbored a strain of isolationism. Their interventionism was limited largely to fighting Communism, but not to nation-building and the export of democracy, the expressed goals of the neocons. Nor did traditional conservatives view the United States as the policeman of the world. Most significantly, traditional conservatives had never championed Israel.
While traditional conservatives welcomed neoconservatives as allies in their fight against Soviet Communism and domestic liberalism, the neocons in effect acted as a Trojan Horse within conservatism: they managed to secure dominant positions in the conservative political and intellectual movement, and as soon as they gained power, they purged those traditional conservatives who opposed their agenda, particularly as it involved Israel. Support for Israel and its policies had become, and remains, a veritable litmus test for being a member of the multitudinous political action groups and think tanks that comprise the conservative movement.
In his 1996 book, "The Essential Neoconservative Reader," editor Mark Gerson, a neocon himself who served on the board of directors of the Project for the New American Century, jubilantly observed: "The neoconservatives have so changed conservatism that what we now identify as conservatism is largely what was once neoconservatism. And in so doing, they have defined the way that vast numbers of Americans view their economy, their polity, and their society." [Quoted in "Transparent Cabal", p. 42]
While in domestic policy Gerson's analysis might not be completely accurate, it would seem to be so in US national security policy, as illustrated by the near unanimous Republican opposition in the US Senate to the nomination of Chuck Hagel as Secretary of Defense because of his past statements critical of both US all-out support for Israel and its hardline position toward Iran (currently Israel's foremost enemy) that might lead to war.
Moreover, as Vice President, Cheney specifically relied on advice from the eminent historian of the Middle East, Bernard Lewis, a right-wing Zionist and one of the neocons' foremost gurus, who strongly advocated war against Iraq and other Middle Eastern states. (Barton Gellman, "Angler: The Cheney Vice Presidency," p. 231) Chomsky has said that "Bernard Lewis is nothing but a vile propagandist," and he presumably means a propagandist for Israel.
The influence of ideas per se was not the only factor that likely motivated Cheney. The fact that Cheney and his wife, Lynne, who was with the American Enterprise Institute (AEI—known as "neocon central"), had close personal and professional relations with the neocons also would have predisposed him to give his support to the neoconservatives and their agenda.
The same arguments would apply for Rumsfeld, with one additional one: a war on Iraq would give him the chance to demonstrate the value of his concept of a smaller, mobile, high tech American military. Rumsfeld held that a small, streamlined invasion force would be sufficient to defeat Iraq. As Bob Woodward writes in his book, "State of Denial": "The Iraq war plan was the chess board on which Rumsfeld would test, develop, expand and modify his ideas about military transformation. And the driving concept was 'less is more' – new thinking about a lighter, swifter, smaller force that could do the job better. Rumsfeld's blitzkrieg would vindicate his leadership of the Pentagon."["State of Denial," p. 82]
For the neocons, Rumsfeld's approach would not have the drawbacks of the conventional full-scale invasion initially sought by the military brass. The neocons feared that no neighboring country would provide the necessary bases from which to launch such a massive conventional attack, or that during the lengthy time period needed to assemble a large force, diplomacy might avert war or that peace forces in the U.S. might increase their size and political clout and do likewise. In short, it was this convergence on interests between the Rumsfeld and the neocons that made them so supportive of each other in the early years of the George W. Bush administration.
It must be acknowledged that the neocon Middle East war agenda did resonate with both Cheney's and Rumsfeld's general positions on national security policy, but there is little reason to think that they would have come up with the specifics of the policy, including even the identification of Iraq as the target, if it had not been for their neocon associates, whose policy reflected their close identification with Israel. It should also be pointed out that in Chomsky's usual presentation of an American foreign policy shaped by the corporate elite, the actual government officials who implemented the policy were not necessarily members of the corporate elite nor motivated by a desire to advance the interests of the corporate elite as opposed to the national interest of the United States. In order for any type of elite to be successful, it is essential that it attract significant numbers of people outside of itself, which Chomsky himself has discussed at length regarding the corporate elite. This is also the very purpose of the neoconservative network and the information that it disseminates.
Acknowledging as much as he did, it is hard to see how Chomsky can fail to discern that the neocons identify with Israel. The evidence is overwhelming. The following are a few examples of this connection.
The effort to prevent Chuck Hagel from becoming the Secretary of Defense has been spearheaded by the Emergency Committee for Israel, the creation of which in 2010 was in large part the work of leading neocon, Bill Kristol, and which claims "to provide citizens with the facts they need to be sure that their public officials are supporting a strong U.S.-Israel relationship." As Bill Kristol states: "We're the pro-Israel wing of the pro-Israel community." Kristol had co-founded the Project for the New American Century (PNAC), which promoted the war on Iraq. Kristol's father, the late Irving Kristol, a godfather of neoconservatism, is noted for his identification with Israel. In 1973, he said: "Jews don't like big military budgets. But it is now an interest of the Jews to have a large and powerful military establishment in the United States . . . American Jews who care about the survival of the state of Israel have to say, no, we don't want to cut the military budget, it is important to keep that military budget big, so that we can defend Israel." [Congress Bi-Weekly (1973), published by the American Jewish Congress]
Noah Pollak, a contributor to "Commentary" magazine, is the Emergency Committee's executive director and, while living in Israel for two years, was an assistant editor at the Jerusalem-based Shalem Center.
Eliot Cohen, a veteran neocon, was a founding signatory of the Project for the New American Century and advised the Committee for the Liberation of Iraq. He coined the term "World War IV" for the war on terror. During the George Bush administration, he served on the Defense Policy Board in Bush's first term and was closely affiliated with those neocons around Vice President Cheney. He is on the International Academic Advisory Board of the Began Sadat Center for Strategic Studies in Israel, which is affiliated with Bar Ilan University, and is involved in contract work for the Israeli government.
Douglas Feith, who as the Under Secretary of Defense for Policy in George W. Bush's first term set up and controlled the Office of Special Plans, which spread the most specious war propaganda, was closely associated with the right-wing Zionist group, the Zionist Organization of America. In 1997, he co-founded One Jerusalem, a group whose objective was "saving a united Jerusalem as the undivided capital of Israel." Before entering the Bush administration, Feith ran a small Washington-based law firm, which had one international office – in Israel. And the majority of the firm's work consisted of representing Israeli interests.
Richard Perle has had very close personal connections with Israeli government officials, and has been accused of providing classified information to that country on a number of occasions. Perle not only expounded pro-Zionist views, but was a board member of the pro-Likud "Jerusalem Post" and had worked as a lobbyist for the Israeli weapons manufacturer Soltam.
Norman Podhoretz is considered a godfather, along with Irving Kristol, of the neoconservative movement. When editor of "Commentary" magazine, he wrote that "the formative question for his politics would heretofore be, 'Is it good for the Jews?'" ("Commentary," February 1972) In 2007, Podhoretz received the Guardian of Zion Award, which is given to individuals for their support for Israel, from Bar-Ilan University in Israel. Neocon Charles Krauthammer was the 2002 winner of the Guardian of Zion Award.
Max Singer, co-founder of the neocon Hudson Institute and its former president, who pushed for the war on Iraq, has moved to Israel, where he is a citizen and has been involved with the Institute for Zionist Strategies, which advocates the need to better infuse Zionist ideology in the Jewish people of Israel.
The neocons' support for Israel does not necessarily mean that they were deliberately promoting the interest of Israel at the expense of the United States. Instead, as I point out in "The Transparent Cabal," they maintained that an identity of interests existed between the two countries – Israel's enemies being ipso facto America's enemies. However, it is apparent from their backgrounds that the neoconservatives viewed American foreign policy in the Middle East through the lens of Israeli interest, as Israeli interest was perceived by the Likudniks.
Despite this professed view of the identity of American and Israel interests, sometimes the neocons' actions verged on putting Israel interests above those of the United States government. For example, some leading neocons—David Wurmser, Richard Perle, and Douglas Feith—developed the "Clean Break" proposal outlining an aggressive policy for Israel intended to enhance its geostrategic position, which they presented in 1996 to then-incoming Prime Minister Benjamin Netanyahu. One part of the plan was to get the United States to disassociate itself from peace negotiations between Israel and Palestine and simply let Israel treat the Palestinians as it saw fit. "Israel," stated the report, "can manage it's own affairs. Such self-reliance will grant Israel greater freedom of action and remove a significant lever of [US] pressure used against it in the past." It was highly noteworthy that the neocons would devise a strategy to enable Israel to become free from adhering to the goals of their own country. ["Transparent Cabal," p. 93]
In conclusion, while Chomsky's change was far from being complete, his acknowledgement that that the neoconservatives were the "dominant force" in driving the U.S. to the war on Iraq in 2003 is, nonetheless, very significant. Chomsky, who was voted the "world's top public intellectual" in a 2005 poll, certainly influences many people, most particularly on the anti-war left, and his new view should make them rethink their belief that the war was all about oil. It is to be hoped that Chomsky's words were not a one-time aberration and that he will not revert to his previous publicly-espoused position. Rather, it is to be hoped that he will now look more deeply into the neocons' activities and thus discern their close connection to Israel.
The Madness of Western Civilization
New York money is not only playing a big part in 2008 presidential campaign politics, but it's also a driving force behind the ongoing push by pro-Israel fanatics at the highest levels of U.S. policy-making to force the United States into a senseless war against Iran.
That's the only conclusion that can be reached based on a survey of multiple and wide-ranging news reports—circulating largely within publications in Israel and in the American Jewish community—that have not been brought to the attention of most Americans through the aegis of the so-called "mainstream media."
It's almost as if the major media in America is simply determined to prevent average Americans from knowing that there are some people who believe that Israel and its well-heeled backers in the United States are the primary advocates for U.S. military action against Iran.
Perhaps the most explosive comments in this regard came from Gen. Wesley Clark (ret.), who was a candidate for the Democratic presidential nomination in 2004 and who—until then, at least—was considered a likely candidate for the Democratic nod in 2008. In an interview with columnist Arianna Huffington, Clark said that he believed that the Bush administration is determined to wage war against Iran. When asked why he believed this, Clark said:
You just have to read what's in the Israeli press. The Jewish community is divided but there is so much pressure being channeled from the New York money people to the office seekers.
In short, Clark was saying that powerful New York-based financial interests (those whom he called "the New York money people") are putting pressure on political candidates and incumbent politicians to support a war against Iran.
In fact, Clark was correct. Jewish community newspapers have indeed noted, time and again over the past several years, that many in the American Jewish community and in Israel are urging U.S. military action against Iran. And in Israel, of course, the bellicose talk of Israel itself attacking Iran is commonly and publicly discussed with free abandon. All of this is little known to the American public.
Despite this, Clark came under fire and was accused of "anti- Semitism" or otherwise charged with lending credence to what are dismissed as "anti-Israel and anti- Jewish conspiracy theories," which—Clark's angry critics said—suggest that Israel and its supporters are prime movers behind the drive for war.
Because Clark is the son of a Jewish father (although he didn't know that until several years ago, having been raised by a Christian mother and a Christian step-father who never told Clark of his Jewish heritage), some Jewish leaders were pulling their punches, recognizing that it sounded somewhat outlandish to call Clark "anti-Jewish." But the word is definitely out in the Jewish community: "Clark can't be trusted."
On Jan. 12,2007, the New York-based Jewish newspaper, Forward, carried a front-page story zinging Clark for his remarks, noting that,"The phrase New York money people' struck unpleasant chords with many pro- Israel activists. They interpreted it as referring to the Jewish community, which is known for its significant financial donations to political candidates."
The fact that Jewish leaders and publications were attacking Clark for using the term "New York money people" was ironic, inasmuch as just the week before the furor over Clark's comments, the same Forward, in its own Jan. 5, 2007 issue, had a front-page story announcing that pro-Israel stalwart U.S. Sen. John McCain (R-Ariz.) had lined up significant financial support for his own 2008 presidential campaign from those whom—in its own headline—Forward called "New York money men."
In that revealing article, describing McCain's "heavily Jewish finance committee," Forward announced that, in recent weeks, "McCain has been signaling that an attention to Jewish issues will remain on his agenda as his campaign moves forward." The Jewish newspaper did not mention whether McCain will direct any attention to Christian, Muslim, Buddhist or Hindu issues—or any other issues of concern to other religious groups.
The article in Forward made it clear that support from these "New York money men" is critical in the forthcoming presidential campaign and that it could be pivotal, whether that money stays in McCain's camp or ultimately goes elsewhere.
This information could prove a surprise to grass-roots Republicans all over America who think (apparently incorrectly) that they are the ones who actually pick their party's presidential nominee.
In addition, in light of the fact that Jewish groups attacked Clark for suggesting that "New York money people" were pressuring political candidates to push for war against Iran, it is interesting to note that Forward pointed out that one of the key "New York money men" supporting McCain cited the issue of Iran as one of the reasons why he was boosting the Arizona senator.
Dr. Ben Chouake, who is president of the pro-Israel NORPAC, a political action committee, and a member of McCain's finance committee, was cited as having remarked that Iran is "an immense threat to the United States, and this is an immense threat to Israel," and that "the person that is the most capable, most experienced, most courageous to defend our country, would be John McCain."
Clearly, the "New York money people" are playing a major part in the American political arena, throwing their weight behind who gets elected— and who doesn't—and whether or not America goes to war.
That's something that Americans need to know about, but they had better not count on the mass media to tell them about it.
VIDEO -
NATO's Plan to Divide the Middle East, Oded Yonin, Bernard Lewis
VIDEO -
The War Party - Zionism in NeoCon Foreign Policy
VIDEO - Neocon Agenda with Stephen Sniegoski
JINSA Proposes Iraq War on 9/13/2001
JINSA DEFECTIONS:
After canning a longtime staffer, the Jewish Institute for National Security Affairs
lost
several of its most prominent advisory board members, including former CIA chief James Woolsey and former Pentagon official Richard Perle.
The High Priests of War: The Secret History of How America's Neo-Conservative Trotskyites Came to Power and Orchestrated the War Against Iraq as the First Step in Their Drive for Global Empire
, par Michael Collins Piper
FLASHBACK -- NYTIMES Feb 27, 2003: Israel Says War on Iraq Would Benefit the Region
À lire:
La soif de sang frénétique de John McCain: après la mort de Kadhafi, les "dictateurs" comme Assad, Poutine, les Chinois doivent avoir peur...
"De la dictature à la démocratie
L'American Jewish Committee derrière les mensonges humanitaires qui ont rendu possible la guerre en Libye
L'American Jewish Committee derrière l' "intervention humanitaire" en Libye
L'actuel président du National Endowment for Democracy, le marionnettiste du "printemps arabe", serait un ancien de l'ADL
Philip Zelikow (signataire du PNAC): La Libye est un modèle pour la redivision du Moyen-Orient
Après la Libye, la Syrie?
McCain et Lieberman: "bombardez la Libye!"
Louis Farrakhan: la nation libyenne massacrée par les démocraties, les plus grands hypocrites que la Terre ait porté...
Le messager BHL informe Netanyahou que les rebelles libyens vont reconnaître Israël ; Netanyahou remercie Sarkozy d'être intervenu en Libye
Pourim 2011 et l'attaque atlanto-sioniste contre la Libye
L'inventeur du concept d' "Axe du Mal" veut y inclure le Pakistan
"Révolutions arabes"ou déstabilisations-remodelage (sionistes) du Moyen-Orient?
Le mouvement juif Néo-conservateur et la guerre en Irak
Les fauteurs de guerres
James Petras lève le voile sur les agents sionistes responsables de la guerre en Irak et du scandale d'espionnage à l'AIPAC
Ron Paul explique le non-interventionnisme dans les affaires étrangères
Non-ingérence / non-interventionnisme
Philip Zelikow (signataire du PNAC): La Libye est un modèle pour la redivision du Moyen-Orient
Un officiel égyptien accuse Israël d'avoir fomenté le chaos en Égypte