Joseph Cohen
Maintenant que son identité est connue de tous, 'Adam Gadahn' alias
Adam Pearlman
a été remplacé par un autre "djhadiste": 'Yousef al-Khattab' alias
Joseph Cohen
.
Source:
FAKE AL QAEDA
Jewish convert to Islam pleads guilty to incitement
Yousef Mohamid Al-Khattab, formerly Joseph Cohen, faces up to five years in prison for threatening the lives of American Jews
Founder of radical Islamic website gets 2½ years
Yousef al-Khattab, 45, formerly Joseph Cohen, used 'Revolution Muslim' website to incite violence against Jews
Jewish convert to Islam incarcerated for threatening Jewish groups
Combien de terroristes arabes ou musulmans sont en fait juifs ou travaillant plus ou moins consciemment/volontairement pour le Mossad?
Yousef Al-Khattab, aka Leonard Cohen, received a 2.5 year-sentence for inciting attacks on Jews on Islamist website
Terrorisme : deux ans et demi de prison pour un juif orthodoxe...
Ça se peut qu'il soit inconsciemment guidé par les services du Mossad, mais ça se pourrait très bien aussi que ce soit juste sa religion juive qui lui a monté à la tête.
le-projet-juif.info
La famille d'un des "pilotes" du 11 septembre travaillait pour le Mossad
August 3rd, 2009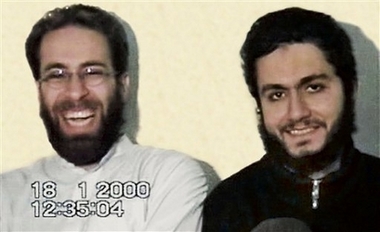 La famille de Ziad est connue pour ses liens avec le Mossad
Le présumé pilote kamikaze du vol 93 qui s'est crashé en Pennsylvanie le 11 septembre était, selon le FBI, le Libanais Ziad Al-Jarrah. Originaire de la vallée de la Bekaa, l'homme était connu pour aimer la bière et les femmes, loin de l'image du fondamentaliste donnée par le gouvernement américain.
Dans la famille Al-Jarrah, on retrouve
ses cousins Ali al-Jarrah et Yusuf Al-Jarrah
…
Quelle importance, direz-vous ?
Ali et Yusuf Al-Jarrah seraient des
agents du Mossad
. Ils ont été arrêtés en octobre 2008 par la police libanaise. Selon les services de sécurité libanais, le
clan Al-Jarrah était le réseau d'espionnage israélien le plus performant depuis vingt ans
.
C'est le journal israélien Jérusalem Post qui reprend l'information du quotidien libanais Daily Star selon laquelle les agents du Mossad sont de la même famille que le kamikaze du 11 septembre :
"Selon un article du quotidien libanais en langue anglaise le Daily Star de lundi dernier, les autorités libanaises enquêtent sur la possibilité qu'un citoyen libanais arrêté parce que soupçonné d'espionnage en faveur d'Israël, serait impliqué dans l'assassinat d'Imad Mughniyeh, le chef terroriste du Hezbollah.
Le quotidien libanais Al Akhbar révèle que le nom du suspect était Ali Jarrah, et rapporte qu'il a été arrêté dans le sud de Beyrouth après que l'on ait découvert qu'il suivait des personnalités du Hezbollah. Jarrah a confessé son implication dans les crimes qui lui sont attribués, rapporte le journal. Des sources menant l'enquête affirment que
Jarrah a été recruté par le Mossad au milieu des années 1980
et était chargé de récolter des informations sur les organisations palestiniennes au Liban et en Syrie.
Le Jerusalem Post n'a pas pu confirmer ces informations de manière indépendante.
Le Mossad, rapportent les sources, a équipé Jarrah avec du matériel technologique avancé destinés à tracer les dirigeants du Hezbollah.
Le rapport ajoute que le frère de Jarrah, Youssouf, est suspecté d'avoir aidé son frère et arrêté de même. Le Daily Star cite une source des services de sécurité affirmant que
les frères Jarrah étaient parents avec Ziad Jarrah
, le Libanais qui faisait partie des kamikazes du vol UA93, lequel s'est écrasé en Pennsylvanie le 11 septembre 2001."
Altermedia
Al Qaida ou Al Mossad?
Les menaces d'Adam Pearlman (Gadahn), gracieuseté de l'organe de propagande sioniste SITE Intelligence Group
Le nouveau leader d'al Qaida est-il Israélien?
Un Cohen dans les rangs d'al Qaida?
Les attentats revendiqués par al-Qaida... sur un site israélien de propagand
Incroyable! "al-Qaida" dément les théories du complot, défend Israël et attaque l'Iran et le Hezbollah!
Le gorille géant au milieu du salon
Le 11 septembre n'est plus un mystère
Sionistes, psychopathes et 11 septembre
Trop de coïncidences
Hollywood et le 11 septembre
Le 11 septembre n'est plus un mystère
C'était pas "les musulmans"