Comme après l'attaque du Liban en 2006, les crimes de guerre d'Israël à Gaza continuent à faire des victimes.
Mise à jour 2013:
War Crime: Zionist Uranium Attacks in Gaza Causes Rise in Cancer
Joëlle Pénochet, 7 septembre 2009
Guerre sans fin et dommages collatéraux,

Combat-Nature, n° 147, novembre 2004, p. 68

, internationalnews.over-blog.com/article-17070441.html
Return to fallujah, part two by patrick cockburn
'Cast Lead caused birth defects'
Gaza: Benjamin Nétanyahou n'autorisera pas d'éventuelles poursuites contre les dirigeants israéliens
Netanyahu vows never to let Israelis be tried for war crimes
"Nous sommes au-dessus de la loi"
Sweden supports Goldstone report
Par crainte d'être arrêté pour crime de guerre, un ministre israélien annule une visite à Londres
Coopération militaire franco-israélienne alors que plusieurs officiers israéliens courent le risque d'être arrêtés en Europe
Recherchés pour crimes de guerre
Écrit par James Hider
TUESDAY, 29 SEPTEMBER 2009 17:30
James Hider
Times Of London
vendredi 20 mars 2009
L
'armée israélienne a été forcée d'ouvrir une enquête sur la conduite de ses troupes à Gaza après que des témoignages accusateurs de ses propres soldats en première ligne aient révélé le meurtre de civils et des règles d'engagement si imprécises qu'un combattant a déclaré qu'elles se résumaient quelquefois à des «meurtres de sang-froid.»
Les révélations, assemblées par le directeur d'une académie militaire israélienne qui s'est déclaré choqué par ces découvertes,font surface alors que des groupes sur le droit international appellent à des enquêtes indépendantes sur la conduite des deux belligérants au cours de l'offensive israélienne de trois semaines contre les islamistes palestiniens.
Lire la suite...
January 28, 2010 at 6:18 pm (
Gaza
,
Health Crisis
,
Israel
,
Palestine
,
War Crimes
)
For years after the bombing of Hiroshima children were born with birth defects…. now it is starting to happen in Gaza.
Same reasons…. same hatred.

WAR IS NOT HEALTHY FOR CHILDREN OR OTHER LIVING THINGS….. NEITHER IS ZIONISM!
Newborn in Gaza with severe defects
Ramallah. Health professionals have observed a raise of mutations at birth in Gaza, since the Israeli offensive last year.
One of these, is a story of a child born at the Shifa Hospital in the Gaza Strip. The child was born with severe congenital malformations, such as his face, eyes, short stature, flattened nose, reddish-brownish skin discoloration, short limbs with feet and toes severely curled towards the inside in a similar shape to that in gorillas.
The baby weighed 4 kilos, suggesting that he was in good health. His appearance showed otherwise. His parents left him at the hospital and refuse to go back and claim him as their own child.
The baby, also nicknamed the gorilla baby, is still under the custody of the hospital until his parents return to claim him. The hospital has tried to convince the parents to come and take their child especially that he isn't in a stable condition and has problems in breathing.
According to various medical reports, there has been an increase in the rates of birth defects in newborn children since 2009, with fifty cases of deformity compared to 30 cases in the years prior.
There has also been a significant increase in the number of miscarriages amongst pregnant woman after the end of the war.
Doctors say such malformations cannot occur for genetic reasons, nor are they related to the mother's age or other factors. these come as a result of the white phosphorus used during the war. A few months earlier, the hospital was faced with a very similar case to this one , however, the baby died directly after it was born.
White phosphorus (WP) is a material made from a common allotrope of the chemical element phosphorus that is used in smoke, tracer, illumination and incendiary munitions.
As and incendiary weapon, WP burns fiercely and can set cloth, fuel, ammunition and other combustibles on fire. Since, WWII, it has been extensively used as an anti-personnel weapon capable of causing serious burns or death.
The Israeli military used white phosphorus munitions in the Gaza War. The Israeli Occupation Forces repeatedly denied using white phosphorus munitions but acknowledged use after the war ended.
Human Rights Watch said its experts in the region had witnessed the use of white phosphorus. Kenneth Roth, the organization's executive director, added: "This is a chemical compound that burns structures and burns people. It should not be used in populated areas."
Amnesty International said a fact-finding team found "indisputable evidence of the widespread use of white phosphorus" in crowded residential areas of Gaza City and elsewhere in the territory.
Donatella Rovera, the head of an Amnesty fact-finding mission to southern Israel and Gaza, said: "Israeli forces used white phosphorus and other weapons supplied by the USA to carry out serious violations of international humanitarian law, including war crimes.
Source
via
Uruknet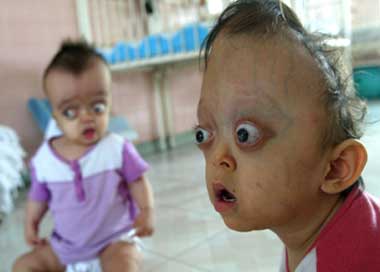 Voir aussi:
Israël nie avoir utilisé des armes à uranium appauvri à Gaza
Armes non-conventionnelles expérimentées à Gaza