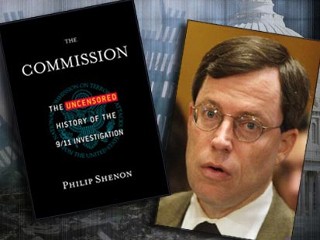 Durant la commission d'enquête, les familles de victimes ont exigé sa démission. Après la commission, il a rejoint le bureau de Condie Rice.
Dans son article "terrorisme catastrophique", il admet que c'est pour Israël que les ADM irakiennes constituent une menace. Il a écrit le projet de guerre préventive contre l'Irak.
(...)En 1998, trois Juifs sionistes, Ashton Carter, John Deutch et
Philip Zelikow
, font une autre incroyable prédiction dans un article intitulé «
The Catastrophic Terrorism: Imagining the Transforming Event
» (« Le terrorisme catastrophique : Imaginer l'événement transformateur »), paru dans la revue
Foreign Affairs
(un journal du CFR, qui est ni plus ni moins qu'une succursale américaine du RIIA de la City des Rothschild):
«

Un tel acte de terrorisme serait un événement catastrophique, une ligne de démarcation dans l'histoire américaine

. Il impliquerait des

pertes de vie et de propriété d'une ampleur sans précéden

t en temps de paix et minerait la signification de la sécurité en Amérique.

Comme Pearl Harbor, cet événement diviserait notre passé et notre futur en un "avant" et un "après"

.» (traduction libre)
Cette "prophétie" se retrouve également dans le manifeste du think tank néoconservateur Project For The New American Century (PNAC, 1997). Dans ce document, les "faucons" de la guerre en Irak - les "Néocons" - révèlent qu'ils ont besoin d'un « nouveau Pearl Harbor » pour catalyser l'expansion hégémonique américaine. Heureusement pour eux, ce « nouveau Pearl Habor » advint le 11 septembre 2001. L'analogie est d'autant plus pertinente que Roosevelt savait que le Japon allait attaquer Pearl Harbor, mais il n'a rien fait, l'objectif étant d'entraîner le peuple américain dans la guerre.
Sous la direction de Robert Kagan et William Kristol (4), le PNAC compte parmi ses membres : Paul Wolfowitz (ancien président de la banque mondiale), Dick Cheney, Donald Rumsfeld (tous trois ont servi sous les administrations Reagan et Bush père), Richard Perle (5), le rabbin Dov Zakheim, Lewis 'Scooter' Libby (ancien directeur du bureau du vice-président Cheney), Eliot Cohen, Robert Kagan, Donald Kagan, Jeb Bush, Steve Rosen, Daniel Pipes (protégé de Perle et fils du théoricien anti-Soviet Richard Pipes), Robert Zoellick (nouveau président de la banque mondiale), etc., tous sionistes (6) et co-responsables (sous l'égide de Wolfowitz, Feith et Libby) de la guerre en Irak, une guerre qui se révèle comme étant en fait conçue par et pour les intérêts d'Israël.
Revenons à l'article The Catastrophic Terrorism. Qui sont les auteurs? Carter est à la tête de MITRE corp., une importante organisation israélienne de contractants pour la Défense américaine, dont les systèmes de communication et de commande ont clairement échoué lors des attentats du 11 septembre. Deutch est un associé principal de GTP, une filiale nord-américaine de Rothschild corp., spécialisée dans la vente de technologie militaire.
Zelikow a été le directeur exécutif de cette parodie qu'est la Commission d'enquête du 11 septembre, en plus de siéger auprès du groupe de recherche qui a feint d'étudier ce désastre honteux qu'est la guerre en Irak.
Fait intéressant à noter, dans le même numéro de la revue Foreign Affairs se trouve un article de Daniel Pipes sur Ben Laden intitulé « License to Kill ». (
Poursuivre la lecture...
)
Zelikow et le mythe fondateur du nouveau siècle américain
Derrière la tragédie du 11 septembre et la guerre au terrorisme
The Bush Doctrine and the 911 Commission Report: Both Authored by Philip Zelikow
The Neocons' Ties to the 911 Commission Report
Sionisme: la fin du déni
9/11 for Reality Deniers
Le 11 septembre n'est plus un mystère
C'était pas les musulmans!
La Commission sur le 9/11 confirme: La version officielle est un mensonge